Not many people can say they own real estate in New York City. For the price of a one bedroom condo in the city, you could buy a mansion in Texas. This is mainly because New York City just has no more room to build out. Supply is the same, but demand continues to rise as population slowly increases over time.
Even if people could afford to buy real estate in New York, cap rates are incredibly low. Cap rates in NYC are easily under 6%.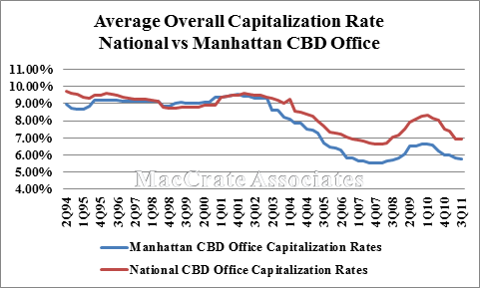 Click to enlarge
As you can see from the chart above, cap rates for Manhattan have not been above 7% since 2004. While the chart is only out until 2011, cap rates are about the same, if not declining further.
So even though it would be cool to own an office in New York City, the returns are not as great as people would expect. This is because of the safety of NYC. However, what if there were a way to achieve a 7% yield on these properties?
This brings me to SL Green Realty (NYSE:SLG). SLG is REIT that owns and manages several offices and retail properties in and outside of NYC. While it has properties in suburban NY and NJ, the majority of the concentration is in Manhattan.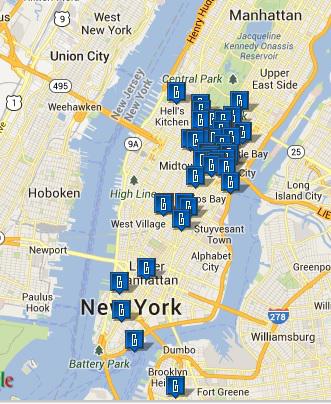 So you may be asking how can I get a 7%-plus yield considering the stock only has a 1.50% dividend yield. Well that's because I am referring to the preferred.
The recent decline in fixed income securities has created a great buying opportunity for income investors. The series I preferred now has a yield on cost of 7.2%. The preferreds are trading at a 9.6% discount to par.
It's great to see a preferred where its underlying assets are strong cash flowing properties in the largest metro in the country. This allows a great safety net since investors know that these properties are premium assets.
Given that cap rates in the market are now below 6%, investors have the ability to essentially own a piece of real estate and get a better valuation.
Real estate is a great investment especially in stable areas like NYC. While you could buy the common and hope for potential upside in the stock, I believe the preferred to be a much better investment.
The common only yields 1.5% and the preferred is now 7.2%. This is a spread of about 5.7%. The common is also trading around 22x operating cash flow (as of 2012). With this type of valuation, I just don't see too much upside. So essentially you are just buying the common for yield. In this case, why not go after the preferreds.
Keep in mind, the preferreds are cumulative, so there is a cushion there. The only way the company could stop payments is if it eliminated the common dividend completely. Cumulative preferreds provide an additional safety net. For those of you who want to get a slice of New York real estate and lock in a 7%-plus yield, this preferred is a great investment.
Note: The preferred has various different symbols depending on brokers. Here are some examples: SLG-I, SLG-PI, SLG PRI, etc. Please check with your broker regarding this.
Disclosure: I have no positions in any stocks mentioned, and no plans to initiate any positions within the next 72 hours. I wrote this article myself, and it expresses my own opinions. I am not receiving compensation for it (other than from Seeking Alpha). I have no business relationship with any company whose stock is mentioned in this article.
Additional disclosure: I am long SLG series I.