Toward the beginning of the month, I issued sell recommendations for iShares MSCI Emerging Markets Index ETF (NYSEARCA:EEM), and the ETF continues to press to new lows below $39. But more recent evidence suggests that the core problems in emerging markets have deepened, spreading beyond the larger economies (China and India) and into the region's periphery. From a macroeconomic perspective, additional arguments against emerging Asia as a whole have become more apparent in Indonesia and Thailand, as burdensome debt levels and widening current account deficits are weakening GDP growth rates and sending currency values to long-term lows.
In the early parts of this year, most of the market attention has focused on the disappointing stock performances in Chinese stock markets and in the massive declines seen in the Indian rupee. What is most troublesome about these trends is the fact that these bearish performances have come as developed markets continue to show solid prospects for growth. Lower stock values suggest that foreign investors are quickly losing confidence in these riskier companies, and declining currency values will make important imports (oil, for example) much more expensive. All of this points to a scenario that is increasingly unsustainable, and that assets tied to the region do not offer sufficient return for the amount of risk that is involved.
Latest examples of these emerging market trends can be seen in Indonesia where the current account deficit has grown to $9.8 billion in the second quarter (from $5.8 billion in the first quarter). This has helped drive the Indonesian Rupiah to 4-year lows, but has done little to help the country's prospects for exports. Specifically, demand in China for coal and iron ore has shown some of the most important declines and this has led to GDP growth in Indonesia falling below 6% for the first time since 2010. To make matters worse, consumer inflation levels are elevated but the central bank is reluctant to raise interest rates because of the likelihood that this would only slow growth even further. The end result is that Indonesian stocks have given back all their previous gains on the year and at this stage there is little indication that these trends will be reversing any time soon.
In Thailand, some very similar trends can be seen. With falling GDP rates for the second straight quarter this year, Thailand has officially entered recessionary territory (posting growth of -1.7% for the first quarter and -0.3% growth for the second quarter). Here, again, China is having a negative effect. China is Thailand's largest trading partner, and reductions in exports have created problematic scenarios for current account figures, with Thailand's deficit now widening to $5.1 billion. The latest numbers here are particularly troublesome given the fact that the country actually showed a surplus (of $1.3 billion) for the first quarter. In addition to this, household debt has risen to 80% of GDP (one of the most problematic ratios in the region), from 55% in 2009. Private debt has increased by 12% on a yearly basis, and the overall trend here is less than encouraging.
EEM Chart Perspective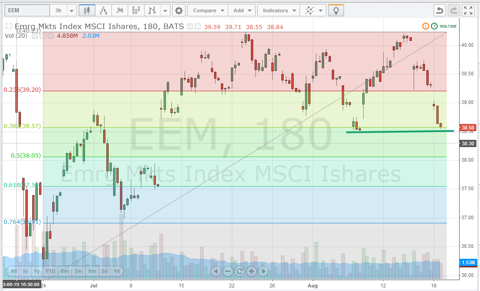 On the whole, all of these factors will continue to be unsupportive for emerging market stocks. At this stage, the problems are clearly systemic, and not simply isolated to the larger economies in China and India. These trends are reflected in the price activity seen in EEM as well, as there continues to be little in the way of fundamental arguments to suggest a bottom is in place. Prices reflect these trends as we come to a test of the August 7th lows at 38.50. A daily close below these levels will accelerate gains, but this is the most likely scenario given the fact that we have already broken medium term Fib support (the 38.2% Fib retracement of the rally from 36.20).
Disclosure: I have no positions in any stocks mentioned, and no plans to initiate any positions within the next 72 hours. I wrote this article myself, and it expresses my own opinions. I am not receiving compensation for it (other than from Seeking Alpha). I have no business relationship with any company whose stock is mentioned in this article.