Jamba Juice's (NASDAQ:JMBA) shares declined 13% after announcing Q2 2013 revenues that did not meet consensus. The company delivered a 1.9% Y/Y revenue increase, while income from operations increased 32.1% to $6.6 million and operating margin improved by 230 basis points to 9.9%. The stock is still drifting downwards as we write.
We believe market's reaction is overdone. While Q2 results highlighted some areas of concern, investors seem to have forgotten that Jamba's new asset light business model is mainly about a slow but steady increase in margin rich new initiatives (franchising, International expansion, JambaGO and CPG) rather than about revenue growth from company owned stores (that by the way declined in number from 301, as of January 1st, to 295 as of July 2nd).
What happened?
Bloomberg nicely resumed Jamba's post earnings performance in its August 6th article:
Jamba Declines After Sales Miss Estimates

Jamba fell the most since 2011 after the seller of juices and snacks reported second-quarter sales that trailed analysts' estimates.

"The decline is simply the fact that second-quarter sales didn't meet expectations," Conrad Lyon, a B. Riley & Co. analyst, said today in a telephone interview. "The majority of names in the restaurant sector have displayed similar results."
The perfect PEAD?
If we look at the company's stock performance after earnings, we may notice that the price is still declining, having lost about 18% in less than two weeks:
Chart from Google Finance
So far, Jamba seems the perfect example of a stock that keeps trending in the direction of its earnings surprise. Investors might expect this trend to continue for some more time, but we see it as an opportunity to build a position for the long term.
Jamba's transition to an asset light company (at the expense of revenues)
A quick overview of Jamba's turnaround, for those who may not be familiar with the story.
Since 2008, the company has been selling part of its company owned stores to transition to an asset light business model, with a focus on franchising and other royalty based initiatives, like consumer packaged goods (CPG).
Most of the re-franchising happened in the 2009 to 2011 time frame. As a result, revenues declined, as shown in this chart:
(As sales are very seasonal at Jamba Juice, we mostly present data on a Y/Y basis).
Each time the company was selling a store, JMBA stopped recording sales of roughly $500.000 a year (using an average estimate), while its franchising revenue stream increased by only $25.000 to $30.000 a year. As a result, sales decreased dramatically - and in a few cases, as some stores were closed without re-franchising them, the company did not even benefit from increasing its margin rich franchising and CPG revenue stream.
Sales seem to have found a bottom in 2012 as the re-franchising program is almost over and the company started benefiting from improved SSS metrics and additional revenue sources - however, the company is still selling/closing down company stores (1 in Q1 2013, and 5 in Q2 2013), with an obvious negative impact on revenues.
Franchising and CPG: a margin rich growth area
As franchising revenues and royalties from Jamba's CPG program represent, today, a relatively small stream, the previous chart doesn't really give the opportunity to highlight their positive trend:
As you may notice, in Q1 and Q2 2013 the Y/Y increase has been slightly less than $1 million. The trend is solidly positive, and Q2 2013 performance shouldn't raise any concern among investors.
In total, revenues have more than doubled in the 2009 to 2012 time frame, including CPG:
We see these revenues (and their increase) mostly as an "all profit" metric for JMBA, but we will take the company's conservative approach to value them as potentially contributing just 60% to 70% to the bottom line:
Karen L. Luey - Chief Financial Officer, Principal Accounting Officer, Chief Administrative Officer, Executive Vice President and Secretary

Well, the profit margins and the franchise and other revenue line, Tony, will tend to increase over time. That's part of the asset light model that we're operating under, as both the CPG business and our franchise business will over time get to flow through about 60% to 70% through to the bottom line.
The company has quite ambitious plans for its CPG program, as disclosed in its investors presentations:
(chart from the company's June 2013 presentation)
Revenue impact from company owned stores reduction
As discussed earlier, the negative impact on revenues of the re-franchising initiative was quite high in 2009, 2010 and 2011, but relatively minor in 2012 and 2013. Here is a quick summary of the sum of two diverging data: revenue increase due to company's same-store sales [SSS] increase and revenue decline due to the reduction in company owned stores:
In 2012 Jamba Juice sold one company store and closed down five of them.
In 1H 2013 the company sold/closed one company store in Q1 and five company stores in Q2. Proceeds from the sale of stores in 2013 were $1.36 million (almost all of them recorded in Q2). At first sight, it looks like JMBA had better success in its re-franchising effort of its non-core operations in 2013 than in 2012, when most shops were closed down and proceeds from the only sale were almost immaterial.
Here is a closer look at the company's store sales increase:
Over the last 10 quarters , and with the only exception of Q4 2012, the company has always increased sales in its company owned shops opened for more than one year - however, it is true that Q2 2013 doesn't stand out for its brilliant performance, which is relatively weak (+$1.3 million Y/Y).
If we include the impact of the revenue decrease caused by the company owned stores reduction initiative, here is a complete view of the total change in company owned store revenues over the last 10 quarters (revenues that do represent most of JMBA sales, as noticed):
There is little doubt that the chart highlights Q2 2013 as a particularly weak quarter among the positive ones - however, when discussing actual results against consensus, we should also emphasize that analysts were probably expecting a better performance from company's SSS (which were somehow disappointing), but also did not include in their calculation the negative impact of the relatively high number of stores closed in the quarter. Let's also put some blame on management for not highlighting in advance the higher than expected negative repercussion of re-franchising 5 units in a single quarter. No revenue guidance from management doesn't really help modeling future results.
The outcome of Jamba's revenue miss against consensus is a stock price decline that seems to suggest a broken business model, while it is probably more about a company that hasn't really communicated well to the market where its future growth (and profits) will come from, assuming the management team can execute on its plan.
Part of the company's targets for 2013, like delivering positive company-owned comparable store sales of 4% to 6%, look probably more challenging after achieving a Q2 increase of just 2.2%, but most metrics disclosed by the company in the quarter still seem to point to a successful execution of the company's turnaround.
Long-term prospect
Jamba's management team has indicated the potential market for the company in roughly 3,700 locations, most of them franchised.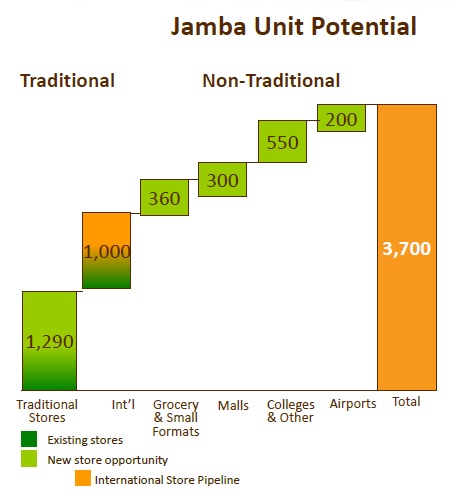 (Chart from the company's June 2013 presentation)
Assuming 500 company owned shops and 3,200 franchise operations (both in the USA and abroad), with performance/metrics similar to the existing ones, the company could probably achieve $350 million in revenues from company owned locations and about $80 million from its franchisees (most of it profit, as noticed). These calculations exclude any impact from the CPG initiative ($15 million forecasted for 2016) and JambaGo (unknown) - both margin rich initiatives.
While the company is a long way from achieving these numbers (as of July 2, 2013, system-wide, Jamba had 787 stores in the United States, and 42 international store locations, i.e. 829 units in total), it is interesting to show where JMBA might be headed to, and compare it to today's relatively modest EV (less than $200 million).
However, if the company keeps adding 40 to 50 new locations per year, it will take about 60 years to get to Jamba's full potential - too long even for a patient investor. Can growth be accelerated, and how?
Where will growth be coming from?
In 2012 Jamba Juice increased its number of stores by 40 units (net). In 2013, management expects to develop 60 to 80 new U.S. and international locations. In 1H 2013, the company added 20 locations (net).
We believe that Jamba's proposition to potential franchisees will be strengthened by the fact that the company's financials are heading in the right direction.
Opening a Jamba Juice shop is a relatively high investment. A financially safe, successful company that can concentrate management's efforts on increasing brand awareness rather than worrying about its own restructuring is certainly more attractive for new investors.
In the past, through the company's re-franchising initiative, some owners got the opportunity to buy a location at distressed prices. It looked like a win-win deal, at the time: for the new franchisee and the company itself, that desperately needed cash. Every new opening is now a "Greenfield Project."
One metric that will be very interesting to check in the next few quarters is the number of new units opened, both in the US and internationally, by franchisees. According to recent presentations, there is a very good pipeline both abroad and in key U.S. states like California.
Initiatives like the new limited-service format called Smoothie Stations, mini Jamba Juice units that can be dropped into a 100- to 200-square-foot space, should also help increase the pace at which the company can grow new locations and increase its franchising and CPG revenue stream. These units are excellent for co-branding initiatives.
We would then expect the number of new openings to move up in the next few years, even significantly.
A small back of the envelop calculation. If JMBA achieves opening 50 (franchised) new locations in a year, that might translate in over $1 million of margin rich revenues over a 12-month period - as not all locations could open at the very beginning of the year, we might assume an impact of about 50% of this potential amount in the first year, and a similar benefit in the following one.
JambaGO as a game changer and revenue accelerator
JambaGO outlets have grown from roughly 400 at the end of 2012 to 636 at the end of Q2 2013. The company expects to have at least 1,500 locations served by the end of 2013.
This self-serve machine format, which offers pre-blended smoothies and other Jamba-branded items, will be used like a Trojan horse to expand brand recognition, and achieve a presence in high-volume venues such as schools, stadiums and event centers, with emphasis on K-12 schools and college campuses.
The potential market for such a tool is huge, and 1,500 locations touch just the surface of its targeted audience.
The "razor and blade" business model should also guarantee the company a decent income from each location. In absence of company's indications about JambaGo economics, which will probably be given during the next conference call, it is all a guessing game.
Assuming each JambaGo can generate revenues of $1,500 per year for the company, it is like saying that 20 of them can be compared to the opening of a franchise Jamba Juice shop. Different metrics could produce very different results on the surface - but nevertheless the emphasis is on the fact that such a business model could positively impact the margin rich revenue stream Jamba Juice has been nicely developing throughout its successful turnaround.
As the business seems quite scalable, with expectations of adding roughly 1,000 locations in 6 months, we wouldn't be surprised to discover that the market hasn't really properly evaluated, yet, the impact of this new platform for the company and its bottom line.
Disclosure: I am long JMBA. I wrote this article myself, and it expresses my own opinions. I am not receiving compensation for it (other than from Seeking Alpha). I have no business relationship with any company whose stock is mentioned in this article.