The Taper is going to happen. Treasury rates will probably continue to go up - though probably at a more moderate pace - over the course of the next 6 - 8 months to a little over 3%, further spanking bonds. so you probably don't want to be overweight there.
The money flowing from Asia and other emerging markets may continue for some time as well, and will need to go somewhere. There is the possibility that it goes back into Treasuries, especially if market conditions get very scary. And the rising rates also increase cost-of-financing for companies, make savings accounts and CD's more attractive, and make dividend paying stocks less attractive, which will all negatively impact stock-buying demand. But I believe that much of the money will still find its way into the U.S. stock market, potentially muting any pullback.
As such, I see any sell-off bouncing near the major support at 1540 or 1560 on the S&P, and that's only if we break down through 1630 and 1600. Regardless of where it occurs, I do expect the selling to end and for the market to finish the year above the previous highs. The longer this selloff lasts and the more people who have raised some cash have turned slightly skeptical, the better the chance for the trend to continue back above 1710.
Despite that potential for a further selloff, and a year ending rally, certain rate-sensitive sectors will likely underperform the market (there's always underperformers). So what company-specific attributes should we look for?
I will be looking for companies that are resistant to changes in interest rates, which means: not financing-dependent, not a competitor to bonds, based on dividend yield, and not related to housing, since higher rates could curtail desire for home mortgages.
Despite the fact that they may be oversold and due for a short term bounce, that includes REITs, homebuilders and home retailers. Below are a few stock ideas that have market capitalizations over $2B, almost no short-term or long-term debt, minimal dividend yields, high margins, and a good amount of cash relative to share price. They are also in the tech arena, which I think is a decent position considering it's very possible that companies continue to increase capex after holding off in the first quarter.
Google
Google (NASDAQ:GOOG) seems lofty at these levels, but of course price is not an indicator of valuation. It may pull back somewhat, but on a dip I would consider purchasing it because of its solid financial situation and its stellar business model.
Google currently sports a P/E of 26, but I expect that with a larger market pullback it will provide a more reasonable valuation and entry point. If we don't get further declines, I still think it is reasonably priced due to its performance history.
Google has a long term debt-to-equity ratio of .03 and a short term debt-to-equity ratio of .06, both of which are very low. Google also maintains an operating margin of just over 23% and has $54B in cash, which makes it able to withstand most any types of credit crunch, rate increase or recession.
Despite the news that Google Glass will not come out in time for Christmas, this company is a cash cow that just continues to dominate the "online world." While we won't see Google Glass in our Christmas stockings, I do expect to see a stock price of $950 by then.
As you can see in the chart below, it should find some support near $830 and $800 if the market drags it down over the next few weeks, but I don't expect it to go much lower than that. It has also been in the same uptrending channel since 2008, which indicates that it will maintain the overall bullish trend until it falls out of the channel.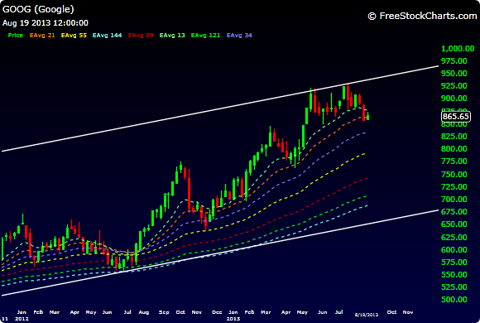 Click to enlarge
Qualcomm
Despite a chart that is pretty ugly over the near-term, I like the finances of Qualcomm (NASDAQ:QCOM) and the long-term strength. Similar to Google, Qualcomm is in a multi-year uptrending channel.
Qualcomm has a P/E ratio of 17.64, which is reasonable for a company with growth expectations of almost 17% per year going forward. Its forward P/E ratio is 13.42, which is also reasonable for a tech company with its growth prospects.
But again, let's suppose that rates continue to rise, the S&P (NYSEARCA:SPY) or Nasdaq (NASDAQ:QQQ) pulls back another 7%, or something even worse happens as a result of the Fed decreasing its bond purchases. Will Qualcomm get hit hard?
Well, Qualcomm has no long-term debt and no short term debt so it has no exposure to rising interest rates. Additionally, it has $11.46B in cash reserves and has 30% operating margins, so it is safer than a lot of companies and shouldn't need funding anytime soon.
Below is the monthly chart for Qualcomm. It shows the positive upward momentum the past few years. I would expect the bottom of the channel to hold as we go forward, regardless of further market losses.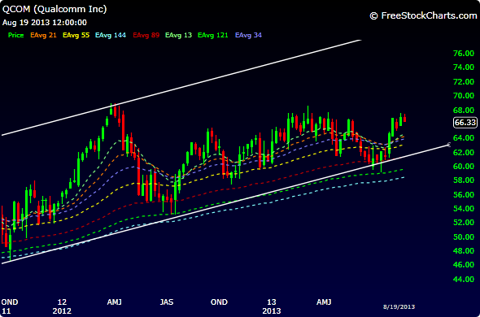 Click to enlarge
Amdocs Limited
Unlike the previous two stocks mentioned, Amdocs Limited (NYSE:DOX) is comparatively small, at "only" $6B market capitalization. Also unlike the previous two companies, you probably don't know what Amdocs does. Well, the company mainly provides customer management software to cellular service providers.
Amdocs has a current P/E ratio of 14.74 and a future P/E ratio of 12.25. The company has no long term debt and no short term debt, so it won't face higher lending expenses. It has over $1B in cash reserves, and in its recently announced quarterly results, Amdocs beat earnings estimates and expanded its operating margins to 14.6%, further proving that it is quite profitable and shouldn't need additional funding.
The company is not overbought at all despite the fact that it has risen steadily since the start of the year.
If the market declines further, it's possible that this could pull back, but it should find support at one of the three moving averages, or the bottom of the channel. However, I expect the stock price to consistently rise heading into the Fall.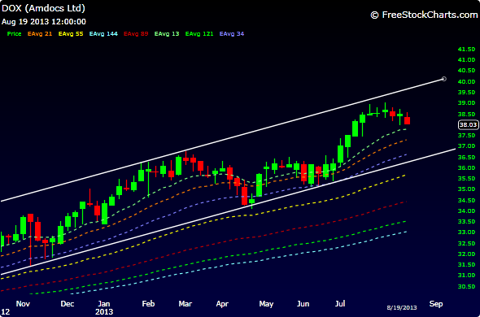 Click to enlarge
I do not believe that the long term bull market is over, so I think that chances of a 2008, or even 2011, type of decline are very unlikely.
Despite that opinion, I think it makes sense to have a little hedge in your portfolio using options, just in case the Taper causes things (in the market) to get out of hand. We saw what has happened in bonds in just a few weeks since the Taper announcement, so when the bonds purchases start coming in lighter than past months it wouldn't hurt to be protected. This grand monetary experiment is no time to get lazy. I think it makes sense to consider some SPY puts and cheap OTM VIX calls in an amount that will help mitigate potential losses.
Disclaimer: We do not know your personal financial situation, so the information contained in this article represents an opinion, and should not be construed as personalized investment advice. Past performance is no guarantee of future results. Do your own research on individual issues.
Disclosure: I have no positions in any stocks mentioned, and no plans to initiate any positions within the next 72 hours. I wrote this article myself, and it expresses my own opinions. I am not receiving compensation for it (other than from Seeking Alpha). I have no business relationship with any company whose stock is mentioned in this article.