To begin with, the title of this article is rather bold, and I might have some explaining to do about how I took the liberty of coming up with such a heading. So let me start by saying that I have been studying Warren Buffett's investing style for years (I have read almost every book written about him; only I wish he would write a book someday). Furthermore, I have watched many of his videos over the years where he has explained his investment style to his audience. In a nutshell, he has 3 major tenets for buying a business:
It should have an "economic moat", a definite competitive advantage in its marketplace
It should offer some margin of safety at the time of purchase
It should be run by exemplary, shareholder-friendly management
So lets not keep the mystery too long, and the stock that I am going to discuss in this article is Clorox (NYSE:CLX). This company has all above tenets that potentially could make it a good fit for Mr. Buffett.
On Aug 01st, 2013, The Clorox Company reported results for its fourth quarter and fiscal year 2013, which ended June 30. For the full fiscal year, the company reported $4.31 diluted earnings per share [EPS], 3% sales growth and 80 basis points of gross margin expansion. For the fourth quarter, the company reported a slight increase in sales, gross margin expansion of 130 basis points and $1.38 diluted EPS from continuing operations. Clorox reported fourth-quarter earnings of $184 million, or $1.38 diluted EPS. This compares with $174 million, or $1.32 diluted EPS, in the year-ago quarter, an increase of 5 percent diluted EPS. CEO Don Knauss had the following to say about these results:
Clorox people around the world delivered solid results this fiscal year as we grew sales in all four segments behind product innovation across multiple brands and delivered strong gross margin expansion. In Q4 we delivered strong margin expansion and diluted EPS growth from continuing operations of 5 percent. Excluding the impact of foreign currencies, sales grew nearly 1.5 percent in the quarter. While sales results came in slightly lower than anticipated, I feel good about our plans to address the competitive pressures we're facing, including increased merchandising activity as well as product innovation scheduled to launch in fiscal year 2014.
Now some of you might be thinking that nothing seems extraordinary in terms of numbers growth this company has to offer, so why would a great investor such as Warren Buffett want to buy it? Well, obviously, I cannot say with surety whether Warren Buffett will ever buy this stock, but being Warren Buffett disciples at Netwall Investments LLC, I see a strong potential in this company. For starters, Carl Icahn had already made attempts to purchase the company at $12.6 billion or $76.50 per share in 2011. After owning about 9% of the firm, Mr. Icahn started to put pressure on CEO and the board to sell the company for a profit. That approach did not bode well with the board at the time and Icahn later withdrew and sold his majority stake in Clorox. It is clear that Clorox's board as well as management are not receptive to hostile bidders such as Carl Icahn, but would potentially be more inclined to be acquired by a Buffett style investor.
Let's now start by understanding the company's business segments and what products are being sold by these segments. But before I get into that, I would like to bring to your attention that the company has strong brands, and 90% of these brands hold either number one or number two spot in their respective categories. The following are the key segments and their results for fiscal year 2013 ending in June, from "Investor Relations" section of company's website.
Cleaning:
(Laundry, Home Care, Professional Products)
4% volume decrease
1% sales decrease
7% pretax earnings increase
Laundry volume was flat reflecting increased shipments of Clorox® bleach, driven by strong category growth following last year's conversion to a new, concentrated formula, offset by lower shipments of Clorox 2® due to declines in market share. The Professional Products business continued to deliver strong volume growth primarily driven by record shipments of cleaning products. The variance between volume and sales reflects the benefits of favorable product mix and price increases implemented earlier this fiscal year behind innovation in spray cleaners. Pretax earnings growth reflected significant gross margin improvement, supported by cost savings stemming from the company's conversion to concentrated bleach.
Household:
(Bags and Wraps, Charcoal, Cat Litter)
1% volume decrease
2% sales increase
6% pretax earnings increase
Glad volume was up, largely due to continued strong growth and innovation in premium trash bags. The variance between volume and sales was due to the impact of earlier price increases on cat litter and charcoal products. Pretax earnings increased driven primarily by higher sales and the benefit of strong cost savings resulting in gross margin expansion.
Lifestyle:
(Dressings and Sauces, Water Filtration, Natural Personal Care)
No volume increase
2% sales increase
5% pretax earnings decrease
Food business volume was up, driven primarily by Hidden Valley base business growth and higher shipments of new Hidden Valley® pasta salad kits. Volume declined in Water Filtration primarily due to increased competitive activity, earlier price increases and a comparison to strong volume in the year-ago quarter behind the pipeline build of Brita Bottle®. Burt's Bees volume was flat due to a comparison to double-digit growth in the year-ago quarter behind the pipeline build of güd® products. Pretax earnings declined primarily due to investments in systems and processes to support long-term growth for the Burt's Bees business.
International:
(All countries outside of the U.S.)
6% volume decrease
1% sales decrease
8% pretax earnings decrease
Volume decreased primarily due to the exit from nonstrategic export businesses, and declines in Canada and Argentina. Segment sales decreased due to lower volume and declines in foreign currencies, partially offset by the benefit of favorable mix and price increases. Pretax earnings decreased primarily due to higher manufacturing and logistics costs, including inflationary pressures, and lower sales. These factors were partially offset by the benefit of cost savings.
Clorox's Fiscal Year 2014 Financial Outlook:
2-4% sales growth
EBIT margin up 25-50 basis points
Diluted EPS in the range of $4.55-$4.70
Following excerpt was taken from earning calls transcript on Aug 1st, 2013:
Clorox continues to anticipate sales growth for fiscal 2014 in the range of 2 percent to 4 percent, with the first half of the fiscal year at the lower end or potentially below that range. Clorox continues to anticipate EBIT margin to increase in the range of 25-50 basis points, reflecting cost savings of about 150 basis points and lower selling and administrative expenses as a percentage of sales. We anticipate these benefits to be moderated by about 100 basis points of higher commodity costs and high inflation in some international markets. Net of all these factors, Clorox continues to anticipate fiscal 2014 diluted EPS from continuing operations in the range of $4.55 to $4.70.
Shareholder friendly activities:
Clorox has been buying its own shares since the last year at a frenzied pace. It has bought so much treasury stock that its balance sheet shows negative equity at the time of this writing. See below from 10Q filing from 2nd quarter of 2013:

As you can see from the above, the company held about 27million and 29 million shares of its own stock at March 31, 2013 and June 30, 2012 respectively. Furthermore, the company bought these shares at such a pace as to create negative shareholder equity. We do not consider this to be necessarily bad. There are two reasons for purchasing company's own shares:
Potentially thwart off activist investors
The company has a strong conviction that its stock is extremely undervalued
Among other shareholder friendly activities, please see a consistent growth of dividends since 2003 for the investors: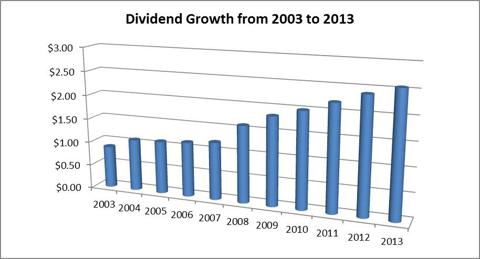 Valuation:
Valuation is an important aspect, and we do not use a single valuation method for any given company at Netwall Investments LLC. We believe that we have to look at company from various aspects and arrive at a range of values rather than an exact number. We are greatly amused when analysts come out with a company valuation to the last cent. Here's how we look at Clorox's valuation.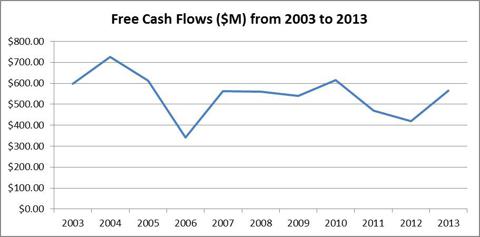 P/E Ratio Method:
A quick and dirty way to look at company's valuation is look at forward P/E ratio and then take future projections of earnings from management and multiply these in order to come up with a fair price. In case of Clorox, it has a forward P/E ratio of 17.1 (source: Data provided by Thomson Reuters), while anticipated diluted earnings per share to be in the range of $4.55 to $4.70 in fiscal '14. (Source: Earning Call Transcript, Aug 01, 2013).
If $4.55 is realized, valuation should be at: 4.55 X 17.1 = $77.8 per share.
If $4.70 is realized, valuation should be at: 4.70 X 17.1 = $80.37 per share
EV/EBIDTA:
This number would be less important, because company does not have large amounts of depreciable assets. This number comes out to be 13.12B / 1.145B = 11.45
So this is about 12 times and is a favorable number compared to its competitors, some of which have recently ran into mismanagement issues (such as Proctor & Gamble (NYSE:PG))
Discounted FCF (Free Cash Flow):
This is the most important metric for a value investor. Here we will use WACC (weighted average cost of capital), which is basically the discount rate, with the following assumptions:
10 year FCF growth model
Cost of Debt = 4.71%
Cost of equity = 5.88%
WACC (Discount Rate) = 5.32%
Inflation component = 1% (year over year)
Expected earnings growth for first 10 years = 6%
Perpetuity Growth after first 10 years = 1%
Fair Market Value of CLX = $92.64
With Clorox trading at $83.96 (as of 08/19/2013), we think it is a good value. Obviously this fair market value is as good as our assumptions, but we think that these are on the conservative side given the strong nature of Clorox's business.
Now let's talk about Clorox's return over last 10 years if you were to invest $10,000. The below comparison is taken from Morningstar and shows relative returns of CLX alongside "S&P" 500 and "Household & personal products industry"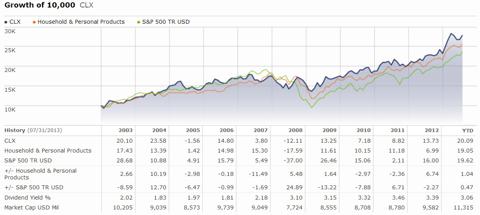 Courtesy "Morningstar"
A word about Management:
Clorox is a well-run organization with a shareholder friendly management. Donald Knauss, now 61 years of age, became Chairman & CEO in 2006, and had prior experience at juggernauts such as Coca-Cola (NYSE:KO), PepsiCo (NYSE:PEP) and Proctor & Gamble. During his tenure, he has overseen acquisition of Burt's Bees and has directed the company to expand towards health and wellness categories. Management has increased dividends consecutively for the last 10 years and engaged in shareholder friendly activities such as buying back shares of its own stock. Executive compensation requires that management owns stock, and it amounts to 6 times base salary for the CEO and 3 times base for other executive level positions. CEO, Knauss earned about $6.4 million in salary, stock and option awards, which sounds reasonable. Overall, 0%-85% of executive managers' annual pay is based on performance.
Furthermore, it is impressive to see that management considers cost cutting and margin improvements as an ongoing process rather than an "every now and then" event. We regard Clorox as an innovative firm, and management's focus on new products in the coming year is commendable. This would also help Clorox maintain its competitive positioning in a highly competitive market. If inflation is a concern for any investors out there, it should be comforting for them to know that since 2005, company has taken 66 price increases across its businesses with 95-96% success rate of holding these prices constant, even during tough times after the 2008 financial crisis. (This is also an important area in the eyes of Warren Buffett, where he considers ability of a business to raise prices without losing sales to the competition. He says that it even becomes more important in an inflationary environment).
Risks associated with CLX:
Clorox operates in a highly commodity driven market. Although 90% of its brands are either number one or number two in their respective categories, these brands constantly face competition from lower priced products. Furthermore, Clorox sells a vast majority of its products via retail giants such as Wal-Mart (NYSE:WMT), which alone counts for about 26% of sales revenue. In addition, 44% of its sales are derived from its top five customers. Any consolidation among retailers can adversely impact Clorox's numbers. The company sells its products in more than 100 countries. Any economic downturn in these countries will have a negative impact on Clorox's earnings. The company uses financial risk management and derivative instrument to reduce risk in the following areas:
Commodity Price Risk Management:
The company may use commodity exchange traded futures and over-the-counter swap contracts to fix the price of a portion of its forecasted raw material requirements. Contract maturities, which are generally no longer than 18 months, are matched to the length of the raw material purchase contracts. Commodity purchase contracts are measured at fair value using market quotations obtained from commodity derivative dealers.
Interest Rate Risk Management:
The company may enter into over-the-counter interest rate forward contracts to fix a portion of the benchmark interest rate prior to the anticipated issuance of fixed rate debt. These interest rate forward contracts generally have durations of less than 12 months.
Foreign Currency Risk Management:
The company may also enter into certain over-the-counter foreign currency-related derivative contracts to manage a portion of the company's foreign exchange risk associated with the purchase of inventory and certain intercompany transactions between subsidiaries in Canada and the U.S. These foreign currency contracts generally have durations of no longer than 20 months.
Thus, the company is intelligently hedging its risks via these instruments and by no means is there any indication of distorting financials or unreasonable number crunching that would raise any alarm bells with us. This is smart risk management. As of March 31, company has paid off its $500 million dollars in senior notes with a fixed annual interest rate of 5%. It has another $1.1 billion revolving credit agreement with an expiration date of May 2017. So far company has not done any borrowings against that credit facility, and we don't see any need for doing that in the near future.
Conclusion:
So we have evaluated various aspects of Clorox as demonstrated above and found that it meets some of the most stringent criteria used by Warren Buffett, so the question is why doesn't he already own this company? Well, for one, it is clear that Berkshire's (NYSE:BRK.A) (NYSE:BRK.B) coffers have grown bigger and bigger over the years, and now Warren Buffett needs an "Elephant gun" to make purchases in order to generate any meaningful return. Secondly, a consistent foray of mediocre but cheap products in this playing field always exposes Clorox to commodity price risks. But given its wide brand recognition, Clorox presents an excellent opportunity for Mr. Buffett to unload some cash, whether he buys full into the company or just purchases a portion of it in the form of shares.
I would like to make this clear that that at Netwall Investments LLC, we do not blindly follow Warren Buffett or any other investor for that matter. However, we do study their investment styles at length; as a great motivational thinker by the name of "Jim Rohn" once said:
Never be a follower but always be a student.
Truth be told, there is always something to be learned from investing techniques of legendary investors such as Warren Buffett.
Disclosure: I have no positions in any stocks mentioned, and no plans to initiate any positions within the next 72 hours. I wrote this article myself, and it expresses my own opinions. I am not receiving compensation for it (other than from Seeking Alpha). I have no business relationship with any company whose stock is mentioned in this article.