One of our favorite "demographic" plays (see our September 23rd Seeking Alpha article), Nu Skin Enterprises Inc. (NYSE:NUS) climbed more than six percent and hit an new three-year high on an earnings upgrade from Stifel Nicolaus.
Stifel's Mark Astrachan said in a note to clients that he met with the direct-seller of personal care product's Chief Financial Officer Ritch Wood, and came away believing the company is at "the beginning of an acceleration in revenue growth due to the pending launch of ageLOC." Astrachan raised his third-quarter and fourth-quarter earnings estimates by two cents each to 35 cents and 31 cents, respectively. He also upped its 2010 earnings-per-share estimates to $1.45 from $1.41. And he raised his price target by $2 to $22.

Later this month, Nu Skin will introduce ageLOC at the company's 25th anniversary convention. The company will then launch the product on Jan. 1, making it the company's first globally coordinated product launch.

In recent trading, shares of Nu Skin rose 7.3% to $19.65, erasing prior day losses of 1.2%. The stock hit an intraday high of $19.92. The stock in the last three months has risen 27% as the company, which earns 85% of revenue internationally, has benefited from the weak U.S. dollar.

"Anti-aging is a significant growth driver within the global skin care market given an aging worldwide population," wrote Astrachan. "We believe the development and testing in conjunction with U.S. research universities, including Stanford and Purdue, differentiate the product from competing brands.He added that the product will likely supplement continued growth of the company's Galvanic Spa, thanks to a shared application system.
As for the company's international presence, Astrachan said in 2008, region trends bottomed in Japan, which contributes to 35% of the company's revenue. He added that he anticipates that the company will have improved results over the balance of 2009 and 2010 due to improved currency rates and new product introductions in countries such as Japan, where anti-aging is a significant consumer focus.
We continue to believe the market is underestimating this company's excellent long term growth potential.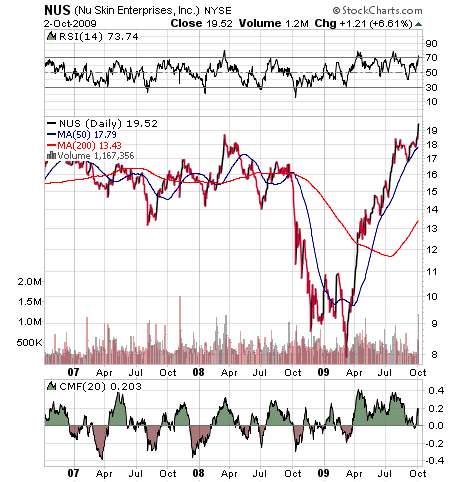 Disclosure: We hold Nu Skin in our model Beacon master portfolio.