I read Brian Langis's June 13 piece on Seeking Alpha "Dollarama Is Having A Sale" yesterday and it certainly sounded like a love-in was going on at Dollarama's (OTC:DLMAF) recent AGM. I worked at a brokerage firm once where the same smugness and unbridled optimism was evident at their annual meeting. Each speech at the meeting was met with rounds of applause and the belief was that next year would be even better. "Second place is the first loser," the Chairman proclaimed. Two years later the firm was bankrupt.
Bankruptcy is an unlikely the fate of Dollarama, but if history is any indicator, the good times don't last forever. Don't interpret a soaring stock price to mean an unassailable business model. A couple of weeks ago I drove past a mall near where I lived growing up. I had not been in the area for 15 years. The mall had not changed, but not a single store was the same. Retail is competitive and trends change rapidly. Can we really say that Dollarama will be just as popular and profitable in 20 years as it is today? People buying the stock at these prices are arguing with conviction "YES!"
Not to pick on Brian Langis, but his profile says he likes companies with good balance sheets.

Has he really looked at Dollarama's balance sheet? At May 5, total shareholder's equity was $971 million. Goodwill and intangible assets, however, total $840 million. If you deduct these intangibles, you are left with $131 million in tangible book for a company that has a $5.5 billion market cap. The company is trading at 42 times tangible book! They don't own any of their stores (Larry Rossy, the Chairman, rents the 19 stores and 4 warehouses -p.35) leaving inventory as their only real asset and it is partially financed with debt. Without fixed assets or cash to provide a backstop to the share price, investors are making a huge bet on growth and the durability of margins. With a tangible book value of only $1.79 per share and earnings per share of $2.94 last year, a $75 share price looks pretty lofty to me.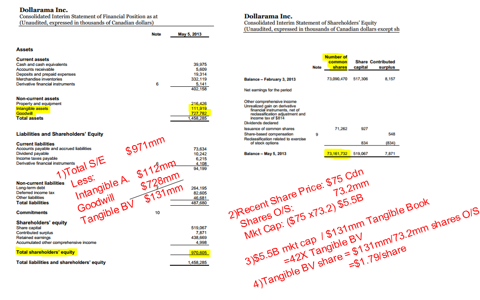 With the departure of the COO Stephane Gonthier announced on August 12, there has been some speculation that perhaps he was going to be passed over for the top job and decided to leave. What was at the top of my mind was how many shares does he own? It turns out he owns over $30mm worth of stock and last year he made just shy of $1 million (p.25 & 27). If almost all my net worth were tied up in a single stock, my concern would be how can I get the hell out and not screw this up? Leaving the company presents a wonderful opportunity to cash out on these shares - he no longer needs to be a team player and he no longer needs to make any filings. If you look at the recent activity in the issuer bid in June and July, the company has spent over $100mm buying back their stock at all time highs. I think now would be a good time to sell.
I'll be watching if management puts this issuer bid to use with an acquisition - using stock as their currency. I'll also be watching if any weak knees in management give into the temptation to sell. Remember, don't fall for the love-in. Take some money off the table in the good times.
Disclosure: I am short OTC:DLMAF. I wrote this article myself, and it expresses my own opinions. I am not receiving compensation for it (other than from Seeking Alpha). I have no business relationship with any company whose stock is mentioned in this article.