In this article, I will present a small-cap company specializing in acquiring and managing oil and gas royalties in the heart of the Canadian oil sands in Alberta. The company holds royalties from the most notable energy producers in Canada. Offering a dividend yield of more than 7% to its shareholders, I believe that this company is worth a look. However, a question remains: Does Freehold has the ability to sustain that hefty dividend?
The scope of this analysis is to examine if Freehold is in good financial health and has the required intangibles for its future to sustain its dividend yield. Furthermore, the review of its corporate structure would indicate if its royalty income combined to its own production of oil and gas will allow it to stay profitable for the long-term.
After presenting the company, I will take a look into its core business as well as in its financials in order to assess its overall value. Then, discussing its future outlook, it will allow the investors to determine further its potential for the long term. Let's not wait any longer and let's see what Freehold has to offer.
Freehold Royalties (FRHLF.PK)
Freehold is a dividend-paying corporation headquartered in Calgary, Alberta. The company resulted in 1996 with the establishment of Freehold Royalty Trust. In 2010, the company was reorganized into a corporation.
Freehold is directly and indirectly involved in the development and production of oil and natural gas, predominantly in western Canada. The company receives revenue from oil and gas properties from reserves produced during the economic life of these assets. Its primary focus is acquiring and managing these oil and gas royalties.
The company manages one of the largest non-government portfolios of oil and gas royalties in Canada, extending from northeastern British Columbia to southern Ontario.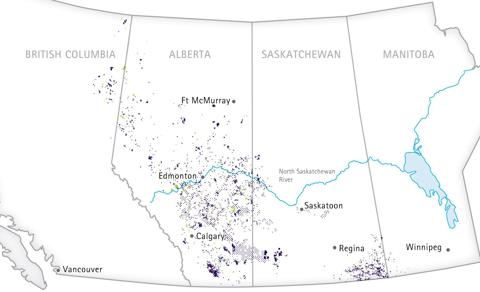 Source: Freehold Royalties
It receives royalty income from over 200 industry operators. Royalty rates vary from less than 1% (for some gross overriding royalties) to 22.5% (for some lessor royalties), its average royalty rate being approximately 1.6%.
This diversity lowers its risk, while the company benefits from the drilling activity of other operators on its lands. Royalties offer the benefit of sharing in production revenue without exposure to the capital costs, operating costs, and environmental costs typically associated with oil and gas operations.
As a royalty interest owner, Freehold do not pay any of the capital costs to drill and equip the wells for production, nor do it incur costs to operate the wells, maintain production, and ultimately restore the land to its original state. All of those costs are paid by others. On the majority of its production, the company receives royalty income from gross production revenue.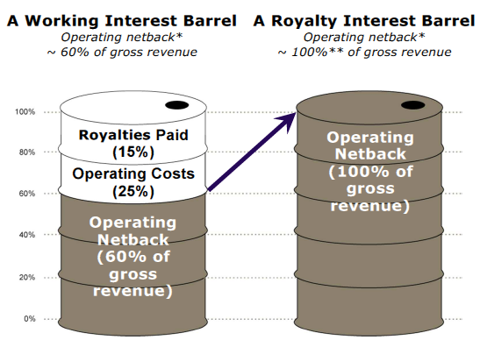 Source: Freehold Investor Presentation, June 2013
Freehold's royalty interests accounted for 74% of its 2012 operating income. Furthermore, its high percentage of royalty production, which was 71% in the first six months of 2013, resulted in strong netbacks.
When Freehold was formed in 1996, all of its royalty lands were leased to third parties and producing. Over the years, its unleased mineral title acreage has grown through acquisitions, lease expiries, surrenders, and defaults. Freehold now has over 100,000 of unleased acres, available to lease out to industry or for the company to drill.
A Focused Strategy For A Long-Term Growth
According to the company, it manages its assets in the goal of consistently deliver attractive returns to shareholders and to be recognized as the preeminent royalty-focused oil and gas corporation in Canada. To do so, it acquires assets with a bias toward royalty interests in order to add value. Furthermore, the firm pursues development opportunities to optimize reserves and production.
Notably, the company actively manage its large portfolio of oil and gas royalty interests by maintaining an aggressive audit program to ensure that royalty income is correctly calculated and collected. A part of its strategy consists to maintain an approach to debt management to provide financial flexibility with respect to acquisitions and development expenditures, while maintaining stable dividends.
Land Holdings
The total land holdings encompass approximately three million gross acres, extending from northeastern British Columbia to southern Ontario, 94% of which are royalty lands. Freehold has gross overriding royalty interests in nearly 2.2 million acres.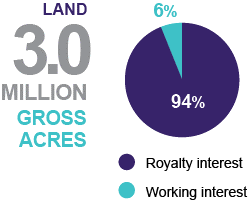 Source: Freehold Royalties
The company has royalty interests in more than 30,000 wells (28,000 royalty wells) and also owns primarily small working interests in over 100 non-operated oil and gas properties. This diversity lowers its risk, while it benefits from industry drilling activity.
Legacy Lands
Freehold receives a significant portion of its revenue from the mineral rights of certain properties acquired through time. Mineral rights are particularly valuable to Freehold, as it holds the rights in perpetuity. The properties were originally granted by the King of England to the Hudson's Bay Company in 1670, during the settlement of Canada. This historic land grant was covering 1.5 million square miles, nearly 40% of Canada today.
In 1870, the Hudson's Bay Company surrendered title to these lands in exchange for ₤300,000 Sterling and 1/20th of all agricultural land in western Canada. This gave the Hudson's Bay Company, Section 8 and three-quarters of Section 26 (8s and 26s), creating a checkerboard pattern from the Rocky Mountains across the prairies to Manitoba.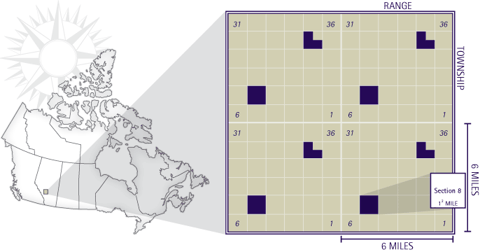 Source: Freehold Royalties
These properties known as the "HB Lands", covering approximately 4.5 million acres, made a vital part of the western Canadian landscape. From the total land holdings, Freehold's mineral title lands, including royalty assumption lands cover more than 630,000 acres.
Operations Throughout The Lands
To date, royalty drilling has focused primarily on recognized oil and liquids-rich natural gas trends within the Alberta and Williston basins, including the Lloydminster heavy oil area, the Mississippian subcrop and Bakken resource play in southeast Saskatchewan as well as the Cardium light oil play in West-Central Alberta.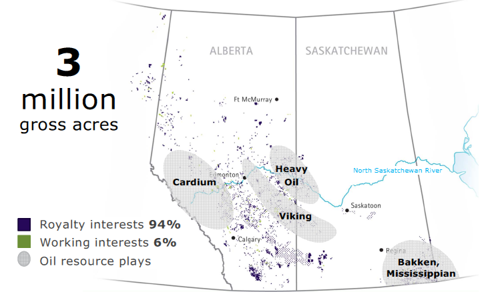 Source: Freehold Investor Presentation, June 2013
About 80% of the equivalent net wells drilled in the first half of 2013 were oil, similar to last year. Both vertical and horizontal wells were drilled on Freehold's royalty lands, with horizontal drilling accounting for 60% of the activity, on par with last year.
Royalty Drilling Trends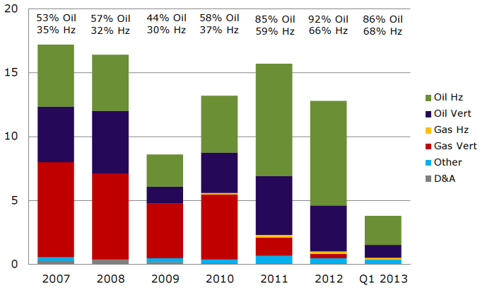 Source: Freehold Investor Presentation, June 2013
In Q2 of 2013, the company participated in the drilling of three (0.9 net) wells with a 100% success rate. In southeast Saskatchewan, it participated in the drilling of one (0.4 net) Bakken horizontal oil well.
In Alberta, it drilled one (0.2 net) horizontal Viking oil well at Redwater and one (0.3 net) horizontal Glauconitic liquids-rich natural gas well at Willesden Green. This drilling activity had little effect on Q2 production but is expected to add to its production base as the wells are completed and tied in.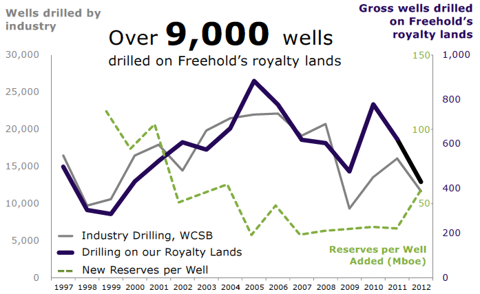 Source: Freehold Investor Presentation, June 2013
Average production for Q2 rose 3%, and average price realizations climbed 20%, resulting in a 22% increase in gross revenue compared to Q2 of 2012. Natural gas production accounted for 39% of barrels of oil equivalent production in the quarter but only 12% of gross revenue.
Royalty production declined 4% (accounting for 71% of production), while working interest production increased 23% as a result of increased activity levels, particularly on the mineral title lands.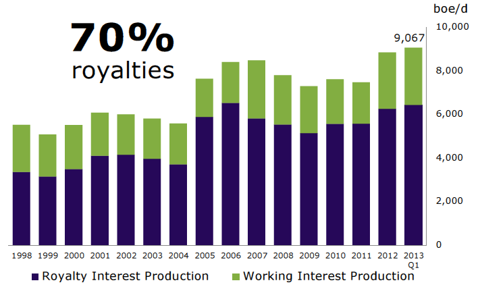 Source: Freehold Investor Presentation, June 2013
Oil and NGLs (natural gas liquids) production declined 2% in the quarter, while natural gas production rose 9%. Both periods included positive
prior period adjustments to royalty production, mainly due to the company's ongoing audit program. In Q2 of 2013, positive prior period adjustments were 400Boe/d (barrels of oil equivalent per day) with 100% natural gas, whereas in Q2 last year, prior period adjustments were 500Boe/d, 80% oil.
Over the past eight quarters, Freehold acquired more than $68 million of royalty interests in Alberta, Saskatchewan, and British Columbia. Furthermore, over the past two years, the composition of the oil production has become lighter, largely as a result of its exposure to the Bakken and Cardium light oil plays. The company's production mix for the first half of 2013 was approximately 65% liquids (34% light and medium oil, 26% heavy oil, and 5% NGL) and 35% natural gas.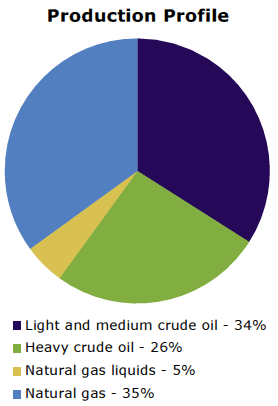 Source: Freehold Investor Presentation, June 2013
Financial Highlights
According to its Q2 of 2013 report, Freehold recorded funds from operations of $30.1 million in Q2, up 47%, mainly due to higher realized prices.
Revenue from royalty interests increased 11% in Q2 to $28.09 million over the same period last year as a result of higher realized prices, partly offset by lower royalty production volumes. Working interest revenues rose 48% as a result of both higher prices and higher working interest production volumes.
What allows the company to distinguish itself from its peers, are the strong operating netbacks it generates from the management and operation activities. Freehold's netbacks averaged $47.80/Boe during the quarter compared to $40.64/Boe for the same period last year. Regarding competition, MEG Energy (OTCPK:MEGEF) reported Q2 operating netbacks of $41.93/Boe, Advantage Oil & Gas' (NYSE:AAV) Q2 operating netbacks totaled $14.74/Boe, Baytex (NYSE:BTE) has realized $25.76/Boe for Q1 and Bonavista Energy (OTCPK:BNPUF) operating netbacks for Q1 amounted to $19.49/Boe.
Total gross revenues amounted to $44.1 million, a 22% growth from Q2 of 2012. Notably, royalty interests accounted for 64% of gross revenue in the first half of 2013, but contributed 74% of operating income. Net income of $14.3 million was 82% higher, mainly due to higher realized prices. Non-cash charges included in net income amounted to $15.9 million compared to $12.8 million for Q2 of 2012.
Capital investment in Q2 of 2013 amounted to $3.3 million, bringing total capital expenditures for the year at $18.2 million. The majority of which was invested on Freehold's mineral title lands. The table below shows the annual distribution of the company's capital.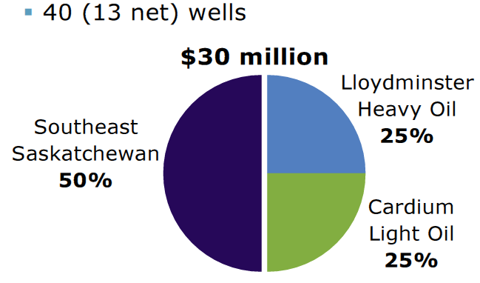 Source: Freehold Investor Presentation, June 2013
In addition, Freehold uses much less capex to fund its operations. The following chart illustrates its capex as a percentage of funds from operations compared to its sector average, which unlocks more cash flow to ensure the sustainability of its dividend, which is another factor that distinguishes it from its peers.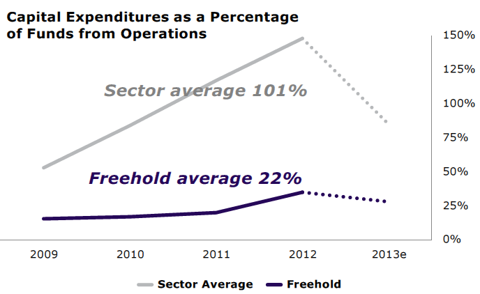 Source: Freehold Investor Presentation, June 2013
At the end of Q2, long-term debt was $55 million, and net debt was $50.6 million, down $4.9 million from Q1 of 2013. Its current long-term debt to equity ratio is very good at 18.41 compared to its industry's average of 69.70. Management of Freehold is doing an excellent job in the use of its capital funding, as funds from operations add to the overall value of the company with development and acquisition opportunities.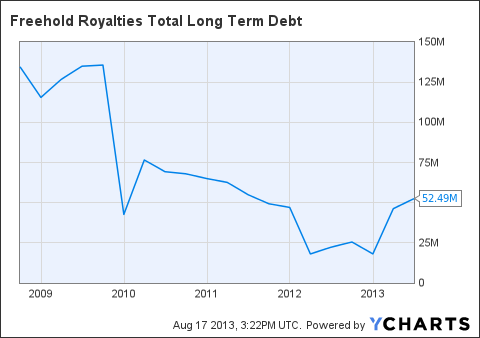 Net debt at Q2 was 0.5 times trailing funds from operations and net debt obligations were approximately 14% of total capitalization. As we can see, the company has plenty of flexibility for the use of its financing capital for further opportunities. The following chart compares favorably its debt to funds from operations to its sector average.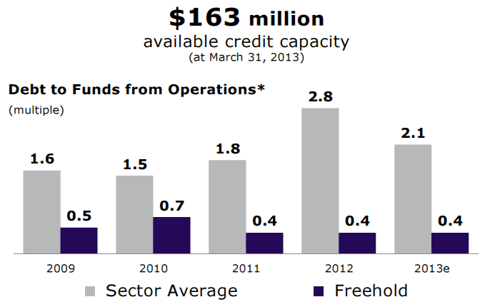 Source: Freehold Investor Presentation, June 2013
Future Outlook
As a result of higher than anticipated production in the second quarter, the company has increased its 2013 production forecast by 100Boe/d. On a Boe basis, production volumes for 2013 are expected to be approximately 63% oil and NGLs and 37% natural gas, similar to its current product mix. Freehold continues to maintain its royalty focus with royalty production accounting for 71% of forecasted 2013 production.
The firm is increasing its capital budget for the year by $2 million as a result of additional drilling at Buck Lake, Alberta, and strong partner drilling in southeast Saskatchewan. Capital investment in the second half of 2013 is expected to total $13.8 million, with approximately 65% allocated to drilling and completions, primarily in southeast Saskatchewan and Alberta. This will add roughly 16 (6.0 net) wells.
Operating expenses for the year are being increased by $0.30 per Boe to reflect higher than expected costs in the first half of the year and the upcoming fall turnaround season. Average WTI and WCS oil prices were increased by $3.00 and $6.00 per barrel, respectively, while the average AECO natural gas price was reduced by $0.50 per Mcf (million cubic feet).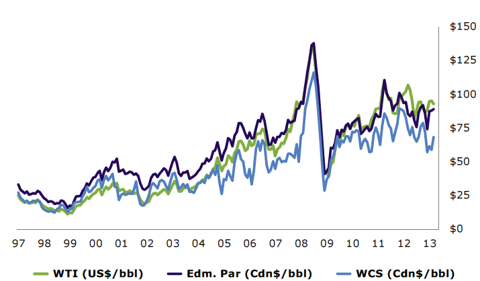 Source: Freehold Investor Presentation, June 2013
Under its current production and pricing assumptions, it anticipates being able to reduce its long-term debt to $44 million by the end of this year. Despite commodity price volatility, the company has been able to maintain a steady monthly dividend rate of $0.14 or $1.68 annually per share since January 2010.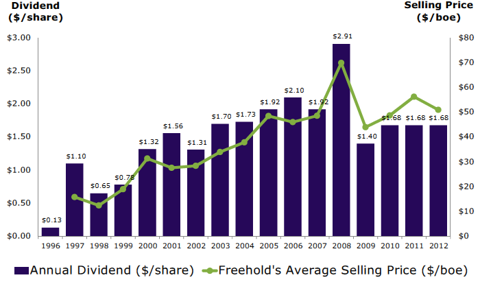 Source: Freehold Investor Presentation, June 2013
Based on its current guidance, commodity price assumptions and assuming there are no significant changes in the current business environment, Freehold expects to maintain the current monthly dividend rate through 2013.
Bottom Line
I really like what I see from this company. Its TTM (trailing twelve months) return on equity ratio of 16.12% is very good compared to an average of 3.41% of its industry, revealing how much Freehold has generated profit with its shareholders' money.
Moreover, with a 32.40% ratio of quarterly net profit margin compared to its industry's average of 6.39%, the company has better control over its costs compared to its competitors.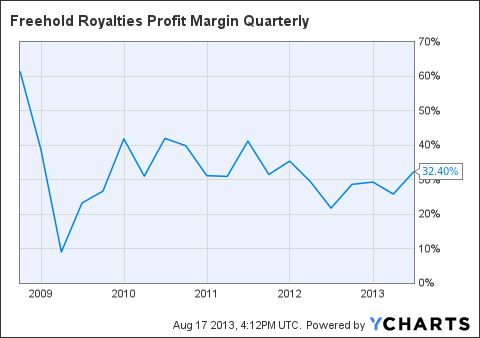 Freehold manages to unlock a net income of more than $0.30 for each dollar of sales. Furthermore, a great plus for the company is that it owns a large royalty portfolio with a low-risk profile. Its lower structure of costs compared to a typical exploration and production company adds to its overall value.
As said before, Freehold being directly and indirectly involved in the development and production of oil and natural gas in western Canada allows it to hold a great position in the industry without all the associated risks that come with activities of a typical producer. As a matter of fact, the company has generated royalty interests for 74% of its 2012 operating income, which is impressive.
According to the company, it holds 833,000 gross acres of undeveloped land independently valued at $80.2 million. The net proved and probable reserves are estimated at 24.4Mmboe (million barrels of oil equivalent) weighted 60% liquids with a reserves life index of 8.5 years.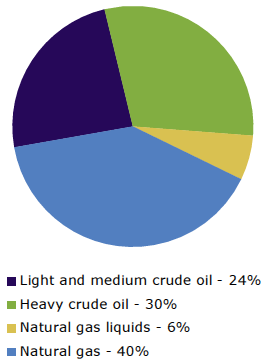 Source: Freehold Investor Presentation, June 2013
My analysis indicates that Freehold is in good financial health and has the required intangibles to sustain its dividend yield for the coming years. As a matter of fact, the stronger operating netbacks generated as well as its lower use of capex than its peers to fund its operations are good examples of how the producer ensures its sustainability.
Moreover, the review of the corporate structure makes me believe that the company's capabilities of unlocking profit allows it to stay profitable for the long-term.
Thus, Freehold Royalties represents a terrific investment opportunity to add to a portfolio that needs to include the oil and gas industry for diversification or for investors looking to add to its position in that industry with a limited risk exposure. I really like the potential and the overall value of this company. This real gem has definitely more shine in store for the future as it has a lot of room to grow.
Disclosure: I have no positions in any stocks mentioned, and no plans to initiate any positions within the next 72 hours. I wrote this article myself, and it expresses my own opinions. I am not receiving compensation for it (other than from Seeking Alpha). I have no business relationship with any company whose stock is mentioned in this article.