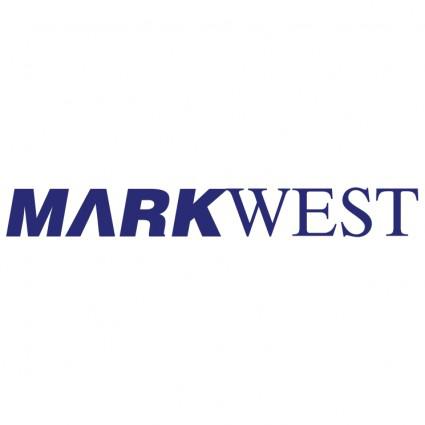 MarkWest Energy Partners, L.P. (NYSE:MWE) is a master limited partnership that processes, gathers and transports natural gas and some crude oil. It also transports, fractionate sand stores natural gas liquids (NYSE:NGLS). The partnership got its start in the mid-continent, mostly Oklahoma and Texas, but has since grown so much in the Marcellus Shale that it is now the single largest source of revenue for the company. A new area of focus for the partnership is the nascent Utica shale in eastern Ohio, where it is an early mover. As the Utica begins producing oil and natural gas liquids, MarkWest has been linking production from the existing Marcellus infrastructure and building new processing plants in the Utica. MarkWest has a market cap of $12 billion.
Energy infrastructure in the United States has a great future. As the "shale revolution" continues, the country is producing more and more crude oil, natural gas and natural gas liquids from multiple new places. All those new liquids and gas need to be transported, stored, fractionated and/or processed. Often times the biggest difficulty with brand new "greenfield" projects such as the Bakken, Eagle Ford and Marcellus is the lack of existing infrastructure. That's where the "midstream" pipeline MLPs come in.
The Marcellus shale is the highest volume producing shale in the country, and likely has the lowest cost-base. MarkWest's unique advantage is its dominant position in the Marcellus shale, where it handles the lion's share of dry gas and natural gas liquids. Nobody can match MarkWest's Marcellus footprint, and for this reason I believe it offers a compelling story and is a great means to generate and grow income.
Operations Overview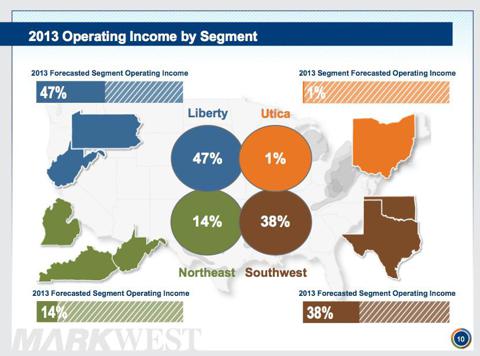 Wells Fargo 2013 Non-Deal Roadshow
The partnership's traditional base of income has been in the "mid continent," in this case Oklahoma and Texas. In around 2009, MarkWest began investing heavily on the Pennsylvania and West Virginia side of the Marcellus shale. Shale gas discoveries there ended up being the biggest and best of all dry gas plays in the US and MarkWest profited from being the earliest midstream entrant.
Now with over 1.6 billion cubic feet per day (Bcf/d) of Marcellus processing capacity, MarkWest is the biggest midstream player in America's most prolific and profitable dry gas play. The Marcellus (coined "Liberty" in the graphic above) now accounts for the largest segment of MarkWest's operating income. This exposure is what makes MarkWest a unique and compelling investment in the pipeline MLP space.
Dominant Player In The Dominant Shale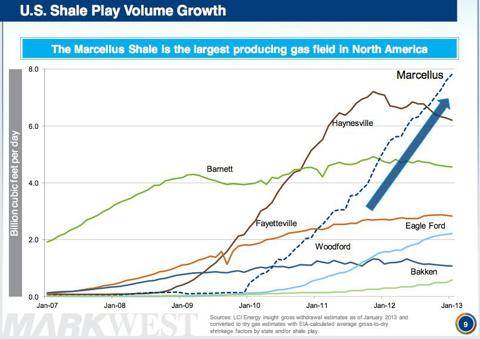 One of the biggest upstream producers in the Marcellus is Cabot Oil and Gas (NYSE:COG). Its cost structure shows just how low-cost this play is.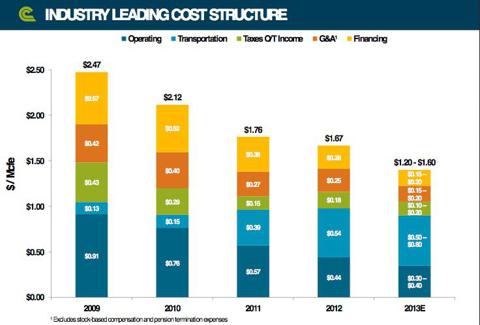 EnerCom 18th Oil and Gas Conference
Since about 65% of that company's production is in the Marcellus, this chart is a pretty good reflection of the economics of gas production in this shale. Even when dry gas was below $2 per thousand cubic feet, the Marcellus was still profitable for this company.
Here's what that means for midstream companies: even with gas prices at their very lowest level, there will still be profitable gas to process and store in the Marcellus shale.
Capital Response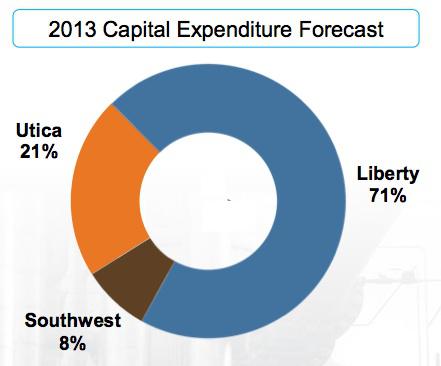 Management expects to spend between $1.3 and $1.5 billion in capital expenditures this year. The clear majority of that will go toward building new processing and de-ethanization plants in the Marcellus shale. A significant chunk will also be invested in the neighboring Utica shale.
The Continued Buildout
MarkeWest's philosophy is this: never be a hindrance to producer customers. Never be that "bottleneck." The Marcellus is still ramping up gas production, and MarkWest is getting out one step ahead of this by building out infrastructure. In addition to its existing 1.6 billion cubic feet in daily processing capacity, MarkWest is adding the following:
An additional 200 million cubic feet per day ((MMcf/d) of production capacity at the Houston (Ohio) facility by 2015. In addition, there is a de-ethanization facility under construction.
In Majorsville, WV, three new plants will be built, each with a capacity of 200 MMcf/d. The last will be ready in 2016. There are also two de-ethanization plants under construction.
In Mobley, WV, there are still 200 MMcf/d plants, the last will be ready in 1Q 2015.
In the Sherwood, WV, complex there are two more plants being built, the last of which comes on line in 2Q 2014. Each plant adds 200 MMcf/d. There's also a de-ethanization plant coming online
The Seneca complex in Ohio is adding three new 200 MMcf/d plants and one de-

ethanizer, th

e latest of which will be online in 4Q 2014.
The Cadiz, OH, complex is adding an additional processing plant and a de-ethanizer.
The Keystone complex in Pennsylvania has two processing plants for a combined capacity of 320 MMcf/d. It will also add a de-ethanization plant and a C3+ fractionation facility. The last of these will be done in 2Q 2014.
Finally the Hopedale complex will add a fractionator to be finished by Q1 of 2014.
Altogether, MarkWest's processing capacity will more than double from 1.6 Bcf/d to 3.3 Bcf per day by the end of 2014. There will be 175,000 Bbl/day (barrels of oil equivalent) of fractionation capacity as well.
Early Mover in Utica
The Utica shale has just begun production. While it does not seem to have as cheap of gas reserves as does the Marcellus, there is a small, oil-rich window. Producers within the oily window are ramping up, some outside it are exiting. And just like with the Marcellus, MarkWest is trying to get in one step ahead. Because the Utica is pretty much next door to the Pennsylvania portion of the Marcellus, Markwest merely has to extend pipelines into the Utica. They are doing not only that but also building new processing facilities. By the end of 2014 there will be 900 MMcf/d of processing capacity and 100,000 oil barrels equivalent of fractionation capacity. Going forward, the Utica will represent a significant portion of the partnership's income.
MarkWest's entry into the Utica will not be limited to dry gas. It is management's intent to process natural gas liquids and eventually bring them down to the Gulf of Mexico refining area. A big problem impacting upstream companies right now in North America is ethane rejection. Ethane rejection occurs when the price of ethane, liquid derived from natural gas, is so low that it is uneconomical for producers to sell it as a petrochemical feedstock. There's just too much ethane in the system.
But MarkWest believes there will come a time when ethane will be needed for either domestic use or exported elsewhere. As such, they've decided to build a pipeline system to move natural gas liquids from the Utica and Marcellus down to the gulf coast. To accomplish this, MarkWest has entered into a joint venture with Kinder Morgan Energy Partners (NYSE:KMP).
Here is how it will work. Kinder Morgan will first convert some of its existing pipeline to transport NGLs. The joint venture will build a processing complex in eastern Ohio and connect the pipeline to existing MarkWest infrastructure. The pipeline should be able to carry 200,000 barrels equivalent per day, and that capacity can be doubled. Finally, the joint venture would build a new fractionation facility in Mont Belvieu, Texas, on the Gulf Coast. This new system will compete directly with Enterprise's (NYSE:EPD).
Economic Value Added
I believe that Economic Value Added, or the EVA ratio, is an important metric. It represents a company's return beyond the cost of capital which it took out. It is a good representation of the real economic value a certain company brings to the table. There is no set way to measure EVA for MLPs, but I believe the best equation would be this:
[(EBITDA / Enterprise Value) - Cost of debt] * 100
As of May of this year, its average cost of debt was 4.04% and its "earnings yield" (EBITDA/Enterprise Value) is 4.387%. This means that MarkWest is adding value beyond its cost of capital, but not much. MarkWest's 34 basis points of value added does not compare well with Plains All American, which is adding over 300 basis points of value.
A low EVA ratio could mean a number of things: high debt costs, poor capital allocation or even an expensive equity. In this case I believe it means that MWE units are too expensive. Debt is already cheap. This may be a signal to wait until prices come down. We will take a look at this in the valuation section.
Financials
In 2012, MarkWest had $416 million of Distributable Cash Flow (DCF) and distributed over $371 million of that to unitholders, a ratio of 1.12 times. This year management expects at least $500 million in DCF and a distribution ratio of 1.08 times. That compares well against Kinder Morgan's coverage ratio of about 1.01 but is less than Plains All American's (NYSE:PAA) irregularly high ratio of 1.6 and Enterprise's (EPD) 1.3 times coverage. On a distribution coverage continuum, MarkWest will generally have more margin of safety than KMP, about the same as PAA, but less than Enterprise. When considering the long-term, predictable nature of these cash flows, MarkWest's coverage ratio is very adequate.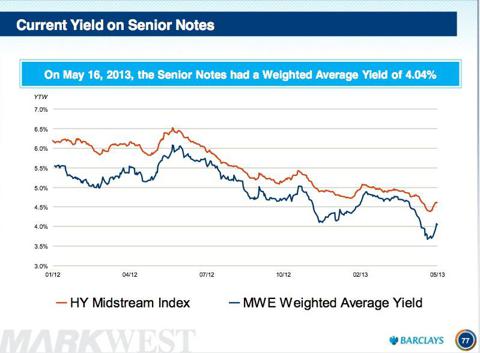 One of management's goals is to reduce the cost of debt over time. This year it has done a good job with this, driving down the cost of debt despite stable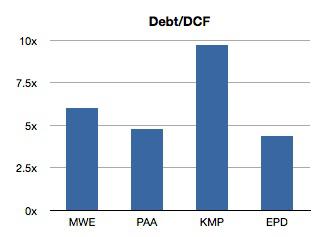 interest rates, bringing it down from 5.5% to 4%. It will be interesting to see how it fares going forward: higher rates in general will certainly drive the cost of debt up for both MarkWest and pipelines overall. Regarding leverage versus cash flow, we see here that MarkWest is less leveraged than KMP but slightly more so than PAA and EPD.
Valuation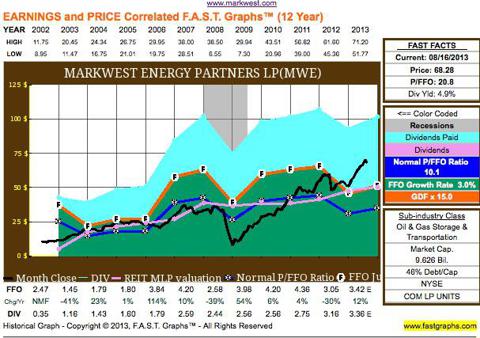 Valuations here seem to validate what we saw in the EVA ratio. MarkWest does indeed look overvalued when we look at the big picture. Notice that the stock has more or less correlated with the "dividend" line in pink. While it was well below the pink line and very much undervalued until about 2011, it is now well above where it has normally traded. There seems to be little margin of safety up here.
Despite MarkWest's undeniably strong position and growth prospects, investors should hold off on buying more units. A lower price would mean more Economic Value Added as well as a distribution yield more in line with its history, and I believe waiting for that is the best course of action right now.
Conclusion
MarkWest is a strong pipeline partnership with a compelling story. Its dominant position in America's "richest" shale means growth and income for many years to come. Its buildout in the neighboring Utica shale will likely be unmatched by the other pipelines which lack MarkWest's regional focus. Its joint venture with Kinder Morgan leverages the strengths of both respective partnerships. The partnership's debt costs are in check as is its distribution coverage
However, MarkWest is overvalued by a couple very important measures. The distribution yield has not been this low since 2012. While this partnership does have great prospects and is in an excellent position to take advantage of America's energy infrastructure needs, the best thing to do right now is stay on the sidelines.
Additional Sources:
"Debt/DCF" Chart by author, debt data by Morningstar, DCF data from respective conference calls.
Disclosure: I have no positions in any stocks mentioned, and no plans to initiate any positions within the next 72 hours. I wrote this article myself, and it expresses my own opinions. I am not receiving compensation for it (other than from Seeking Alpha). I have no business relationship with any company whose stock is mentioned in this article.