Milton Friedman explained in his 1970's lecture The Counter-Revolution in Monetary Theory:
Inflation is always and everywhere a monetary phenomenon in the sense that it is and can be produced only by a more rapid increase in the quantity of money than in output. ... A steady rate of monetary growth at a moderate level can provide a framework under which a country can have little inflation and much growth. It will not produce perfect stability; it will not produce heaven on earth; but it can make an important contribution to a stable economic society.
As Milton Friedman eluded to, governments have a propensity to overreact to crises with rapid and continual increases of the money supply in order to help spur economic growth. As we have seen through many iterations of bail-outs and quantitative easing (QE) after the most recent financial crisis, the Federal Reserve has proclaimed its mission to squash deflation by any means necessary.
Below is a chart of the US debt-to-GDP. Due to the low interest rate environment the Fed has enabled the US government to continue borrowing and spending without any thought to the long-term consequences.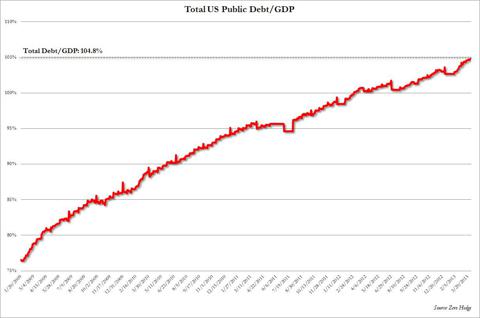 Compare the chart above with the chart below. The drop in the value of the dollar, as well as the rise in oil and gold, correlates roughly with the rise in debt.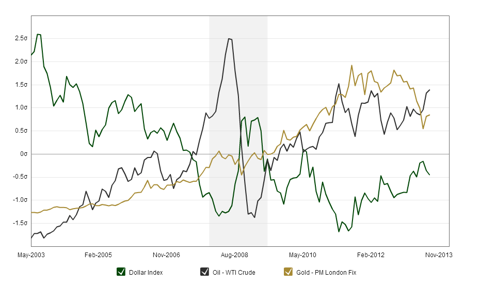 Compares the movement in the dollar index (major trading partners) with gold and oil prices over the last ten years. The three series are compared using standard deviation. (Sources: Federal Reserve, LBMA, EIA.)
The big question is how to invest in this period of uncertainty and moving forward into what I believe will be years of transition into a much different inflationary global economy.
Think Global
Forget the US domestic stocks. Invest on a global or regional basis. This should be companies or funds that have a large footprint. This will help to minimize currency, geographic and political risk. Emerging markets with large populations are also great places to invest. These areas will be less affected by any currency transition away from the dollar. Also look to invest in the actual commodities through ETF's or if your more of a savvy investor, futures.
I like to find companies that will continue to operate even in difficult times. I call this need based investing. Invest in things people need not things people want. Think about agricultural, energy, water and land investments. You want to invest in companies that produce hard assets, that have value and have strong balance sheets. Many of these investments have been crushed by lower commodity prices. Good time to buy.
A few international companies I currently like are Bunge (NYSE:BG), Statoil (NYSE:STO), and Freeport McMoRan (NYSE:FCX).
Bunge is a company that operates in 40 different countries with a diverse set of agricultural operations. BG's earnings have substantially been cut due to "tight corn supplies" as explained in this Reuters article. Currently trading around $75, I expect BG to reach much higher levels with increasing cash flow (cash flow increased 74% compared to 2012 Q1), a stronger balance sheet and stronger corn and soy supplies.
On the oil and gas side Statoil, a large Norwegian based global oil and gas producer, in my opinion is primed to do very well in the coming years. STO has remained relatively flat but the company has invested heavily in fracking technology and focused on its portfolio of assets to unlock value for shareholder. In a recent article by World News Media, Statoil's efforts were explained:
Statoil's recent efforts to tap huge gas reserves worth an estimated $30bn began last week 125 miles off Norway's coast with the launch of a huge underwater compressor, which, if successful, should allow gas to be retrieved at half the energy cost it would otherwise have required.
Statoil also just recently announced they are divesting their interest in the Gullfaks and Durun fields off the coast of Norway for 2.65billion. Here is Reuters article describing the deal.
I believe STO, trading around $21.60 is a buy at these current levels. It also offers an attractive 5%+ dividend and its balance sheet has dramatically improved from a couple years ago. With increasing oil and gas prices, this is a safe bet for the future and at a good value.
Finally, Freeport McMoran is an international mining company currently trading around 10x earning. It has dropped from its high in January 2011 of around $61 to its current level around $31. Again much of this drop is due to a drop in metal prices.
FCX is diversified, producing gold, copper, silver, and molybdenum among others. FCX also recently purchased two U.S oil and gas producers increasing its appeal to an investor looking for a diverse resource play. Insider buying also lends to a bullish case as displayed in this Forbes article. I expect with rising metal prices FCX will return to 2011 levels.
The Case for Precious Metal
Ah, yes, the old gold bug. There is a lot of noise in the investing world about where gold (NYSEARCA:GLD) prices will go next. For me it all just noise.
I often get asked by family, friends and customers on how I am currently investing. When I respond with precious metals, they seem to have a questionable reaction to say the least. But then I explain to them the history of gold, silver and metals and that the paper dollars under this fiat system they have invested (yes holding dollars is investing) sitting in the bank is continuing to lose value everyday. I have swayed many to see investing from a holistic view and that everywhere they put their money, even in cash, has to be seen through the lens of purchasing power, not nominal face value.
So I always recommend to allocate a percentage of a portfolio to precious metals, not just gold, but diversified in a variety of metals. I personally like to invest in the metals both through physical purchase such as silver/gold coins and through ETF's. A good balance will allow you to maintain diversification.
Good funds to look at would be the Sprott family of Precious Metal Traded Funds, Sprott Silver Trust SPLV, Sprott Physical Gold Trust PHYS and Sprott Physical Platinum and Palladium Trust SPPP. These funds are relatively low cost, easy to trade (liquid) and very secure and transparent when it comes to the amount of physical metal backing up the actual funds.
Much to the dismay of the anti-gold investors, it is shown in the charts below gold is not in a bear market but is relatively cheap after the when compared with the monetary base and the S&P.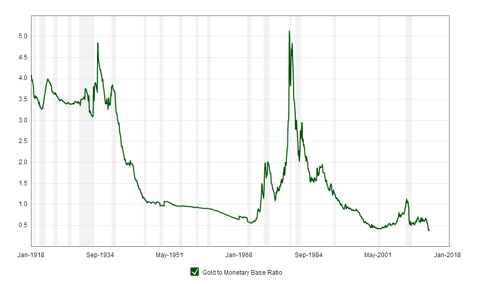 This chart shows the ratio of the gold price to the St. Louis Adjusted Monetary Base back to 1918. The monetary base roughly matches the size of the Federal Reserve balance sheet, which indicates the level of new money creation required to prevent debt deflation. Previous gold bull markets ended when this ratio crossed over the 4.8 level. (Sources: LBMA, Federal Reserve.)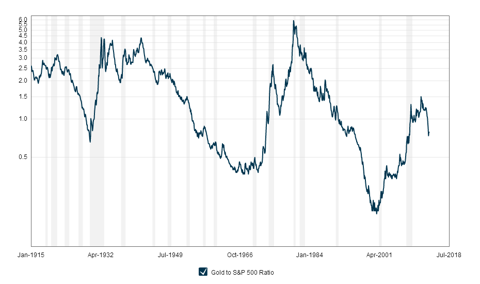 This chart shows the ratio of gold (priced in dollars) to the S&P 500 market index. This ratio is a good indicator of investor confidence in the dollar/fiat currency system. A low ratio signifies high confidence (gold low, S&P high) and a high ratio signals a lack of confidence (gold high, S&P low). The ratio hit its peak of 5.94 back in January of 1980 when gold briefly traded over $800 an ounce. (Sources: Federal Reserve)
In conclusion, these are perilous times and in my opinion investing has never been more difficult. From my perspective the United States will be in a continual state of quantitative easing and miserable fiscal accountability on the part of government for the foreseeable future. For that reason I support the idea of investing in beaten down commodities and global investments that provide essential human needs.
Disclosure: I am long PSLV, SPPP, PHYS, FCX. I wrote this article myself, and it expresses my own opinions. I am not receiving compensation for it (other than from Seeking Alpha). I have no business relationship with any company whose stock is mentioned in this article.