Brazilian stocks rallied, along with the nation's currency, as investment prospects brighten on the news that Rio de Janeiro will host the 2016 Summer Olympics, making the Bovespa the world's best-performing major index last Friday.

The victory was heralded by some as signaling Brazil's arrival as a major economy. Despite worries about Rio's high crime rate and lack of infrastructure, the chance to bring the Olympics to a continent that had never hosted the Games obviously worked in Rio's favor.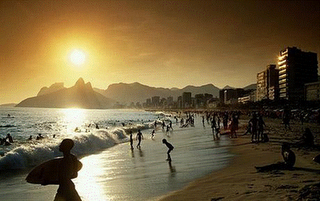 The B in BRIC

Brazil is the B in BRIC, a term first coined by Goldman Sachs in 2001. The main distinction is that "Chindia" has been developing a gigantic appetite for natural resources – energy, metals and agriculture, etc. to fuel their growth. In contrast, Brazil and Russia, are two of the very few resource rich countries capable of supplying these increasingly valuable commodities to the growing Asian economy.

Brazil's credit rating was raised to investment grade recently by Moody's Investors Service after the country built record foreign reserves and averted a prolonged recession amid the global financial crisis with a 1.9% GDP growth rate for the first quarter, powered by domestic demand. This growth by domestic consumer demand makes Brazil look very attractive to investors right now.

Growth Prospect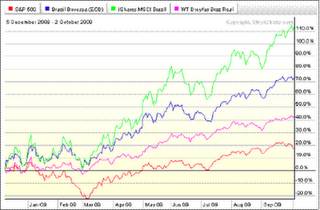 Rising commodity prices this year have led investors to buy emerging market assets where the economies tend to be more commodity-dependent. Both emerging markets and industrial metals group are outperforming U.S. equities so far this year.
The Bovespa index has surged 57% in 2009 (see chart) on speculation that record low interest rates (currently at 8.75%) and rebounding prices for Brazil's commodity exports will bolster economic growth without fueling inflation. Based on Credit Suisse`s latest forecast, Brazil's economy will grow 0.2% this year and expand at a 5% rate in 2010.

The World Bank is predicting Brazil's economy would be the fifth largest in the world by 2016. The Olympics, together with the discovery of oil in the pre-salt area and the hosting of the 2014 World Cup soccer championship, will boost Brazil's global stature and add about 3% to 4% of gross domestic product in the coming years.

According to studies by a Sao Paulo business school for the Ministry of Sports, the two games will help sustain Brazil's economic growth by injecting $51.1 billion into Latin America's largest economy through 2027 and add 120,000 jobs annually through 2016.

Spend to Impress

Among the biggest problems for Rio de Janeiro hosting the Olympics are infrastructure, crime and security. The city is served by a number of expressways though traffic jams, due to the large car fleet, are very common. Streets are regularly closed because of shootouts and gunfights on subways are not uncommon. The city transportation policy has been moving towards trains and a subway in order to reduce traffic congestion and increase capacity. Other problems also include power-supply shortages.

Brazil already plans to invest $11 billion to host the 2016 Olympics. In order to win the bid for the 2008 Olympics, China also pledged to spend $14 billion on infrastructure, but the official figures state that the country has actually spent over $40 billion. So, one could safely assume that Brazil would spend probably a lot more than the planned $11 billion in the next decade or so due to its some of the serious problems mentioned here.

Olympics Effects Driving the Commodity Rally

We need to look no further than the C in BRIC for the Olympic effects on growth when China hosted the 2008 summer Olympics. The boom within and outside China in three key areas — Infrastructure, commodities, and investments — pretty much sum up the 'Olympics Effect'.

The Olympics brought a wave of construction projects in China consuming vast amounts of cement and steel, crude oil and other commodities from 2001 to 2008. The games have provided a venue for investment benefiting infrastructure related sectors such as base materials, engineering and construction contractors. Other sectors attracting investments also include travel related sectors like hotel properties and services.

Brazil, due to its rich domestic resources, could supply most of the Olympics related commodities needs locally. However, the domino effect could leave China and India scrambling to fill their resource needs, thus bidding up prices of commodities in the coming years.

Investing Strategy

Similar to many developing economies, the regulatory environment in Brazil is not sufficiently clear to attract private investment capital and the stock market is very sensitive to inflows of foreign capital. So, if you are interested in adding Brazil as part of a diversified portfolio, the best way to do so is probably via ETFs like Ishares MSCI Brazil (NYSEARCA:EWZ) or WisdomTree Dreyfus Brazilian Real Fund (NYSEARCA:BZF) for a currency play.

For individual stocks, with growth in the rebuilding of infrastructure, the demand for base metals such as steel and copper should increase: Thus benefiting companies like Gerdau S.A. (NYSE:GGB), Latin America's largest steel maker, Vale S.A. (NYSE:VALE), the second largest mining company in the world and the largest logistics operator in Brazil, and Companhia Siderurgica Nacional (NYSE:SID), the second largest Brazilian steel manufacturer. In addition, energy companies like Petroleo Brasileiro SA (NYSE:PBR) could benefit from the infrastructure spending, as well as hotel operators like Hoteis Othon.

Copacabana Carnival

While Chicago, Tokyo and Madrid are still recovering from the after-shock, the Games are set to take place against impressive backdrops, Rio's stunning beaches and famous landmarks. Although data on the exact economic benefit of an Olympic Games has always been somewhat sketchy, one thing for sure is that the 2016 Olympics is good for business in Rio and Brazil. And most importantly, the commodities market is going to hitch a ride with them. So, see you on Copacabana beach in 2016 and let the Carnival begin.

Disclosure: No Positions