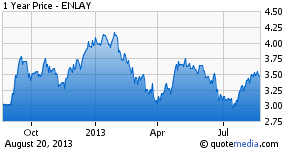 Recently I have focused my research on finding income opportunities in southern European countries, mainly within the utilities sector. Compared to U.S. peers, I have found a few opportunities with higher yields and attractive valuations, such as Enagas (OTCPK:ENGGY) or Snam (OTCPK:SNMRY). Another alternative is Enel (OTCPK:ENLAY) one of the largest European utilities, which offers a dividend yield of 5.8% and is trading at only 8x forward earnings. This compares well with fundamentals at U.S. utilities, such as American Electric Power (NYSE:AEP) or Exelon (NYSE:EXC). Enel has a market capitalization of about $32 billion, and is traded in the US in the OTC market.
Company Background
Enel is a multinational group based in Italy, being the country's incumbent electric utility. It is an integrated player in the power and gas markets of Europe and Latin America, operating in 40 countries across 4 continents. The Italian state is Enel's major shareholder with an equity stake of 31%, and the company is listed on the Milan stock exchange since 1999.
Enel has 98 gigawatts [GW] of net installed capacity, and distributes electricity and gas through a network spanning around 1.9 million kilometers [km], serving about 61 million customers. It has nearly 74,000 employees and operates a wide range of hydroelectric, thermoelectric, nuclear, geothermal, wind, solar and other renewable power plants. Enel Green Power is the Group's publicly listed company dedicated to the growth and management of power generation from renewable energy, operating 8 GW of installed capacity relying on hydro, wind, geothermal, solar, biomass and co-generation sources, in Europe and Latin America. In 2012, over 42% of power generated by Enel was carbon free, with renewable energy representing about 28%. However, its coal and oil and gas weight is still about 43% of the total fuel source used to generate electricity.
In Italy, Enel is the largest electric company having nearly 40 GW of installed capacity. It also manages the majority of the Italian electricity distribution network and offers integrated package of electricity and gas products and services for its 31.2 million customers. Italy represents about 32% of Enel's electricity revenues. Internationally, Enel has substantial interests in Spain and Latin America following the purchase of Endesa a few years ago. It is also present in Russia and Central Europe. Enel's major weak point is its large exposure to Italy and Spain, which together represent more than 60% of the company's electricity sold. These two mature markets have witnessed a general decline in consumption, a contraction in demand for electricity and gas, and an increase in the tax burden for households and corporations over the last couple of years. This has increased Enel's risk perceived by investors, leading to higher volatility of its stock price.
In 2012, Enel achieved $113 billion in revenues, an increase of 6.8% compared with 2011. The rise is essentially due to strong growth in its renewable business, Latin America, and Eastern Europe. Its international division posted the group's strongest growth, with revenues increasing 12.8% year-on-year. Operating income fell more than 30% to $10.3 billion, negatively affected by goodwill impairment losses of certain Endesa business units in Spain. Without this one-off goodwill loss, Enel's operating income would have fallen by only 8.5%, impacted by lower generation margins in Italy. Its net income was also largely affected by the recognition of the impairment losses on goodwill, declining 61% to $2.8 billion.
In the first six months of 2013, Enel's revenue decreased 1.3% to $53.4 billion, negatively impacted by weak electricity demand in Italy and Spain. Its EBITDA declined only 0.3% to $10.4 billion, representing an EBITDA margin of 20.6%. Going forward, the company's strategy is focused on investment in the growth markets of Eastern Europe and Latin America, as well in renewable energy. In 2012, these markets accounted for about 40% of the company's EBITDA, and Enel expects its weight increases to 45% in 2017. Enel also expects to increase its profitability by a strong cost reduction, with the goal of cumulative $5 billion reduction in costs over the next four years. However, although Europe's economy is starting to recover, macroeconomic weakness in Italy and Spain is expected to continue over the next few years which should be a strong constraint for Enel's earnings growth.
Dividends
Regarding its dividend, Enel's dividend history is not impressive reflecting the challenging operating environment it has faced over the last few years. Enel has cut its dividend several times over the last few years. In 2008, the company paid €0.49 ($0.65) per share, but in 2013 (referring to 2012 earnings) the dividend was only €0.15 ($0.20) per share a decline of almost 70%.
Enel's dividend frequency is annual, following the change in its dividend policy in 2012. Enel suspended the payment of the interim dividend and cut its payout ratio to 40% from 60% before. Endesa, its Spanish subsidiary, did the same change to its dividend policy. This dividend payout ratio acts as a floor, but as earnings are volatile so will be the dividend. As Enel has already paid a dividend in June, the next dividend will only be paid in 2014.
The company's cash flow from operations amounted to almost $14 billion in 2012, a decline of 11% from the previous year. The company's generation and energy management segment was the main responsible for the decline, with a slump of 42% in its cash flow generated. However, the cash flow from operations still fully funded capital expenditures, which amounted to $9.4 billion in 2012. The vast majority of the company's investments are deployed in Latin America, International business, and renewable energy. For the next four years, Enel expects to be free cash flow positive after dividends, so shareholders returns seem to be relatively safe on a cash flow basis.
Enel aims to preserve margins and cash generation in mature markets, with the goal of strengthening its balance sheet and deliver returns to shareholders in line with the utilities sector. However, the company's indebtedness is quite high, taking into account its net debt of $57 billion at the end of 2012. Its gearing ratio (net-debt-to-equity) is quite high at more than 80%, making the company especially vulnerable to a rising interest rate environment in Europe. Enel expects to decrease its indebtedness over the next few years, aiming to reach less than $50 billion by 2014. However, as the European sovereign debt crisis may not be over and Italian bond yields may go up over the next few years, it could increase Enel's interest costs putting more pressure on its net income and consequently in its ability to pay dividends.
Conclusion
Enel offers an attractive dividend yield of 5.8% and is trading at an undemanding valuation. However, I think it is a value and dividend trap. The company is too much exposed to Italy and Spain, which are still facing challenging economic environments. Moreover, as the company's regulated business represents only about half of its EBITDA, its earnings are certainly more volatile than other utilities like Snam. Its dividend policy is to payout at least 40% of its earnings, which could mean more dividend cuts may arise if earnings don't rebound. On the other hand, for investors who have a positive outlook in Europe's economy, Enel can be an interesting play as the company will benefit greatly from an economic rebound, especially in Spain and Italy.
Disclosure: I am long OTCPK:ENGGY. I wrote this article myself, and it expresses my own opinions. I am not receiving compensation for it (other than from Seeking Alpha). I have no business relationship with any company whose stock is mentioned in this article.