Note: Some readers believe when a stock price goes down that is a negative event, but it also provides opportunity. Although stock prices have dipped in the last several days of trading, there are two benefits to appreciate. The first is the purchase price is lower, so you can pay less per unit share or buy more units for the same price. The second plus is that with the lower price the annual distribution percentage rate goes up. When the price drops is a great time to buy into a company that pays a rewarding distribution.
Master Limited Partnerships have gained the attention of investors because of the high yields they can generate. Many of the MLPs are mid stream (which means they are neither the explorers nor the retail marketer, just the middle-man that pumps the crude and gas from the ground, processes it and sell it wholesale. Many of the MLPs have no or low debt that allows them to pass a high percentage of profits to their unit holders.
Energy MLPs must generate at least 90% of their income from "qualified sources," which mainly include real estate and natural resources. Natural resources currently covers crude oil, natural gas, petroleum products, coal, other minerals, timber, and any other resource that's 'depletable' under section 613 of the federal tax code. In 2008, this statute extended to cover industrial-source carbon dioxide and ethanol, bio-diesel, and other alternative fuels. Qualifying natural resource activities include exploration and development, mining, gathering, processing, refining, compression, transportation, storage, marketing, and distribution.
Investors looking for tax benefits and higher dividends may look for Master Limited Partnerships that have a special beneficial tax structure. MLPs are unique in that they're not required to pay corporate-level federal taxes like regular corporations, also called C-Corps. This allows MLPs to retain more of their income and cash flow, and also results in higher valuations for MLP's stock (everything else being equal). Instead, unit holders (the same as stockholders) pay tax only at the individual level.
I have found 9 MLPs working in the Permian Basin, in Texas and New Mexico that are worthy of your attention to find the right investment for you. All of these MLPs are solid companies with good operations and can provide a good return for your investment. Some of the companies pay a high dividend, and others have let their stock value appreciate year-to-date. Production levels of West Texas Oil in the Permian Basin have increased over the last several years that rivals the 1970's output. All of this is due to the technology growth of fracking, horizontal drilling and improved techniques on the recovery of oil out of the ground. These efforts have been led by improved exploration to find oil at multiple levels, drilling processes and better extraction processes that create a profitable return.
The companies I selected include: Pioneer Southwest Partners LP (PSE), Kinder Morgan Energy Partners LP (NYSE:KMP), Martin Midstream Partners L.P. (NASDAQ:MMLP), Memorial Production Partners LP (NASDAQ:MEMP), Plains All American Pipeline LP (NYSE:PAA), Enterprise Products Partners LP (NYSE:EPD), CVR Refining LP (NYSE:CVRR), Enbridge Energy Partners LP (NYSE:EEP), SunCoke Energy Partners LP (NYSE:SXCP). The last investment I want to include is the Alerian MLP ETF (NYSEARCA:AMJ). This ETF includes over 50 Energy MLPs for those investors that want a fund in the energy market.
I want to discuss more about the Permian Basin and the improvements in technology and how these companies are gaining opportunities to profit for their unit holders.
In the earlier days of drilling, oil was thought to be in pools buried under the ground (which is true, but not in all oilfields). Drilling in the Permian Basin in Texas used to be as easy as drilling a well in the right area and watch the black gold surge to the surface. Then pumping oil topside when the pressure stopped pushing it up. When the extraction rate of oil to the surface decreased and became non-profitable companies would cap the well and move on. Now, many companies inject water or a recent development of carbon dioxide (CO2) into the well and this increases the flow of oil to the surface.
According to the Railroad Commission of Texas, historical production from the Permian Basin has totaled roughly 29 billion barrels of oil and 75 billion cubic feet of gas. A recent presentation from Pioneer Natural Resources (NYSE:PXD) showed the total recoverable resource potential of the Spraberry and Wolfcamp formations in the Permian Basin to be approximately 50 billion barrels of oil equivalent, second only to the Ghawar Field in Saudi Arabia. The oil content of the Permian Basin, in conjunction with the improvement of recent technology, has made the Permian Basin a hot play, and activity there has escalated rapidly over the past few years.
The Permian Basin is also home to nearly 70 percent of the nation's carbon dioxide flooding process. Companies began CO2 injection in the field in 1986, and have increased the recovery rate by 50%. The effect on the bottom line with no additional drilling is encouraging many companies to reopen the cap wells and recover what was considered unrecoverable or unprofitable.
Through improved detection capability, exploration has found oil exists at many levels with mud, sand, clay and various types of rock separating them at different depths that provides challenges to access. Companies are now drilling to multiple depths on one site to tap the oil more effectively and efficiently.
Cline Shale Stratigraphic Display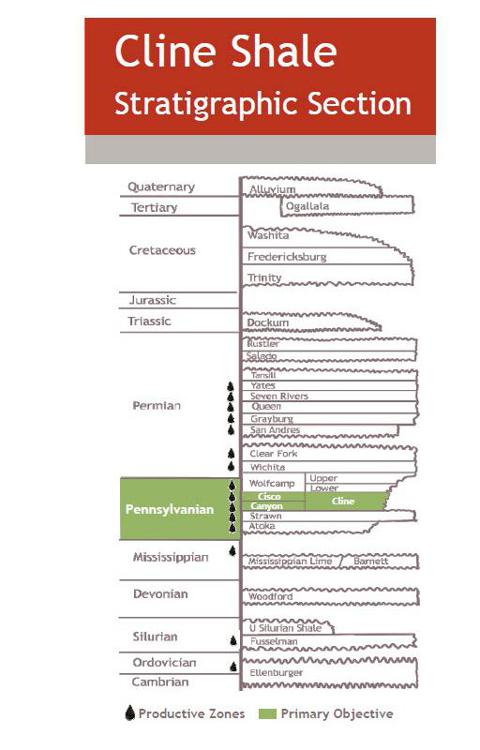 Notice how the various sub-levels are well defined and now oil exploration can identify the best recovery depths for oil reserves. The black drops of oil on the left side depict the levels where oil is found that would be profitable, called productive zones.
A term often used is 'Oil Play.' An oil play or petroleum play defines the similarity in the area of oil fields in the same geological circumstances. Many oil companies watch and learn from others for methods and techniques on how to best work in a particular oil field.
The Permian Basin covers approximately 86,000 square miles and encompasses 52 counties in New Mexico and Texas. From East to West, the play spans 250 miles and 300 miles from North to South. It is often oversimplified and mis-characterized as a singular play with homogeneous geology and stratigraphy. Unlike other oil plays in smaller oil fields the Permian Basin contains greater geologic complexity because of its size.
Oil companies are now drilling to multiple levels on one site, and lowering investment costs, pumping costs and collecting expenses as one site is more productive and cost effective. Here is another graphic of how one site is tapping oil reserves at multiple levels.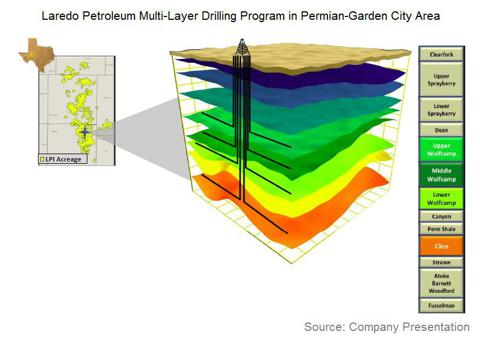 In the Cline shelf, the oil is assessed to be about 200-550 feet thick in shale that is porous enough to hold sufficient oil, but separated (not in large accessible pools). The 2 new techniques of horizontal drilling and fracking are now providing access to this oil at profitable costs. So profitable that many oil companies are fighting for reserves and bidding the land leases and mineral rights up. With the current price of Brent and WTI oil over $100 dollars, companies have an excellent opportunity for solid profits.
The Eagle Ford Shale in the greater Permian Basin has seen enormous growth in development over the past several years. The play covers a large area of about 50 miles wide and 400 miles long across South Texas and has been one of the largest engines of growth for US oil production over the past several years. The Texas Railroad Commission reported recently that production in Eagle Ford totaled over 420,000 barrels per day of oil in January 2013, compared to 248,000 barrels per day in January 2012. The University of Texas at San Antonio reported that it expected Eagle Ford crude production to grow to 527,000 barrels of oil per day in 2013, up from 358,000 in 2012.
Extraction improvements have aided in the recovery of oil and gas from older wells. A critical part of Energen Resources oil and gas exploration and production business is its ability to add value to acquisitions by rejuvenating older fields with new technology. ERC used water flood operations to revive the North Westbrook Unit, a field it acquired in 2005. Since then, production jumped from 900 barrels a day to nearly 5,000 barrels a day, which is close to the field's peak production in 1985 when Chevron Corporation operated it. That field is also home to a piece of West Texas history. The Permian Basin's oldest oil producing well, W. H. Abrams #1 (commenced drilling in February 1920).
Occidental Petroleum Corp. is the largest oil producer in the Permian, according to the Texas Railroad Commission. Occidental produces 465,000 barrels of oil crude per day with over 2.3 billion proven reserves. It is also the largest user of CO2 to enhance oil recovery. It has over 1.6 million acres of land under lease. Although they are not an MLP, they are noteworthy as they have been leading the way for many of the MLPs to copy and learn from.
Pioneer Natural Resources Co. is the second-biggest oil producer in the Permian Basin of Texas. Pioneer's estimate for recoverable oil and gas from the Midland basin is nearly double that for the Eagle Ford Shale in southern Texas, and nearly four times larger than for Alaska's Prudhoe Bay. Pioneer's leases cover 900,000 acres of deposits known as the Spraberry and Wolfcamp Fields. Pioneer is ramping up drilling in the southern Midland Basin under a $500 million joint venture with Sinochem Group, China's biggest supplier of chemicals. The deal calls for Sinochem to pay $1.2 billion of Pioneer's drilling costs. The number of drilling sites will increase from seven to 10 in the next year. Pioneer is also the largest operator in the Spraberry trend with more than 206 rigs. That is the highest number since the1980s.
Pioneer Southwest Energy Partners is the MLP spin-off from Pioneer Natural Resources Co. (listed above). Pioneer Southwest owns, acquires, explores and develops oil and gas assets in the Spraberry and Wolfcamp fields. Pioneer Southwest has access to great oil plays and resources other MLPs may not have through cooperation with their parent company, Pioneer Natural Resources.
On April 17, 2013, Atlas Pipeline Partners announced a deal to acquire TEAK Midstream, LLC, a private midstream operator with assets located in the Eagle Ford Shale, for $1 billion in cash.
In December 2012, Plains All American Pipeline announced that it acquired crude and condensate gathering assets in the Eagle Ford for $125 million. On April 15, 2013, Plains announced the construction of a 310 mile, 20 inch pipe that would carry crude from McCarney to Gardendale, Texas, then to Corpus Christi and Houston. The Cactus line would carry 200,000 barrels plus per day. The line is planned to be operational by the first quarter 2015.
In February 2012, Kinder Morgan Energy Partners, L.P. and Martin Midstream Partners L.P. entered into a joint venture with Pecos Valley Producer Services LLC, to develop a multi-commodity rail terminal in Pecos, Texas. The new terminal is serving the growing oil and natural gas industries in the Permian Basin. The first stage of the terminal is open and servicing the transportation requirements of crude oil, natural gas liquids, sand, pipes, tubes, structural steel, rig mats and other commodities which can be railed in and out. The company is then trans-loading goods to trucks for delivery to the surrounding area. Once the terminal has been fully developed, it will encompass approximately 85 acres and will be able to support unit trains. Total railcar capacity is anticipated to be 300 to 600 per day based on demand. The terminal is strategically located along the Pecos Valley Southern Railway and directly adjacent to the Union Pacific mainline in the city of Pecos, and will offer scalability and convenience for local area producers.
Memorial Production Partners LP is acquiring oil and gas properties in the Permian Basin, East Texas and the Rockies for $606 million. The transaction has an effective date of July 1, 2013 and will close in October 2013. The acquired properties in Texas, New Mexico, Wyoming and Colorado consist of 973 gross wells on 363,000 acres. Additionally, the company will acquire nearly 275 billion cubic feet of natural gas equivalent proven reserves, of which about 48 percent are located in the Permian Basin, 31 percent in East Texas and 21 percent in the Rockies. This sale will increase Memorial's proven reserves by 36 percent to more than 1 trillion cubic feet of equivalent and increase its average daily production for May by 42 percent to about 152 million cubic feet equivalents per day.
Here is a list of my selected MLPs with unit price, the last quarterly distribution and the annual yield from the latest quarter distribution and the current stock price.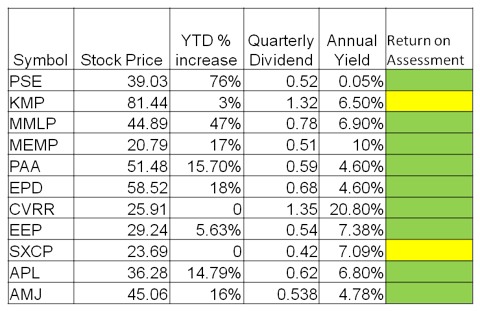 All of the companies marked green have displayed a better than 10% total return (unit price year-to-date increase plus the annual distribution return percentage), while the two in yellow are at or below 10% year-to-date return, but with a strong financial sheet worthy of a recommendation.
Two things to note about this chart. The first is the difference between how some companies grow their stock price value and pay a lower distribution; while other companies pay a higher dividend and have a lower stock price appreciation. A stock price appreciation is value in the company, however, the price can retreat in the market. Once a distribution is paid, the investor has part of the return on the investment. This lowers the risk in the long run, but to stay up with the valuation increases of the stock price the investor may choose to reinvest the distributions.
The second benefit of these MLPs is that they all demonstrate a solid return and projected over 10% return on your investment into the future. They have good business practices that will continue to be profitable operations into the future. The selection of any of these companies is expected to grow a double-digit return for the investor.
The last investment listed is the Alerian MLP ETF . This is a fund with over 50 Energy MLPs for those investors that want a fund in the energy market. To broaden your investment and decrease your risk of investing in one individual stock or MLP, this may be a direction to invest in the broader Energy Market of MLPs.
Disclosure: I am long CVRR, SXCP, MEMP. I wrote this article myself, and it expresses my own opinions. I am not receiving compensation for it (other than from Seeking Alpha). I have no business relationship with any company whose stock is mentioned in this article.