Preface: Kudos to Nuveen and Morningstar for updating CEF stock pricing on Saturday for Friday's close on CEFConnect.com.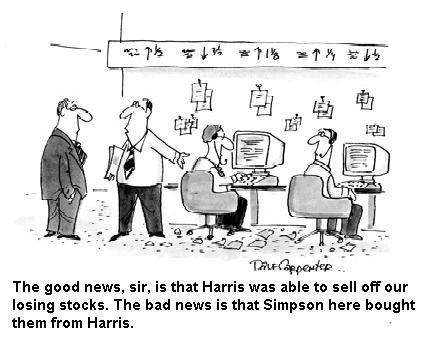 CEF Weekly Review: The 13 closed end fund (CEF) types on average were down 0.3% for the week ending 10/2/09.
On an aggregate, unweighted basis, the weekly average price change for 613 CEFs was down 0.1%.
The weighted 49 CEFs comprising the Claymore CEF Index registered an average decline of 3.6% for the week. The S&P 500, as measured by the SPDR S&P 500 ETF (NYSEARCA:SPY), registered a decline of 1.9%.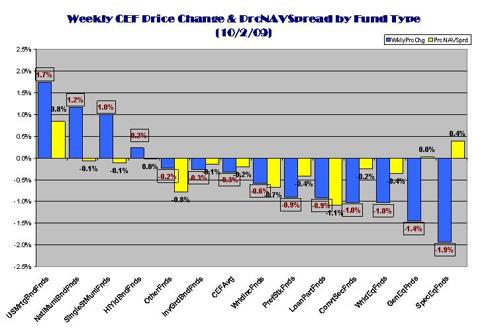 (Click here for YTD CEF performance. The table is based on a 275 CEF sample size as all the data fields are not available for the CEF universe.)
The Eqcome CEF Fear Index slid into negative territory as investors backed away from assuming risk. The CBOE Volatility Index (VIX), which typically moves inversely with the stock market, extended its rebound from late September's lows and posted a 12.0% increase. It is now nearing the "30" milestone which has historically represented heightened investor anxiety.
CEF Weekly Fund Type Performance: The typical pattern emerged for the CEF market sector this week. In a weak equities environment, fixed-income typically outperforms equities. This was pretty much true this week with most fixed income fund types performing above average and equities below.
Real estate funds continued to provide ballast to the SpecEqFnds. Real estate funds were down 1.9% following a 4.4% decline last week. Energy funds gave up most of its previous week's 2.8% gain with a loss of 2.5% this week.
Global funds were also a victim of the market slide—particularly, Asian/Pacific funds.
CEF Spread Changes: Changes in PrcNAVSprds generally follow the trend of price movement. This is typically the case when markets generate meaningful price changes. Bucking the trend in a marginal manner were the munis funds. This was more pronounced for SpecEqFnds moving in the opposite direction.
OtherFnds NAV's (a preponderance of "Buy/Write" CEFs) declined at a significantly greater pace than their share prices. (Whether this metric is material or not is a function of the liquidity of the CEF's underlying asset and the ability for real-time pricing.)
Individual CEF PrcNAVSprd Changes: The largest PrcNAVSprd was for American Strategic Income Portfolio III (NYSE:CSP) which posted a positive PrcNAVSprd of 5.0%; the stock advanced 4.7%. Late last week, FAF Advisors, Inc. announced a managed distribution policy for CSP. The new monthly distribution rates for CSP will be $.098 versus its previous rate of $.055 per share. This means that investors could be getting a return of capital as part of their distribution. (It's the investment equivalent of "eating your young".)
With the exception of "Buy/Write CEFs, where accounting issues prevent option premiums from being amortized into net investment income, steer clear of managed distribution CEFs. It obscures the true underlying earnings power of the CEF and its ability to support its distribution from net investment income. It may signal an attempt to cover-up a deteriorating investment portfolio. (I don't know if that's the case here.)
Helios Total Return Fund, Inc. (HTR) generated the lowest PrcNAVSprd at 9.7% as its stock was off 1.1%. HTR registered a down-tick in its monthly distribution from the previous month of $.055 to $.0475 per share. This is the second time this year that HTR lowered its monthly distribution.
(A positive spread between the change in price and NAV could be viewed unfavorably subject to other metrics. This is because the stock has advanced greater than its underlying NAV. All things equal, they should move in tandem. The opposite would also be true.)
Market Perspective: Investors sent the equities market down at the commencement of October having just "dodged the bullet" for September—the worst month of the year for the stock market. A combination of: a "relief correction" and economic numbers moving in the wrong direction.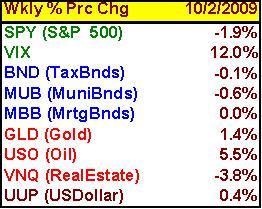 While equity markets will remain volatile with a bias towards the downside for the balance of the month, unless investors are counting on a double-dip recession, now is the time to wade in. We're closer to an economic turn around than ever. Retail investors are aching to pull the trigger on their large non-earning cash balances but lack conviction. This market will likely climb a "wall of worry". (Click here for next week's economic calendar.)
ETFs: (Click here for ETF YTD sector performance.)
Insider Trading: Karpus Management, Inc. ("Karpus") was again a CEF insider filer on another Putnam CEF. This time the target was Putman Municipal Opportunities Trust (NYSE:PMO).
Late in September Karpus acquired an additional 9,700 shares at an average cost $11.33 per share for a total outlay of $1,089,894. Karpus currently owns 4.9 million shares or approximately 11.4% of PMO for which it has sole voting power. (Karpus was an insider buyer of PIF the previous week.)
The trustees of PMO had in 2008 approved in principal a plan to merge PMO into Putnam Tax Exempt Income Fund (NYSE:PMM), an open ended fund, and thereby eliminate PMO's discount. Mid 2009, PMO's trustees announced the merger was "on hold" putatively for the inability of the open-end fund (PMM) to legally issue preferred shares which currently constitute a portion of PMO's capital structure.
It would appear that redemption of PMO's preferred shares would allow the transaction to progress. Western Investment, LLC, another CEF activist, holds a small position in PMO. PMO is trading at a tax exempt yield of 6.58% (taxable yield equivalent of 10.1%) and at a slight discount of 6%.
James T. Flynn, a director of numerous Blackrock closed end funds, acquired in aggregate 27,000 shares of BOE, BGY, BDV and BDJ for a total cost of $312,230. All transactions occurred on October 1st.
There were several smaller insider positions initiated as well as additions to existing positions for the month of September—effectively ending 10/2/09. (See chart below)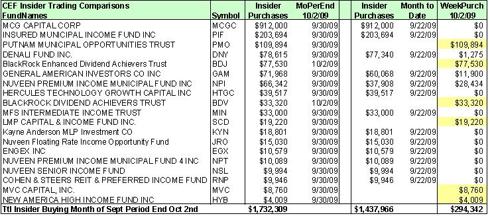 CEF Distribution Announcements This Week: Given the large number of CEFs declaring distributions this week, the following is a link to a table that typically accompanies this section. (The list is not intended to be all inclusive. While reasonable care was taken in its construction, please confirm its accuracy independently prior to making an investment decision based on this table.)
(Click here for weekly CEF distribution announcements.)
CEF Focus for the Week: If one views the stock market's downside risk as temporary, Buy/Write CEFs might make sense in the interim. One consideration would be Eaton Vance Tax-Managed Global Buy-Write Opportunities Fund (NYSE:ETW). It's currently trading at par in a group with an average premium of 8.3%. Current distribution yield is 13.7%; it has net total assets $1.4 billion and a modest expense ratio of approximately 1.08%.
Consider it food for discussion.
Disclosures: Long SPY & GLD and a diverse portfolio of CEFs