Overview
Zynga Inc. (NASDAQ:ZNGA) is the world's largest social game developer with 253 million average monthly active users, or MAUs, in 175 countries. Zynga is available on a number of global platforms including Facebook, MySpace, and Yahoo; and through devises such as iPads, the iPhones and Android phones/tablets. All of their games are free to play, and they generate revenue through the in-game sale of virtual goods and advertising.
Growth & Financial Results
The company has grown exponentially over the past five years as it produced popular games, including Zynga Poker and Farmville, and integrated itself tightly into Facebook, the source of roughly 86% of its overall revenue in 2012. However, near-term results have been hurt by negative growth in its user base.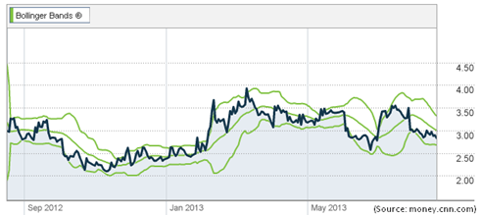 A look at Bollinger Bands in the above graph (marked in green) shows that the current fall in share price has reached the lower part of the band. Considering recent strategic moves and confidence from institutional investors, Zynga will likely bounce back once management strategies have had the chance to make an impact and begin churning out profit in the near future.
In Q2 2013, Zynga posted weak financial results, with a 31% decline in revenue compared to same period 2012. While the company continues to have three of the top ten games played on Facebook's game network, its monthly average users declined to 187 million from 253 million in the prior-quarter period.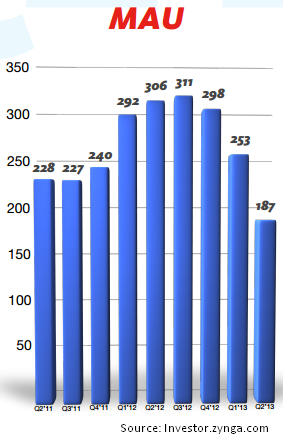 For Q3 2013, Zynga has lowered its projected revenue to be in the range of $175 - $200 million, much lower than it current Q2 revenue of $231 million. Fortunately, Zynga has a strong financial base, with over $1.5 billion in cash and marketable securities; enough resources to allow for an investment in new strategic initiatives.
Analyst Recommendations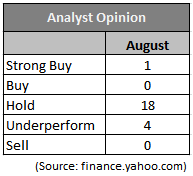 The analyst consensus is a hold on Zynga; with 4 analysts forecasting underperformance. Not a ringing endorsement. 16 analysts polled for a 12-month price forecast reach a median target of $3.00, with a high estimate of $4.25 and a low estimate of $2.75. This would seem to indicate some opportunity. The low forecast indicates a slight decline from the current share price; while the high forecasts, as well as the median, show a healthy return.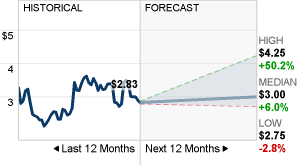 Management Actions
So what exactly is going on here? The company metrics seem to be heading in the wrong direction; however, it would appear that there is some upside. The fact is that Zynga is in a very volatile industry. In their business space, Zynga cannot sit idly by and hope for a recovery. They have to take aggressive action. Fortunately, it appears that they are:
· New CEO - Zynga names Don Mattrick Chief Executive Officer: "Don is unique in the game business, he's been the person responsible for game franchises like 'Need for Speed,' 'FIFA' and 'The Sims.' He's one of the top executives in the overall entertainment business, He turned Microsoft's Xbox into the world's largest console-gaming network, growing its installed base from 10 to 80 million and transformed that business from deep losses to substantial profits. And he has grown the Xbox Live player network from 6 to 50 million active members in 41 countries.
· Cost Reductions - In June 2013, Zynga Announces Substantial Cost Reductions: including a workforce reduction and closure of various office locations that will result in an estimated $70 million to $80 million in pre-tax annualized cash expense savings. The workforce reduction will occur across all functions and is expected to be substantially complete by August 2013.
· Acquisitions - During the second quarter of 2013, Zynga completed its acquisition of Spooky Cool Labs LLC, a provider of social casino games.
· Partnerships - Partnership between Zynga and Bwin.party
Actions from management sound promising for future earnings; however, in an industry with little history, it's difficult to forecast how these will pan out. Institutional investors purchased net $27.1 million shares of ZNGA during the quarter ended June 2013. This may signal that the smart money is gaining interest in this company.
Conclusion:
Don Mattrick joining Zynga as its CEO is a spectacular coup for the company, and its shareholders. There is not another executive in the world who could bring as much experience, knowledge and success in the gaming space. This is an incredible vote of confidence in the future prospects for Zynga.
The next few years will be a time of phenomenal growth in online gaming space and Zynga has incredible assets to take advantage of the market opportunity. So, while it would be a higher risk/higher volatility investment, with the right market position and the right team in place - Zynga will be a good long-term investment.
Disclosure: I have no positions in any stocks mentioned, and no plans to initiate any positions within the next 72 hours. I wrote this article myself, and it expresses my own opinions. I am not receiving compensation for it (other than from Seeking Alpha). I have no business relationship with any company whose stock is mentioned in this article.