On July 31st a furious, indiscriminate sell-off began in the solar sector. The sell-off did not appear to be triggered by any specific news but it was, rather, a broader consolidation. Since then, the biggest names in the industry have seen their share prices plummet (SPWR -24.7%, SCTY -16.1%, FSLR -21.1%).
Despite the ferocious consolidation, there is no doubt about future growth in the solar industry. Solar installations continue to increase exponentially in the US. The average industry growth rate has been around 40%/year over the past eight years.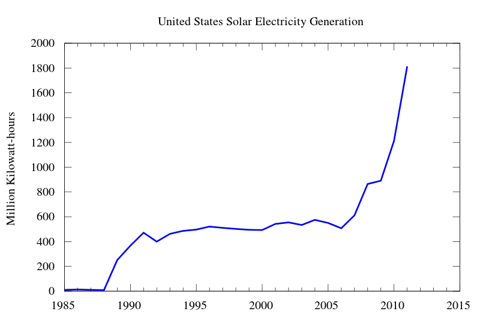 According to this graph, the solar sell-off is bound to lose steam eventually. Judging in part by the flurry of positive Seeking Alpha solar articles that were published on August 20th, I believe we are at the bottom. If you choose to reenter the solar market after this selloff, SunPower Corporation should be your first choice.
Don't get me wrong. I understand that FSLR is a good value. And SolarCity certainly has intriguing growth potential. The problem is, FSLR's future is not particularly bright. Q3 revenue was down 46% y/y and, despite a new partnership with General Electric (NYSE:GE), FSLR's technology is lagging. SolarCity has gobs of potential for future expansion, but it is not profitable yet. SPWR is the ONLY solar company that is profitable today and has strong growth potential for the future.
SPWR is a manufacturer but it also provides residential lease agreements, just like SCTY. A distinct advantage, I would argue, is that SPWR can supply its own solar panels, cutting out the middleman and benefiting from lower costs than SCTY. Furthermore, SPWR's panels are the most durable in the industry. This is a positive sign that SPWR will be successful with long-term residential leases. This residential market gives SPWR the same growth potential as SCTY, but SPWR also brings home a profit.
Another positive sign for the company is the full utilization of its factories. In so many words, SunPower panels are selling out. This will allow the company to start picking its customers selectively, and bodes well for profit margins in the future. A final, significant point from SPWR's Q2 earnings release is that SPWR has paid off its debt and is profitable for the first time since 2010.
Let's now look at a few indicators of SPWR's success beyond the material from the Q2 earnings release. Despite the recent price drop, only one in 16 analysts gives the stock a "sell" rating. Of the three stocks I discuss here, SPWR fared worst in the sell-off - it is down 25% since July 31st. Keeping in mind that the sell-off was not triggered by any specific news, but rather a broader consolidation across the industry, that presents SPWR with the greatest margin to bounce back.

Combined with the other factors I have already mentioned, that makes SPWR the best candidate for reentry after the awful downturn in the solar market.
Disclosure: I am long SPWR, SCTY. I wrote this article myself, and it expresses my own opinions. I am not receiving compensation for it (other than from Seeking Alpha). I have no business relationship with any company whose stock is mentioned in this article.