Lake Forest, Illinois-based specialty pharmaceutical products maker Hospira (NYSE:HSP) recently raised its 2009 outlook. The company now sees earnings in the range of $2.80 to $2.85 per share up from its earlier guidance of $2.70 to $2.75.
Annual revenue is expected to rise by 5 to 7% compared to the earlier expected growth of 4 to 6% on a constant currency basis. Hospira also boosted its 2009 outlook for gross margin, operating margin and cash flow from operations to 39.5%-40.5%, 18%-19% and $610 million-$660 million, respectively.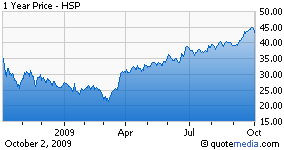 Hospira said it is confident that its cost-cutting and restructuring initiative, Project Fuel, would improve profitability through 2011. The company's restructuring plan consists of a 10% reduction in workforce and realignment of its product portfolio including the sale of non-core businesses. It has already identified about 3700 products -- 50% of its portfolio -- which can be eliminated in due course.
Hospira's revised guidance was primarily the result of stronger sales of injectable generic drugs. The company derived about half of its total sales from the Specialty Injectable Pharmaceuticals (SIP). This segment is now expected to grow by 8% to 10%, up from its earlier projection of 4% to 6%.
Although the SIP outlook is promising, Hospira's medical devices business is still suffering from the global liquidity crisis. Major capital investment for expensive equipments, such as hospital beds and MRIs, are likely to remain subdued for another 18 months.
Hospira is currently eyeing the H1N1 flu market and is in discussions with major players, like Baxter International (NYSE:BAX), Novartis (NYSE:NVS) and GlaxoSmithKline (NYSE:GSK), which are developing vaccines. Given the huge potential of this segment, Hospira is looking for an opportunity where it can package bulk vaccines into syringes.
If the company succeeds in grabbing a share of the H1N1 flu market, its SIP segment will get a further boost. We have a Neutral recommendation on the stock.