The Federal Reserve Bank of Kansas City is about to convene its annual economic policy symposium this week. In recent years, global investors have closely watched this gathering for important guidance on the future direction of monetary policy. But this year's event takes on an entirely different significance. For while the most aggressive and unprecedented monetary policy experiment in history by the U.S. Federal Reserve arrives at a critical juncture, whatever is said in Jackson Hole later this week will likely matter little if not at all. For in just a few months, the people making the key decisions on monetary policy are likely to be an entirely different set of individuals than those who are currently in place today. And this uncertainty is likely to weigh on investment markets including stocks in the months ahead.
A Monetary Exposition: 3 Days Of Policy & Musing
A look at the agenda for this year's gathering in Jackson Hole says it all. Despite the fact that it is the biggest monetary policy event of the year, the soon to be departing Fed Chairman Ben Bernanke is not even scheduled to speak. In fact, he won't even be in attendance. It is the musical equivalent of Jimi Hendrix opting not to take the stage as the closing act on the Monday morning of Woodstock to perform among other songs the now iconic The Star Spangled Banner because he was tired and wanted to avoid the rain, leaving Sha Na Na to wrap up the festival instead. Nor have they scheduled a retrospective like they did for Alan Greenspan in 2005 to review Mr. Bernanke's legacy over the last eight years including a debate as to whether he is the greatest Fed Chairman ever. In addition, the leading candidates to replace Chairman Bernanke are also not on the agenda. Janet Yellen will be in attendance but is not scheduled to speak. And former U.S. Treasury Secretary Larry Summers will be somewhere other than Wyoming later this week. In short, Jackson Hole is shaping up to be largely a non-event from a market perspective, and the fact that the agenda was leaked nearly two weeks before the start of the conference suggests that this may be the way the Fed wants it this year.
From a personal perspective, I actually think it is a shame that Mr. Bernanke is ending his tenure as Fed Chairman on such a subdued note, as he should be commended for his tireless efforts to rescue and resuscitate the global economy in the face of extraordinary market challenges and continuous fiscal policy headwinds. For while I have strongly disagreed with the course of monetary policy since the implementation of QE2 back in the summer of 2010, his hard work and dedication in seeking to carry out what he felt was best for the global economy and its participants during the worst crisis since the Great Depression was repeatedly demonstrated over the last several years. In fact, I suspect someday soon even a few of his strongest detractors might look back and miss the days of Mr. Bernanke's leadership as Fed Chairman. Only the passage of time and events in the coming months will begin to tell if this is actually the case.
The Main Events For The Fed Lie Ahead
Markets remain transfixed by two key events coming in the next few months, and neither will be addressed at Jackson Hole.
The first is the next two-day FOMC meeting that will conclude on September 18. It is at this meeting that many expect the Fed will begin scaling back on its $85 billion per month QE3 asset purchase program. Whether such tapering actually takes place and how the market responds to such policy action remains to be seen. But with the S&P 500 Index (NYSEARCA:SPY) still trading at a 7% premium over its 200-day moving average during a time when so many other related and correlated asset classes including REITs (NYSEARCA:VNQ), high yield bonds (NYSEARCA:HYG) and preferred stocks (NYSEARCA:PFF) have already broken down sharply from their recent highs suggests that it could be an eventful several weeks leading up to this key announcement. The fact that Treasuries (NYSEARCA:TLT) continue to bleed lower with the 10-year threatening to achieve a doubling of its 1.6% yield from early May should only add to the excitement.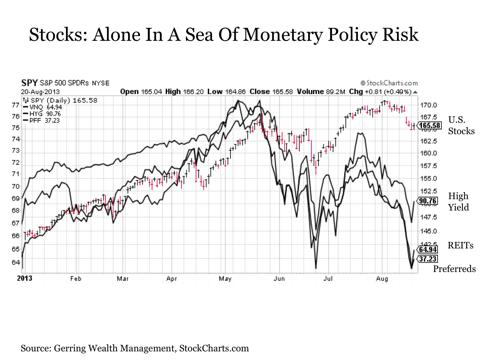 The second and perhaps more important event taking place in the next few months is the announcement and eventual appointment of a new Chairman of the U.S. Federal Reserve. While Board Governor Janet Yellen was the early odds on favorite, it appears increasingly likely that Former Treasury Secretary Larry Summers will eventually take over the post starting in January 2014. At present, online odds maker Paddypower projects Mr. Summers in the lead with a 60% chance of landing the job.
So what exactly does this change of leadership at the Federal Reserve mean for the direction of policy going forward? Quite a lot, in fact. Here's why. According to data provided by Thomson Reuters, the current voting members on the Federal Open Market Committee (FOMC) have an average Fed Dove-Hawk Scale rating of 1.75 with 1 being most dovish and 5 being most hawkish. In other words, the FOMC is currently made up of a lot of folks that are inclined to keep monetary policy accommodative for the foreseeable future. Since Chairman Bernanke is the most important member of the committee, it is worth noting that his ranking is a 2. Thus, the Thompson Reuters grading criteria suggests he is arguably a scoche more hawkish than the voting body of the FOMC, which says a lot about the overall dovishness of this current group.
Now if Ms. Yellen does ascend to the leadership role of the Fed, one could argue that the FOMC could become even a bit more dovish. After all, she scores a 1 according to Thompson Reuters Dove-Hawk Scale, although these ratings are certainly subject to interpretation and fall well short of capturing the specific policy nuances of each member. But it would be more than reasonable to conclude that a Yellen Fed would likely seek to follow through on the policy course put in place by the Bernanke Fed in recent years.
However, if Mr. Summers were to be appointed to the top post, it is largely unknown what direction he might take the Fed or where he would reside on the dove-hawk spectrum for that matter. He has said relatively little from a monetary policy perspective over the years, although some of his recent comments suggest he might bring a more centrist if not hawkish policy approach relative to his predecessor. Only time will tell.
When Doves Fly And Hawks Descend
It is also important to note, however, that the Fed Chairman role is not the only one that is scheduled to change in the coming months. In fact, the composition of the FOMC promises to be entirely different come early next year.
First is the annual rotation of Regional Fed Bank Presidents. Those exiting as voting members next year with their Thomson Reuters Fed Dove-Hawk Scale rating in parenthesis include Charles Evans (1), Eric Rosengren (1), James Bullard (3) and Esther George (4). Thus, the four exiting Fed Bank Presidents have an average ranking of 2.25, which is an overall dovish bunch. Taking their place will be Richard Fisher (5), Charles Plosser (5) and Naryana Kocherlakota (4), which have an average rating of 4.67. And the only dovish Fed Regional Bank President that was set to become a voting member next year in Sarah Pianalto (2) will soon be exiting her position, and it is possible that another centrist or hawk could take her place as well.
The second are the expected departures from the Board of Governors. In addition to Ms. Pianalto, these also include Board Governors Elizabeth Duke (2) and Sarah Bloom Raskin (2). In addition, the term for Board Governor Jerome Powell (2) is set to expire in January 2014, raising questions as to whether he will be returning or someone new will be taking his place. Lastly, if current Board Governor Yellen (1) is passed over for the Chair, it is likely that she would move on from the Fed instead of remaining in her current role. Notably, all four of these confirmed or potential departures are those that are among the most dovish of the group.
All of this implies some dramatic changes for the FOMC in only a few months from now. In total, we could see as many as eight of the twelve voting members on the FOMC change in January along with the Chair. And when examining those that are either known or assumed to be serving on the FOMC by early 2014, the average Fed Dove-Hawk Scale rating jumps dramatically from its currently dovish 1.75 average to a solidly centrist 3.00 reading. Moreover, the potential exists for the FOMC to tilt even more to the hawkish side depending on who is appointed to the open Board Governor seats. If nothing else, this overall shift in perspective suggests a reasonable probability that those hoping for a delay in tapering if not additional monetary accommodation from the Fed stretching into next year and beyond may soon find themselves gravely disappointed.
Of course, the composition of the overall FOMC may not matter as much depending on who takes over leadership of the Fed in January. For while it is likely that Ms. Yellen would continue the consensus building efforts emphasized by Mr. Bernanke, it is less certain whether Mr. Summers would make this a priority. He is widely known for his intellect and his independent thinking, and it is not beyond the realm of possibility that he may opt to take more of an autocratic approach similar to that of previous Fed Chairman Alan Greenspan. The debate around exactly what leadership style Mr. Summers would bring to the Fed is yet another item of uncertainty for the markets to contemplate in the months ahead.
So regardless of what is said at Jackson Hole later this week, it is not likely to matter much at all beyond the next few months at most, for it stands to be an entirely different FOMC at the Fed directing policy come January 2014. And this new group will face a most challenging task in the years ahead with the potential fallout effects likely to be felt broadly across capital markets. In a follow up article, I will be exploring the potential policy scenarios we may see moving forward and how they are likely to impact investment markets including stocks over the next few years.
Disclosure: I have no positions in any stocks mentioned, and no plans to initiate any positions within the next 72 hours. I wrote this article myself, and it expresses my own opinions. I am not receiving compensation for it (other than from Seeking Alpha). I have no business relationship with any company whose stock is mentioned in this article.
Disclaimer: This post is for information purposes only. There are risks involved with investing including loss of principal. Gerring Wealth Management (GWM) makes no explicit or implicit guarantee with respect to performance or the outcome of any investment or projections made by GWM. There is no guarantee that the goals of the strategies discussed by GWM will be met.