Deputy Prime Minister of New Zealand Bill English popped in on Asian Squawk Box on Monday morning for a quick update on what is happening in his country. NZ tenuously emerged from recession in the second quarter but no one should be shocked if GDP prints negative again in this cycle.

There were several notes of interest in the interview. The biggest one, in my opinion, was the extent to which they rely on countries they export to including the US and China. More trouble in either country could impede New Zealand's recovery. The country is small enough that it has to import much of what it needs, which means it will likely always have a large current account deficit.

The country has enacted various stimulus ideas. Most prominently, per English's comments, have been tax cuts and infrastructure spending. As New Zealand has far fewer moving parts, it could be much easier to get the infrastructure projects off the ground.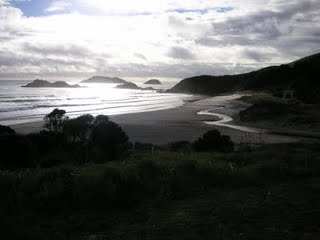 One thing I found interesting is that he said the NZ dollar tends to get lumped into a basket with the Aussie, Canadian dollar, the rand and even Brazil but he said that New Zealand is likely to keep rates low for a longer period of time than Australia which is already hinting about raising rates.

I used to own NZ Telecom (NZT) as an across the board holding and while I expect to invest in NZ again at some point it will probably not be with NZT. There are quite a few interesting companies in NZ but they could be difficult to access. The list of ADRs (the link doesn't capture the search results but you can screen by country) shows a lot of the companies I've heard of and mentioned before but if you plug the symbols into Yahoo Finance they show no volume (I looked about half a dozen and went 0-fer). The quote pages on the Bank of NY Mellon ADR site shows some quote information but I'm not sure if it is accurate.

I would think that an individual could get a trade done if they were so inclined, but I think it would be difficult to buy in any real size and selling a large block would likely be even more difficult.

The picture is from Ocean Beach in the Whangarei Headlands. We visited there in 2005 and would love to go visit again.