My investments fall into two buckets. In one bucket, I have a timeframe of weeks/months and I will sell a stock quickly if it moves against me. In the other bucket, I invest for the long-term. I call it my "Concentrated Portfolio Of Great Companies." I am more patient with those companies and want to hold them for years and, hopefully, decades. In this article I will explain my approach for long-term investing and present some of the companies that make the cut.
Great Companies
I am looking for leading companies with simple business models and a good chance of growing much larger while generating cash flow. I also prefer companies that are growing their dividends.
It is just as important to know what to avoid. For this part of my portfolio, I mostly avoid technology, healthcare, fashion and commodity companies. I don't need excessive diversification, just a few great companies.
Great Companies Are Like Homes
Generally, 80% of the conversations about real estate fall into two categories.
Prospective home buyers always talk about how nervous they are about paying too much.
People who bought a home many years ago talk about how the value of their home doubled or tripled and they are glad that they didn't listen to the worrywart who said they were paying too much.
(The other 20% are conversations with people who, unfortunately, got burned in the real estate crisis.)
The best time to buy real estate is always twenty years ago. Same with great companies.
When looking at great companies from the perspective of the present they will often seem overvalued and, sometimes, risky. However, they thrive over longer periods of time, despite some volatility along the way.
A few months ago I saw a research report about McDonald's (NYSE:MCD) from the 1960's. It was funny to see the comments about earnings and the number of stores the company was planning to open. At the time the numbers were very important, but none of those numbers could help predict the success of the company.
The Concentrated Portfolio Of Great Companies
Here's the list, followed by a financial summary:
Consumer / Retail
Financials
Real Estate / Hotels
Industrial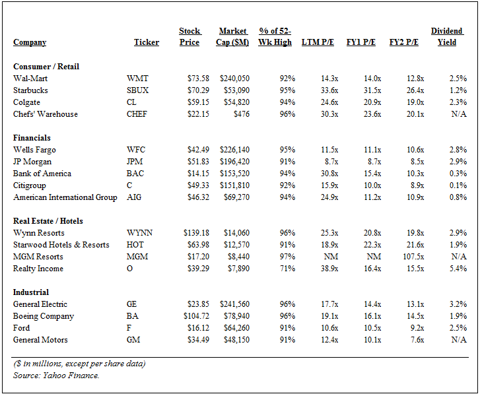 Themes
Global leaders - Boeing is the best example of a global leader.
Exposure to emerging markets - Some of these are blue chip American companies, but the growth driver for many are emerging markets. Examples include: Wal-Mart, Starbucks, Citigroup, Wynn, Starwood, Boeing, Ford and General Motors.
Business models with durability - In a few decades, we will probably still drink coffee, brush our teeth, borrow money, stay at a hotel and travel by airplane or car.
Cash flow and dividends (or the potential for dividends).
Buy And Hold Is Not Buy And Forget
Ideally, I will buy and hold the stocks of the companies in the "Concentrated Portfolio Of Great Companies." But, I plan on maintaining and active approach to following the companies.
Jim Chanos, the noted short seller, said that more companies go bankrupt than succeed in perpetuity. There is no guarantee that a great company today will continue to succeed in the future.
Most investors focus on quarterly earnings and recent financial performance. However, management teams make subtle decisions about investing in growth, capital allocation, acquisitions, leverage, etc. that can have a big impact over the long term, but may be hardly visible over the short term. These are the crucial decisions that matter most for long-term investors.
Recent Articles
I plan to write more about these companies, but here are my recent articles about some.
Companies And Stocks
Over short periods of time there may be a difference between a great company and a great stock. This list helps me focus, but I am not necessarily going out and buying all of these stocks tomorrow. Please do your own homework.
Conclusions
The "Concentrated Portfolio Of Great Companies" represents the companies that I believe in for the long term. I am always looking to buy more of these companies on pullbacks and hope to hold them for many years or decades.
I expect these companies to perform well on a multi-year timeframe. There will be volatility along the way, but if they can continue their business success then the stock prices will react accordingly.
I hope to write about each of these companies in detail, so please stay tuned.
There are also some other companies that I may add to the list in the future. What companies would you add?
Disclaimer: The opinions expressed above should not be construed as investment advice. This article is not tailored to specific investment objectives. Reliance on this information for the purpose of buying the securities to which this information relates may expose a person to significant risk. The information contained in this article is not intended to make any offer, inducement, invitation or commitment to purchase, subscribe to, provide or sell any securities, service or product or to provide any recommendations on which one should rely for financial, securities, investment or other advice or to take any decision. Readers are encouraged to seek individual advice from their personal, financial, legal and other advisers before making any investment or financial decisions or purchasing any financial, securities or investment related service or product.
Information provided, whether charts or any other statements regarding market, real estate or other financial information, is obtained from sources, which we and our suppliers believe reliable, but we do not warrant or guarantee the timeliness or accuracy of this information. Nothing in this article should be interpreted to state or imply that past results are an indication of future performance.
THERE ARE NO WARRANTIES EXPRESSED OR IMPLIED AS TO ACCURACY, TIMELINESS, COMPLETENESS, OR RESULTS OBTAINED FROM ANY INFORMATION IN THIS ARTICLE OR ANY LINKED WEBSITE.
Disclosure: I am long AIG, BA, C, C, CHEF, CL, F, GE, GM, HOT, JPM, MGM, O, SBUX, WMT, WYNN. I wrote this article myself, and it expresses my own opinions. I am not receiving compensation for it (other than from Seeking Alpha). I have no business relationship with any company whose stock is mentioned in this article.
Additional disclosure: I may trade any of the securities mentioned in this article at any time, including in the next 72 hours.