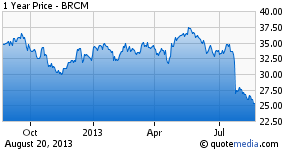 I recently wrote up my long thesis on shares of Broadcom (BRCM) following the company's earnings report. My article was published on July 29th, and since then shares have actually traded down a couple of dollars, which amounts to a decline of roughly 7%. While the near-term price action continues to be discouraging, I still believe that the shares offer a tremendous opportunity here from a long-term risk/reward standpoint. I further believe that a few near-term catalysts could drive sentiment significantly upward.
The Sentiment Has Been Far Worse Than Expected
While the sentiment following the report has been unfavorable, it is actually surprising the degree to which the sentiment has continued to be negative even at current prices. Of course, from a technical perspective the stock is in pretty rough shape, but even from a fundamental perspective, investors seem to still be on edge, despite a 33% drop from the stock's 52-week highs.
One thing that is commonly perpetuated is the idea that Broadcom is losing market segment share. This is due to the loss of a few very visible smartphone and tablet sockets in which Qualcomm (NASDAQ:QCOM) displaced Broadcom. The thing with the smartphone/tablet market is that investors are typically focused on a select number of popular designs, often forgetting that the market is gigantic and that there are many "unsung" designs.
On the most recent call, CEO Scott McGregor made the following statement,
So I believe share looks good this year. I don't see any share loss of any proportion here. I think it looks stable and in fact we've got great technologies. And I would encourage folks do a little research on share that we are gaining at other customers that offsets maybe a model or two we loose with the customer they highlighted. So again, we are not going to get 100%, you will always be able to find some models we don't win. But you need to look at the total set and we believe we've got a pretty complete database of every handset model we are aware of in the industry and where we stand in each one of those, and we believe we're good.
Now, of course while Mr. McGregor's information/view is accurate as of the July 23rd call, the market understands that it is not unprecedented for even the strongest management team to get it wrong - forecasts are always tricky. However, at least for this year, the designs that are rolling out have been in the works for quite a while (likely at least 6 months - 1 year) and the components largely set in stone. I'm still convinced that Broadcom's technology leadership in connectivity/WiFi will allow it to maintain share there, so that doesn't worry me.
The real issue, and what seems to have really soured sentiment, is the weakness in the company's 3G baseband business. It's not surprising that 3G is weak, particularly as Intel (NASDAQ:INTC) - another baseband player with strong 3G exposure - reported a pretty weak quarter there. The secular trend is clear: 3G-only is on its way out, and LTE multimode is rapidly gaining traction. Cognizant of this trend, investors have - up until recently - been encouraged by Broadcom's LTE efforts. The company has been showing off its LTE-Advanced solutions for quite some time, and had promised that the solution would come to market in 2014.
Now, this is where people got a little too excited, which led to the run to ~$38 earlier this year. While Broadcom had promised "2014" all along, many had assumed that material revenue would start coming from the LTE opportunity during 1H 2014. It turns out that while the chips are sampling now and will begin to ship during 1H 2014, material revenue is not likely until 2H 2014 (probably beginning in Q3). Investors of course not wanting to own the stock until a nearer-term catalyst is on the horizon, were discouraged and have been panic-selling, which is part of why the shares continue to be in the penalty box.
However, while investors do need to wait a while before the LTE news cycle ramps back up again, I do see some potential near-term drivers for more opportunistic investors unsatisfied by a longer term argument.
The iPhone 5C: If Broadcom Wins This ...
Investors were spooked by the low end socket loss to Qualcomm in a number of handsets, including the HTC (OTC:HTCCY) One Mini, Galaxy S IV Mini, and the Motorola (NYSE:MSI) X. The obvious fear is that as Apple (NASDAQ:AAPL), as it rolls out its next generation iPhone 5C, will also move to a Qualcomm connectivity chip, and given the market shift towards lower end devices, this could prove a problem for the company. It is a given that the firm will use a Qualcomm modem, probably paired with an older variant of Apple's "A" series system-on-chip, but the question is whether Broadcom can still keep its combo chip spot. Interestingly enough, Apple has a tendency to use "the best". But this insistence on "the best" has always been within the context of a high end device that commanded a healthy margin profile.
That being said, the low end isn't exclusively the domain of Broadcom's competitors, and I am sure that the company could offer a low cost, defeatured solution if necessary. Further, Apple has a very long history of using Broadcom's chips in everything from the iPhone and iPad to the MacBook Pro, so it is likely that unless Qualcomm gives Apple a really compelling deal that, for whatever reason, Broadcom can't match/beat, Broadcom is probably going to be inside the next generation iDevices that will likely be announced on September 10th.
My belief is that while nothing is a sure thing, the market-share loss fears could subside if Broadcom ends up winning the iPhone 5C combo chip spot. This would lead analysts and industry watchers alike to maybe believe that maybe the sockets that Broadcom did lose were just highly visible examples of the fact that Broadcom has never had 100% of the LTE smartphone combo chip market, but that this did not represent anything that fundamentally dented the fundamental market-share story.
If Broadcom does lose this socket, however, then it will be interesting to see how the shares react. If the Street had been pessimistically baking this into the forecasts, then we may see limited downside from current levels. However, if this is completely unexpected even from the bearish analysts/investors, then this could represent a material overhang on the shares. That being said, CEO McGregor's confidence that there would not be a material negative market share shift tends to limit the potential risk of this downside scenario. It is no secret that Apple's phones sell well and represent non-trivial market segment share, and so unless Broadcom's market share figures refer to the number of designs powered by Broadcom's chips over the total number of LTE handset models, rather than # of units shipped with a Broadcom combo chip over the total # of LTE smartphones shipped, this would be a misrepresentation of the facts that would be highly uncharacteristic of the company.
Apple 5S Could Help, But Not As Much
Broadcom's two biggest customers are Samsung (OTC:SSNLF) and Apple, whom are not coincidentally the two largest players in the smartphone space today. While I would be optimistic about the iPhone 5S potentially driving market-share gains for Apple, and by extension help Broadcom, the problem is that the share would likely come out of Samsung's shipments - which also include Broadcom's chips. Further, almost every high end smartphone uses Broadcom's chips. While Broadcom's inclusion here could help to bolster the view that Broadcom's high end combo chips are leadership, this is not something that I believe is in question.
Conclusion
There is much more to the Broadcom long term thesis than what I've presented here, particularly as the company's networking business continues to be strong (secular growth + share gain), and the home business is holding up flat to modestly up in a down market. Broadcom is, through and though, an engineering-centric powerhouse and I believe that the setback in the share price will, in the rear view mirror, look like a solid buying opportunity. However, if Broadcom wins the upcoming iPhone 5C, then this could significantly help stave off the fears of market share loss and could drive a material improvement in sentiment and drive shares up in the near term.
Disclosure: I am long BRCM, INTC. I wrote this article myself, and it expresses my own opinions. I am not receiving compensation for it (other than from Seeking Alpha). I have no business relationship with any company whose stock is mentioned in this article.