If there is one beneficiary of the financial crisis it would be a classic mortgage REIT. Profiting from expansive monetary policy and low interest rates, mortagage REITs Annaly (NYSE:NLY), American Capital Agency (NASDAQ:AGNC), Chimera (NYSE:CIM), Hatteras (NYSE:HTS), Armour Residential (NYSE:ARR), Invesco (NYSE:IVR) and others borrow huge amounts of money and invest in securitized bonds backed by government sponsored entities Fannie Mae (OTCQB:FNMA) and Freddie Mac (OTCQB:FMCC). Under this strategy balance sheets as well as leverage have ballooned since 2009. High dividend yields financed via leverage raise questions about the durability of their underlying business model and the derived distribution stream.
Eye catching dividend yields certainly capture the attention of yield-hungry investors: a bird in the hand is worth two in the bush right? Presently, all of the above mentioned real estate investment trusts post near unbelievable yields: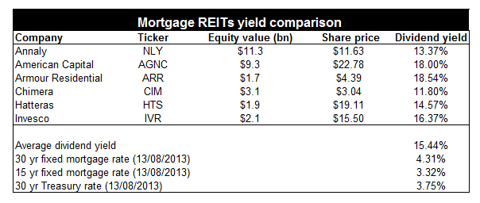 A concentration on dividends alone is not sufficient though. Capital depreciation must be considered as well. The relative performance of said companies is not too impressive: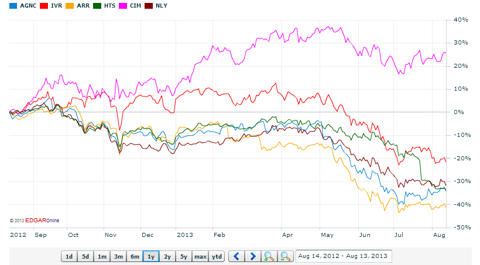 The average dividend yield of the mortgage REIT peer group stands at 15.44% while short-term Treasury yields, as a result of ultra-aggressive monetary policy, stand below 1%. The extreme difference in yield is purely driven my leverage. Annaly, similar to the other companies, can only operate this highly risky business by continuously expanding their balance sheet: Either through debt capital or issuance of new shares which dilute shareholders. Consequently, Annaly's book value has declined a staggering 19% since Q2 2012.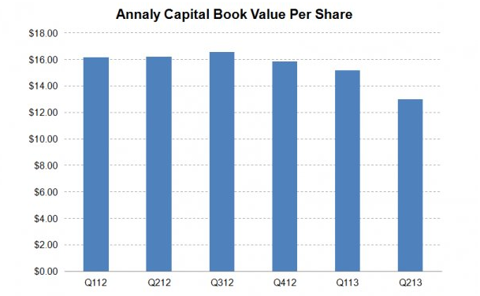 At the same time that book value is declining (and probably continuing to decline), Annaly was forced to cut the dividend 46% since Q4 2009 and 27% just since Q2 2012.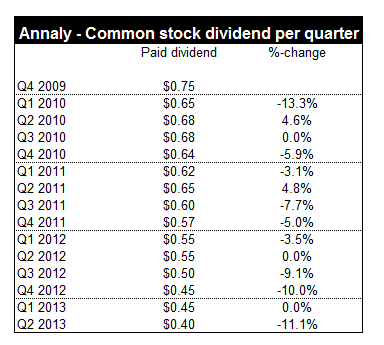 At the end of Q2 2013 Annaly carries debt equivalent to 6.2x the amount of equity on its balance sheet. The amount of leverage and the extraordinary reliance on short-term funding utilized by Annaly has actually caused the attention of government supervisory bodies which consider them a potential risk to the US financial system. As further reported by the Wall Street journal:
The heightened scrutiny stems from the growth of such companies as Annaly and American Capital Agency Corp., whose assets have ballooned to more than $100 billion apiece over the past three years. The market capitalization of the industry has grown over the past three years from $22.1 billion to $59 billion, according to KBW Research.
Conclusion
Book values per share are declining as dividends are paid out of substance capital and are gradually decreasing, while interests rates have not even begun to rise. Buyers of Annaly stock enter a losing gamble: If you purchased Annaly a year ago you might have pocketed a 15% dividend yield over the year but the unsustainable distribution scheme caused the erosion of book value. The stock is down 30%.
Laws of economics dictate that rising interest rates, which are as sure to come as the sky is blue, will decrease interest rate spreads that Annaly is relying on. Analysts at Credit Suisse have just updated and reduced their price target for Annaly by 8% to account for lower book values per share.
The mortgage REIT business model reflects a high degree of risk, characterized by high leverage and reliance on short-term funding that needs to be rolled over on a constant basis.
Given the track record of declining book value, dividends and total returns I consider Annaly and friends to be an interesting short with a target price of $10/share.
Disclosure: I am short NLY. I wrote this article myself, and it expresses my own opinions. I am not receiving compensation for it (other than from Seeking Alpha). I have no business relationship with any company whose stock is mentioned in this article.