Before Tuesday, US markets had pulled back from their highs thanks to rising interest rates. The cigarette names are one particular sector that's been hit, as rising rates makes their high dividend yields less attractive. Philip Morris (NYSE:PM), perhaps the favorite name in this space, saw its dividend yield rise above 4%. This is significant, because the company has not raised its dividend yet this year. Philip Morris shares fell into Tuesday's close, ending the day at their lowest levels since the beginning of 2013. Today, I'll look at the cigarette names again, and see whether this is the time to buy.
Current expectations:
When comparing Philip Morris to others in the space, I look at three other names: Lorillard (NYSE:LO), Altria (NYSE:MO), and Reynolds American (NYSE:RAI). The following table is one I've used in several articles for this industry. It shows the currently expected growth in terms of both earnings per share and revenues. These are the analyst estimates for 2013 and 2014, as well as a two-year total. I've also provided each company's dividend yield as another way to compare these names. The yellow highlight indicates the leader in that specific category.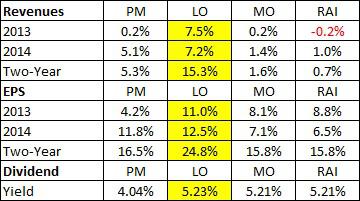 Even though these stocks have all come down a bit since my last update, only one name has had its growth profile change. Altria's 2014 revenue estimate has come down from $17.80 billion to $17.78 billion. No other revenue or earnings numbers have changed. Of course, the dividend yields have all changed, but that is to be expected with price changes. There are two key takeaways here. First, Lorillard is still the clear leader in terms of growth and dividend yield. However, that could change soon as Altria is expected to raise its dividend within the next few days. The second item is that when prices come down but expectations stay the same, it means valuations are lower too.
Current Valuations:
You could have the greatest company on earth, with great growth, dividends, buybacks, etc., but that doesn't mean it will be the best investment. Sometimes, it all comes down to valuations. If that "greatest company" is just too expensive, it might not be worth it. As those who follow me know, Philip Morris's valuation against the rest of these names is one item I've tracked extensively in the past. The following table shows valuation metrics for each company in this article, as of my last update and now.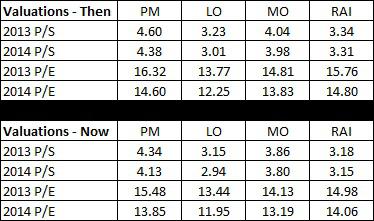 All of these names have seen their valuations come down, given that these names have seen the following price declines since my last Philip Morris article:
Philip Morris down 5.14%.
Lorillard down 2.39%.
Altria down 4.60%.
Reynolds down 4.97%.
Anyone that has read my continuous coverage of Philip Morris knows that PM shares trade at a premium. Investors have been willing to pay for the solid amount of growth and the sizable buyback. I've continued to track that premium, on both a price-to-sales and price-to-earnings basis, with the results found below (compared to my last update).

The premium Philip Morris trades at is getting closer to the lowest point I've seen it. A couple of the categories may actually be at new lows. However, I must put an asterisk by that fact. For a long time in my coverage of Philip Morris, it had either the best growth profile or one very comparable to Lorillard. Now that Philip Morris's growth expectations have come down after a slow start to 2013, you wouldn't expect as much of a premium.
Analysts say buy Philip Morris:
I always like to look at what the professional Wall Street analysts think when it comes to the names in this space. The following table shows the average analyst rating, where a 1.0 is a strong buy and a 3.0 is a hold. The table also shows the average, or mean, price target currently, and the upside to that target from Tuesday's close.

Considering that Philip Morris now has more than 16% upside to its average price target, I'm wondering if we'll get any analyst notes out soon. The lowest analyst on the Street has a $90 price target on the name, so shouldn't we hear these analysts reiterating their buy recommendations, or upgrading Philip Morris to buy? If you are an analyst with a $95 price target (or perhaps even higher), shouldn't you be telling your clients to buy at $84?
Technical data:
Technically speaking, Philip Morris shares are not in a good place right now. Shares are below both the 50-day and 200-day moving average. Since the June fall in shares, they have been unable to break through these key levels, as seen in the chart below.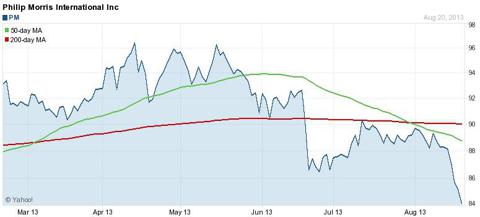 (Source: Yahoo! Finance)
The stock also recently broke through its lower bollinger band, which has normally been a level of support for the name. I usually don't use a lot of technical analysis in my work, but there are times to point it out. For Philip Morris, it is important to realize that shares have been weighed down by these technical levels. If Philip Morris shares can punch through these levels again, we probably head back to $90.
Final Thoughts:
Philip Morris shares have punched through the 4% dividend yield even before the company's annual dividend raise. Rising interest rate yields have helped fuel a market pullback, and high yielding dividend champions in the cigarette space have been hit. Valuations have come down, making these names more reasonable, and the premium that Philip Morris trades at is nearing a multi-year low. I don't know if I can call a bottom in shares just yet, because a further market pullback could send this name to $80, but Philip Morris shares are looking a lot better here than they were at $96. This is probably a good time for the company to use that large buyback while shares are lower.
Disclosure: I have no positions in any stocks mentioned, and no plans to initiate any positions within the next 72 hours. I wrote this article myself, and it expresses my own opinions. I am not receiving compensation for it (other than from Seeking Alpha). I have no business relationship with any company whose stock is mentioned in this article.
Additional disclosure: Investors are always reminded that before making any investment, you should do your own proper due diligence on any name directly or indirectly mentioned in this article. Investors should also consider seeking advice from a broker or financial adviser before making any investment decisions. Any material in this article should be considered general information, and not relied on as a formal investment recommendation.