We continue to be intrigued by retail and think that our call to rotate into being bullish the sector in general terms rather than individual might have been timed pretty well. Only time will tell, but it seems to us to have been the logical move as many of our favorite names were approaching levels we found troubling. Diversifying was one of the few good choices out there and thus far it is working.
An interesting article popped up on our Twitter feed a few days ago and we wanted to include the 'Chart of the Day' from that article as our 'Chart of the Day' today as we believe the information is quite relevant. The new breed of tech titans who let their share prices rise without any stock splits created a trend years back and it has had the effect of essentially slowing the pace at which companies split their shares. True, we did have an awful two recessions over the past 15 years, but many companies who traditionally would have split their shares have refused to do so and we wonder the ramifications. It affects how indexes are built and if a company is not getting added to an index due to liquidity concerns for their shares then how much does that skew the returns of the benchmarks? We believe it is much more than many would think.
Chart of the Day: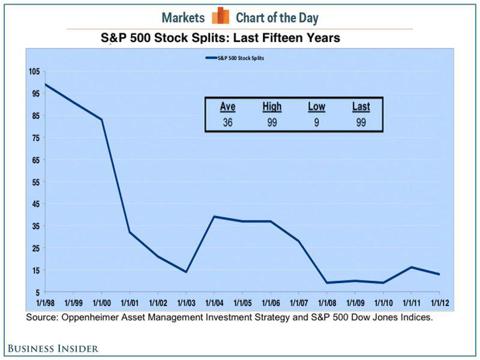 Source: Business Insider, Oppenheimer
We have economic news today and it is as follows:
MBA Mortgage Index (7:00 a.m. ET): N/A
Existing Home Sales (10:00 a.m. ET): 5.1M
Crude Inventories (10:30 a.m. ET): N/A
FOMC Minutes (2:00 p.m. ET): N/A
Asian markets finished higher today:
All Ordinaries -- up 0.42%
Shanghai Composite -- up 0.02%
Nikkei 225 -- up 0.21%
NZSE 50 -- up 0.96%
Seoul Composite -- down 1.08%
In Europe, markets are lower this morning:
CAC 40 -- down 0.16%
DAX -- down 0.29%
FTSE 100 -- down 0.72%
OSE -- up 0.18%
Retail
The big news in retail yesterday was Best Buy's (NYSE:BBY) big beat. The turnaround there has been swift and led to a quick rebound in EPS and by default the share price as well. This is part of the reason we switched from being bearish the stock to a neutral stance over $10 ago. Yes, we did see much of the gain from being correct on the downside dissipate in short order but we were able to switch in time to come out net positive for readers having followed us in from the beginning. We have had some success in picking winners and losers in the industry as of late, but regular readers will remember that we stated it would be wise to switch from picking individual names in the sector to switching towards an index fund focusing on the retail sector such as the SPDR S&P Retail (NYSEARCA:XRT).
Although the percentage gains have been far better in the names we initially liked in the retail sector, the XRT has performed quite well for a diversified ETF and we think it could outperform those names while lowering overall risk moving forward.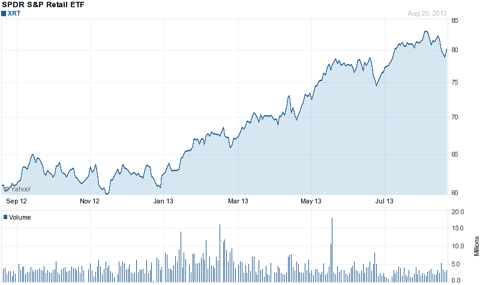 Source: Yahoo Finance
Our reasoning was that many of the potential multi-baggers at this point are simply too risky for one to buy on a stand-alone basis and to diversify the risk away within a portfolio would be costly and spread one out among numerous retail names which may or may not perform accordingly. J.C. Penney's (NYSE:JCP) price action yesterday highlighted our point because the numbers were awful but within the ballpark on many metrics of what analysts had been expecting. The stock, seeing as the news was already priced in, actually rose $0.79 (5.98%) to close at $14.01/share with 67.9 million shares traded on the pitiful news. This is a stock we dislike strongly for reasons which are leading to the plummet in same-store sales, overall revenues, EPS (or lack thereof) and various other operating measurements/metrics.
Long story short, as retail is showing us right now, it is a stock picker's market in the sector but one can do just fine and sleep much better at night simply by using the sector ETFs which have been hitting new 52-week highs recently themselves.
Telecommunications
It appears that Europe might become a roadblock for the continued expansion of Carlos Slim's America Movil (NYSE:AMX) and telecom interests in general as the KPN Foundation came out and voiced some concern over the deal over a lack of details explaining their intentions for the European telecom company. The KPN Foundation can block any hostile takeover and although we have not gotten to that point yet, right now it does not appear that the Foundation would be giving their approval at this time for the hostile bid.
The good news for shareholders is that Mr. Slim has obtained financing for his company to go forward with a deal which should prove to be bullish and could pursue any in opposition to back down as a deal would reward current shareholders and provide for an exit in a stock which has been highly volatile at times since 2000. The Europeans never like to sell their so-called 'Champions of Industry' but based on the way the cards are falling into place right now, it appears to us that a deal is inevitable.
As a side note, it is our nature to dislike the slow growth fixed line operators in Europe and rather than play in names like that, or even names with fast growing assets overseas and the legacy European assets, we would rather focus readers' attention on a name such as Vodafone (NASDAQ:VOD) which we think possesses excellent upside. They continue to be a consolidator in the industry while also expanding their mobile operations outside of Europe and a sale of their 45% stake in Verizon Wireless could lead to serious appreciation in the shares.
Disclosure: I have no positions in any stocks mentioned, and no plans to initiate any positions within the next 72 hours. I wrote this article myself, and it expresses my own opinions. I am not receiving compensation for it (other than from Seeking Alpha). I have no business relationship with any company whose stock is mentioned in this article.