For the third straight year, farmland values in the Tenth Federal Reserve District have increased by double digits, a record for the survey. However, farm income fell in the second quarter and bankers expect that income will decrease even further in the coming months due to the decline in crop prices.
Farmland Prices
Farmland values surged in the second quarter of 2013. Year over year, Non-irrigated farmland values rose 18%, irrigated farmland values increased 25%, and ranch land values rose 14%. Bankers contributed the increase in farmland values to historically strong farm incomes and the overall wealth of the agriculture sector.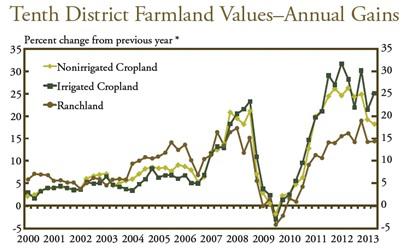 Farm Income
Farmer income declined in the second quarter of 2013, and bankers expect a further decline in the coming months. The poor winter wheat harvest and a decline in wheat prices were a major factor in lower farm income throughout the second quarter and forecasted into the third quarter. Increased global production of wheat pushed wheat prices lower, as well as ongoing weakness in the livestock sector. In addition, bankers expect a further income drop due to the outlook of lower corn and soybean prices at harvest. Currently, the U.S. is expected to harvest the largest corn crop on record and the third largest soybean crop.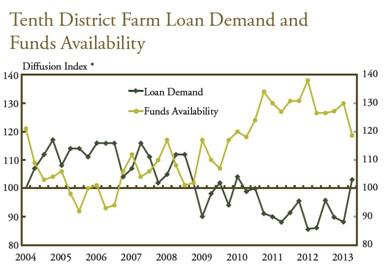 Farm Loan Portfolio
Interest rates began to increase from two-year lows this past quarter. The average interest rate on farm real estate loans increase to 5.38% in the Tenth District.
Lower farm income increased the operating loan demand and stalled the loan repayment rates in the second quarter of 2013. Operating loan demand rose to its highest level in more than two years. Bankers believe that loan repayments will begin to slack as farm incomes continue to weaken and interest rates climb.
Outlook
Farm incomes have retreated from record highs, although a recent rally in the commodity markets could spark change. Moving forward, the weather across the central U.S. will have a great impact of commodity prices throughout harvest and farm incomes for the next year.
A total of 208 banks responded to the Second Quarter Survey of Agricultural Credit Conditions in the Tenth Federal Reserve District, an area that includes Colorado, Kansas, Nebraska, Oklahoma, Wyoming, the northern half of New Mexico, and the western third of Missouri.
Disclosure: I have no positions in any stocks mentioned, and no plans to initiate any positions within the next 72 hours. I wrote this article myself, and it expresses my own opinions. I am not receiving compensation for it. I have no business relationship with any company whose stock is mentioned in this article.