I highlighted Isis Pharmaceuticals (ISIS) a few weeks ago believing that a sell-off causing a price decline from $19 to $16/share was a prime opportunity to buy a potential high-growth business. It seems, however, that my proclamation may not have been entirely correct. And, post last week's trading, I've liquidated my position in ISIS. Do I still think ISIS could present a tremendous opportunity to invest in next-generation biotechnology? I do. But, with markets seemingly reaching a top and real cash flow in ISIS years away, it's probably better to be safe than sorry. Moreover, lacking the ability to perform accurate fundamental analysis due to ISIS's place on its growth curve, an investor is left only with technical analysis to guide the investment process and, as I will show, ISIS's charts no longer paint the profoundly bullish picture they once did. Before I begin, I recommend those unfamiliar to read my post on long term technical analysis.
Near-term Daily Chart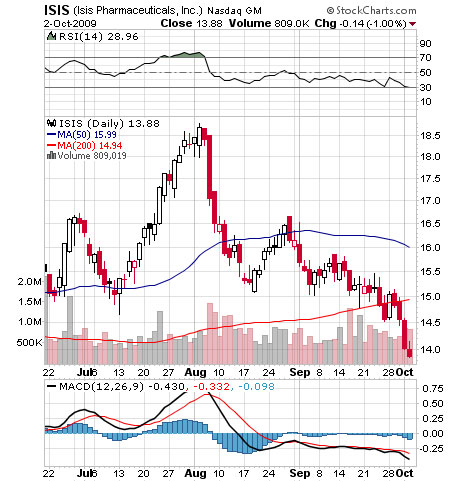 Around August 10, ISIS began a sell off which brought the stock back towards its 50-day moving average (the MA which I believe signals interim trend support). I opportunistically purchased here knowing that I was investing prior to a confirmatory bullish bounce from this pullback. As such, I've adopted the tact that I may be wrong in my intuition and have watched the stock's performance very carefully since this pullback.
The stock made a textbook advance after its sell off, however, this was on week volume and ultimately re-encountered resistance at its 50-day moving average. For some, this may have been enough to force a sale, but I am a long term investor and am not averse to dollar cost averaging should I prove to have entered a stock too early. So, how does one determine whether to purchase more in hopes of dollar cost averaging or to sell and preserve capital for another day?
Long Term Weekly Chart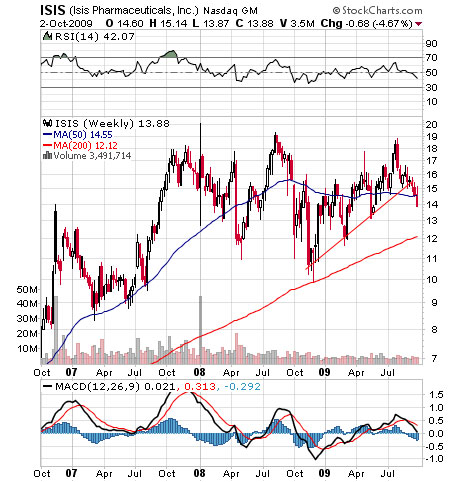 Above, we take a look at ISIS' 3-year weekly price chart. Here, you'll see that ISIS has been on an up-trend since bottoming in mid-October of 2008. Moreover, through these three years, the stock has held a rather strong uptrend which has never breached its 200-week moving average. In recent weeks, however, ISIS has both breached its recent up trend and, as of last week, has once again breached its 50-week moving average. It would seem that the stock is more likely in a high-level consolidation phase as opposed to ready to resume its bullish trend. As such, a retest of the 200-week moving average is not out of the question especially given the stock's complete lack of any identifiable interim support in its near-term daily chart displayed above this section. With a potential 15-20% additional value at risk, I'm not willing to buy additional shares and continue averaging down.
Full Disclosure: Author was previously long shares of ISIS, but no longer holds any shares of the stock.