India is in a very difficult position, as it seems that several major macro-level economic problems are coming to a boil.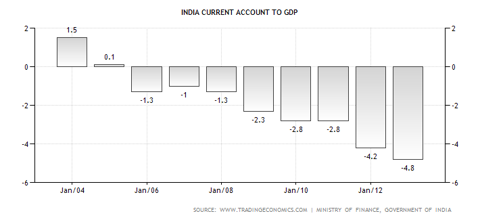 First, they have a large current account deficit, which is having an overall negative impact on the rupee's value.
Second, inflationary pressures -- while lower -- are still cropping up underneath the surface. To stem both of these problems, the central bank would normally raise interest rates. However, overall economic growth has been dropping as well, hemming in the central bank.
Brazil is another developing country that has a very difficult economic environment. Growth is slowing...
...while the inflation rate remains elevated:
All of these problems are starting to come to a head in the respective ETF charts of these currencies:
Both of the above are weekly charts. The rupee ETF (top chart) has fallen through support at the 19.5 level and is currently trading near three-year lows. Momentum is negative, as is the volume flow. Prices are pulling the shorter EMAs lower. The real ETF has the same technical profile, except with different support levels, with those occurring right at about 18 and 17.