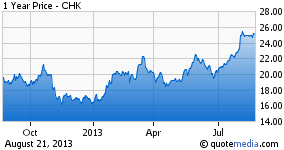 The oil and gas industry continues to attract a lot of interest as political wrangles continue in Egypt, one of the major producers. Additionally we also had some of the major companies in the industry reporting their Q2 results early this month. Chesapeake Energy (NYSE:CHK) was one of them, and surprised many with results that beat analyst estimates, sparking a rally of 7% for the stock, on August 1. The company's current rally since Q2 results stands at about 8.4%.
On the other hand, Royal Dutch Shell (NYSE:RDS.A) (NYSE:RDS.B), which is one of the biggest oil and gas companies globally, was on the receiving end of investors' wrath after missing estimates on both revenues and earnings. The company's price is now down 6.6% from its closing price on July 31.
In summary, Royal Dutch Shell reported EPS of $0.73 from $112.7 billion worth of revenues, which came short of the analyst estimate of $0.94 EPS and $113.2 billion in revenue. The company also missed production levels after reporting 3.062 million barrels per day, as compared to a consensus estimate of 3.146 million.
Chesapeake Energy's earnings of $0.51 per share were better than the consensus estimate of $0.41, while revenues beat estimates by a massive $1.39 billion, coming at $4.67 billion for the quarter. This seems to suggest that Chesapeake is indeed getting better, although its balance sheet still has a long way to go. Nonetheless, in terms of improvement, there is more than just beating analyst estimates.
What you missed from the Q2 results
Chesapeake Energy may have beat the analyst estimates, but digging deeper into its financial statements will reveal the catalyst and potential tailwinds to its impressive quarter.
The company's revenue comes from two major units, the first one being, natural gas, oil and NGL (Natural Gas Liquids), and the second, marketing gathering and compression. The third unit, oilfield services accounts for a paltry 4.5% of the overall revenue. However, it is natural gas, oil and NGL unit, which contributed to Chesapeake's surge in profits, after the company slashed production costs by a massive $47 million during the quarter, while revenues from the unit grew by $289 million.
On the other hand, the marketing, gathering and compression unit was pivotal to boosting the company's revenues for the quarter, after posting $2.057 billion, compared to $1.113 billion reported the same quarter last year. However, the unit's direct costs were up by nearly the same number, after increasing by $932 million.
Based on these revenues and direct costs, it is clear that the natural gas, oil and NGL unit was the driving force behind the company's massive growth in operating profits. Chesapeake Energy's operating profit for Q2 grew by 58% from the same quarter last year, to $1.167 billion, or about 25% in operating margin.
So what does that mean?
Chesapeake Energy's success is pegged on the success of its natural gas, oil and NGL unit, which unfortunately is highly affected by macroeconomic factors, such as low oil and gas prices. Currently, the company is enjoying a sudden rebound in gas prices. The natural gas prices rallied on a better than expected inventory figures after gas supplies rose by a smaller than expected margin. However, the big question is whether these favorable gas prices will stay, and for how long.
The reason why Chesapeake stock suffered so much last year, was due to low gas prices coupled with high capital expense. The company has since reduced its capital expense, and has also been involved in a rapid sale of assets, to try and improve its financial position. Nonetheless, its balance sheet still shows huge amounts of debt of about $18.3 billion, while the interest expense of $104 million or about 9% of operating profit still weighs much on the company's income, compared to last year's quarter.
Nonetheless, activist investor Carl Icahn seems to be very optimistic about the company. Icahn increased his stake in Chesapeake Energy to about 9.98%. There is no doubt that natural gas has a great future, as the campaign for green energy continues, however, in the recent past, supply has often surpassed demand thereby suppressing prices.
Conclusion
Chesapeake Energy's revenue model has been exposed repeatedly by low gas prices. Approximately 60% of the company's income comes from natural gas, which means the company's stock price is highly dependent on gas prices. Natural gas production companies have been writing down investments in shale gas fields, with Chesapeake leading the charts. Royal Dutch Shell has also written down some $2 billion worth of shale gas fields, while BHP Billiton (NYSE:BHP) has sold some $2.8 billion worth of write downs.
This is a clear indication that natural gas, once thought to be a gem in energy stocks, has become a drawback. While a majority of other players have controllable exposure, Chesapeake depends highly on natural gas revenues. Therefore, the company's current rebound is bound to be short-lived as gas prices remain highly suppressed unless companies cut supply. However, reducing supply seems to be least likely, as the companies' leases are tied to production, while the storage of natural gas is nothing compared to storing crude oil. It's more difficult and expensive to store natural gas than oil.
Disclosure: I have no positions in any stocks mentioned, and no plans to initiate any positions within the next 72 hours. I wrote this article myself, and it expresses my own opinions. I am not receiving compensation for it (other than from Seeking Alpha). I have no business relationship with any company whose stock is mentioned in this article.