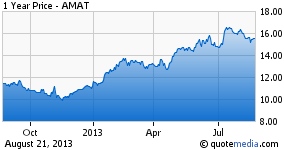 Applied Materials (NASDAQ:AMAT) reported relatively unexciting third quarter results. Since the basic results were already covered at Seeking Alpha by The Value Investor (Applied Materials - Investors Applaud Management), this article will focus on potential drivers of long-term value, including possible dividend increases.
Semiconductor equipment making is in a state of rapid transition, so you can bet there will be winners and losers. Because there are many types of equipment needed to make semiconductors, there are smaller companies that may specialize in particular niches, as well as Applied and its largest competitors that compete in a variety of lines. Competitors of note are KLA-Tencor (NASDAQ:KLAC), Lam Research (NASDAQ:LRCX), ASML (NASDAQ:ASML), and Tokyo Electron (OTCPK:TOELF). ASML, a Netherlands company specializing in photolithography, has been 15% owned by Intel (NASDAQ:INTC) since 2012.
Although Intel invested in ASML, in April 2013 it gave a Preferred Quality Supplier Award to Applied Materials, stating "Applied Materials continued to provide superior performance and support to our ramping factories while enabling leading edge technology development."
The bulk of Applied's revenues come from its Silicon Systems Group and its service unit. Applied does not break out revenue within the unit, but sometimes characterizes market share or order directionality for categories of machines it sells. These include CVD (chemical vapor deposition), PVD (physical vapor deposition), ion implantation, RTP (rapid thermal processing), EPI (epitaxy or layering), etch (removal of unwanted materials), mask creation (patterning), interconnect fabrication, and planarization. During the process of turning a silicon wafer into integrated circuits, defect inspection machinery is also important.
All these machines must be re-engineered to work at new nodes. Nodes refer to feature (typically transistor) width, and are measured in nanometers (nm). Many chips are currently manufactured on older nodes of 32 nm, 40 nm and beyond. 28 nm is still ramping up; AMD (NYSE:AMD) and Nvidia (NASDAQ:NVDA), for instance, are currently mostly using 28 nm. Anything below 28 nm can be considered cutting edge at the moment. Because of varying needs, often based on type of circuitry used (CPU or logic, various kinds of memory, or analog), there is some variation in feature size each generation, but for practical purposes we can speak of 20 nm as being the on-deck generation, already used for some chips (like Intel's 22 nm Ivy Bridge CPUs) and likely to see significant ramping in 2014. 14 nm and below would be the following generation.
3D NAND flash memory, and eventually 3D in general, changes the relative importance and revenue resulting from the use of varying processes. While lithography remains important, 3D requires more deposition steps to achieve multiple layers, and more etch steps that have higher aspect ratios than in traditional planar semiconductors. Not only are there more deposition and etch steps, but they require greater accuracy. Over 50 layers need to be spread precisely in patterns over a wafer 300 mm in diameter.
To give some sense of how precise these machines must be, at the 14 nm node features will be about 20 atoms wide and about 40 atoms apart. Process quality monitoring and control becomes increasingly critical with these node shrinks. Issues abound, for instance the weakening of crystal lattice structure from the steps in the fabrication sequence. Applied has processes to preserve or restore physical integrity, and to inspect and analyze the various steps of the process.
What does this mean for investors in semiconductor capital equipment and for AMAT specifically? The machines for 20 nm will typically cost more than the 28 nm machines. Of course they will also create more chips on each die. But there will be more processes each die has to endure, which means more machines per line. To make the same number of chips will still require, overall, more machines, because of the complexity of the atomic processes that need to be controlled to get working chips at a good yield.
Semiconductor designers are eager to move to 20 nm because consumers want more. Mainly they want more processing power and more battery life for their devices. These two goals are contradictory within a process mode. To get both at the same time you need to go to a new node. How fast 20 nm capital equipment sells depends in part on consumer demand, competition among semiconductor makers, willingness of foundries (that server fabless semiconductor companies) to take on risk, and pricing constraints.
Applied Materials' management sees its competitive advantage in process science. The belief is Applied is gaining market share in etch and ion-implantation equipment. Inspection tools are also an area of strength.
The semiconductor industry has history of cycles of over and under-capacity, and of inventory corrections. These can occur in the industry as a whole, typically due to macroeconomics, or in a specific sector like DRAM memory. Inventories in general seem lean except for memory, but even memory demand has been improving relative to capacity. Between ongoing demand for 28 nm capacity and demand for 20 nm (and soon 14 nm) capacity, it looks as if the industry should have a good 2014.
There is also a transition to 300 mm wafers coming; almost all current production is on 200 mm wafers. This again will require new machines.
If Applied Materials is actually able to gain market share overall, and if the 20 nm transition does give a boost to the industry as a whole, 2014 should shape up to be a good year. Applied Materials is profitable at current revenue levels. The dividend is currently $0.10 per quarter, or 2.57% at the August 20 closing price of $15.56. EPS in the latest quarter was $0.14 GAAP, $0.18 non-GAAP, so enough to support the dividend, but we would probably need to see a higher EPS to support a higher dividend, unless it comes out of the cash and equivalents balance of over $3 billion (AMAT also has $2 billion in long-term debt). Cash flow from operations was $364 million, of which $120 million was used to pay dividends and $50 million used to repurchase stock.
Revenue in the quarter was nearly $2 billion, close to flat from the prior quarter, with guidance of sequentially essentially flat revenue and non-GAAP for the current quarter. Generally revenue has not been so consistent on a quarterly basis in the past.
Research and development expense ramped to $334 million in the quarter. Cutting R&D would be an easy way to get a short-term EPS pop, but management seems confident that the investment in R&D will pay off in 2014 and beyond. SG&A expense has been cut instead.
What I am looking for is increased revenue and EPS from 28 and 20 nm build-out in 2014 with 14 nm sampling. That seems likely to me, but there are a lot of variables, so I won't call a trend until I see the order builds that precede revenue builds. There is always a possibility that foundries will delay orders. If that happens it could knock the stock price down a bit, but it is not likely to endanger the dividend.
Disclosure: I am long AMAT, AMD. I wrote this article myself, and it expresses my own opinions. I am not receiving compensation for it (other than from Seeking Alpha). I have no business relationship with any company whose stock is mentioned in this article.