Since bottoming last November, Pandora (NYSE:P) shares have nearly tripled on the back of better-than-expected usage metrics and monetization. Expectations are now too high: the market is pricing in a Facebook (NASDAQ:FB)-like active user penetration of ~68% of its addressable market by 2020 despite new competition from Apple (NASDAQ:AAPL), and Pandora's lack of a strong network effect. Pandora is a high-conviction sell/short as mounting structural risks emerge in 4Q13, resulting in market share losses and rising royalty rates.
Key Debate: Bulls argue that Pandora will continue to dominate the industry and benefit from a growing TAM, while bears argue that it will fall victim to competition and royalty rate hikes (~60% of total revenues) when it renews its contract with SoundExchange, the largest music performing rights collector, in 2016.
Bear Case is All About Timing: Pandora has rallied since last November due to its 1) growing Internet radio share to 75% in 1Q13 (versus 60% in 1Q12) despite competition from Spotify and iHeartRadio, and 2) sales initiatives and its integration in May into radio ad buying platforms (which will lead to an earnings beat when it reports on August 22nd), leading to higher ad sell-through and TAM growth.
When to Pull the Trigger: After iRadio's launch or before 4Q13 earnings. Sell side consensus expects active users to more than double from 70mn as of 1Q13 to ~160mn by 2020 (~68% penetration), with flat to slightly lower royalty rates starting in 2016. User growth and operating leverage, however, will disappoint starting with iRadio's launch, and worsen in early 2014, when negotiations with SoundExchange begin. Win or lose, iRadio will seriously complicate things for Pandora: Apple's higher royalty rates and lower subscription prices for a similar user experience to Pandora's, combined with Pandora's damaged relationship with the music industry over attempted royalty cuts, should force their royalty rates higher and cripple operating leverage.
Short Pandora - $14.39 Target Price - Bull Case $24.02 - Bear Case $9.04
Pandora's $14.39 DCF-based target price assumes slower user growth (126mn in 2020) and flat royalty rates, with a 4% terminal growth rate due to its strong growth and a 12.5% WACC. There is downside to $9.04 if rates rise in line with current terms and upside to $24.02 if Pandora's user growth remains resilient, monetization exceeds already aggressive forecasts, and royalty rates fall in 2016. The difference between the base and bull cases results in a 3:1 risk/reward ratio in favor of shorting Pandora, based on Pandora's $21.17 closing price on August 19th.
Hedge: There are no direct listed peers. While Apple may be the most relevant potential hedge, iPhone gross margins and sell-through are much more relevant than iRadio's success in determining whether Apple is a buy though so it isn't a valid hedge.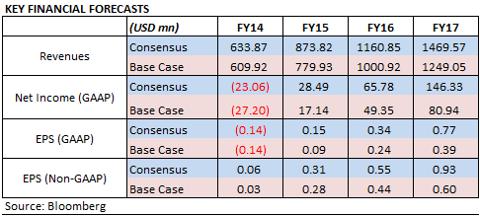 *Note: All dates in this article refer to calendar year (Pandora's FY ends in January)
Company and Industry Background
Established in 2000, Pandora is the largest Internet radio streaming service with 200mn/70mn registered/active users as of 1Q13 according to the company. Pandora operates a free, ad-supported service and an ad-free subscription service (Pandora One), which grant users access to personalized radio stations by inputting a song, artist, or genre into its proprietary music recommendation platform, the Music Genome Project. Its ease of use, cross-platform integration, and first-mover advantage enabled Pandora to grow into one of the largest radio services in its current markets, the US, Australia, and New Zealand.
Key drivers
Shared Drivers: Listener hours (active users x average monthly listener hours).
Revenue Drivers: Premium ad sell-through, ad loads per hour, and CPM (costs per 1k impressions) rates.
Cost Drivers: Content acquisition costs per stream (mostly royalty costs), and marketing and sales costs.
Pandora's ad revenues and royalty costs grow as listener hours grow, meaning gross margins increase as per song monetization increases. Pandora monetizes its free users' streams (94% of listener hours are generated by free users) by selling its "premium" ad inventory at roughly 5x and 20x remnant, or unsold, CPM rates (cost per 1,000 impressions) on PC and mobile, respectively. It also offers an ad-free subscription for $4/month or at a discounted $36/year, and charges 99 cents/month to the approximately 4% of its free mobile users that stream more than 40 hours per month.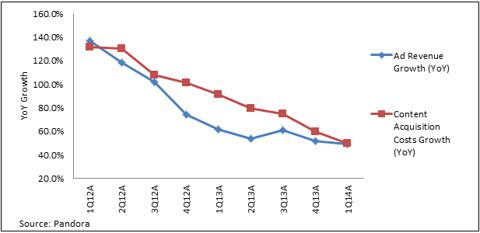 Royalty payments (booked as content acquisition costs) to the music industry are Pandora's largest expense. The company pays sound recording royalties to SoundExchange (92% of content costs and ~60% of revenue) and composition royalties to ASCAP, BMI and SESAC (8% of content costs and 4.5% of revenues). Its current five-year deal with SoundExchange will expire in 2015, after which the two parties will negotiate a new deal (which historically results in higher rates). The current deal terms are paid on a per stream basis as follows:

Pandora was listed on the NYSE on June 15, 2011 for $16/share. The timeline below chronicles some of the key events since it went public, including its recent integration into Triton Digital's audience metrics system and subsequently into the two largest broadcast radio ad buying platforms, Mediaocean and STRATA, and failed attempt at legislating its way to lower royalty costs through the Internet Fairness Act of 2012.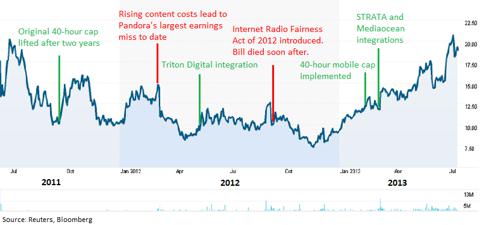 Potential Internet Radio Opportunity
Pandora revolutionized the music distribution industry similarly to how Netflix challenged a mature video industry with a digital offering that overtook slow-to-adapt incumbents like Blockbuster. It attracted competitors' subscribers to its premium, but similarly-priced service and changed the way that content was delivered. Similarly, Pandora was a first-mover that challenged terrestrial radio, which 92% of Americans still tune into at least once per week according to radio ratings firm Arbitron, with a more personal and easy-to-use service.
To date though, while Pandora has grown its share of US broadcast radio to 7.5% in 1Q13, it has only captured ~1% of IDC's estimated broadcast radio ad budget, according to a July 1st Morgan Stanley Research report. This is often cited by bulls to show Pandora's potential revenue opportunity in the estimated $15bn broadcast radio market. This argument, however, ignores the fact that IDC's estimates only include audio ads (12% of Pandora's ad revenue with mobile obstacles and limited upside to 80% PC audio ad sell-through). This distorts Pandora's actual ad budget share since its advertisers tend to be large businesses capable of running both audio and premium display ads. Furthermore, Pandora faces the structural issue of trying to monetize an increasingly mobile-driven user base, so its ad budget share should be lower than its market share.
Premium subscribers to Pandora generate nearly 3x higher RPM (revenues per 1,000 hours streamed) than free users according to Pandora, but sub revenues have historically accounted for only 10-13% of total revenues, with little future upside (see below). Interestingly, Pandora's 1Q13 beat can be partially attributed to the 700k free users it converted to paid subs (more than all of last year) either on Pandora One or by paying 99 cents largely due to the 40-hour per month cap on mobile users, according to the company. The net add boost is one-off though; especially now that iRadio's similar service costs ~33% less.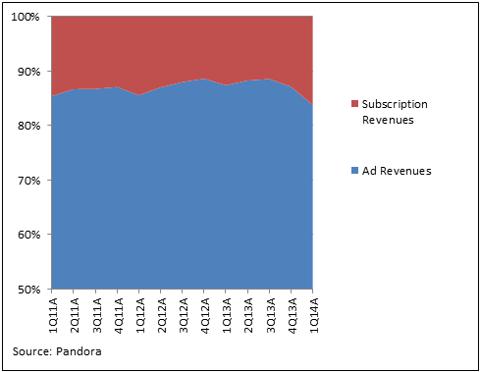 Pandora's users primarily access the service via its smartphone and tablet app (see below). The company must make greater headway into the auto market, however, if it wants to eat away at terrestrial radio's ad budget share in the long term. According to Arbitron, 47% of all radio listening occurs in automobiles, by far the largest source of terrestrial and satellite radio's listener hours.
Over the past few years, Pandora has increased its in-dash integration to over 100 models; resulting in 2.5mn unique vehicles having activated its service so far and integration in 1 in every 3 cars sold in the US in 2013.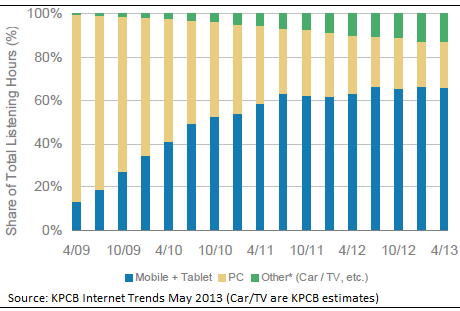 The company's TAM would dramatically increase if it expanded its service outside of the US, Australia, and New Zealand. The greatest obstacle to international expansion is the higher costs and blow to operating leverage that come with it, and Pandora has said that it won't make a push for international expansion until it can do so profitably.
Pandora versus the Existing Competition
Pandora is competing against not only terrestrial and satellite radio, but against other Internet radio and on-demand streaming services, and digital music marketplaces such as iTunes. There are two types of Internet music streaming services: ad-supported radio services with no on-demand features (e.g., Pandora, iHeartRadio and soon iRadio) and subscription-supported on-demand services (e.g., Spotify and Google Play Music All Access). Other key differences are outlined below: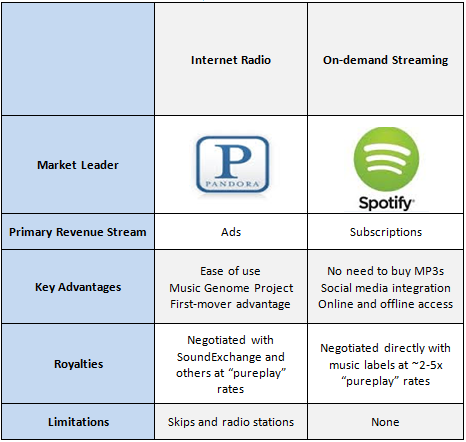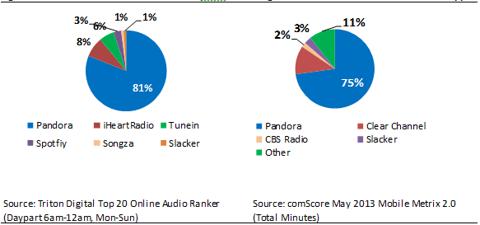 One of Pandora's key advantages is its best-in-class recommendation engine, the Music Genome Project. Pandora is the only Internet radio service that uses its own platform, while most services rely on a third-party recommendation platform, The Echo Nest. Each song in the Music Genome Project is analyzed for up to 450 distinct musical characteristics by one of Pandora's music analysts and then put through an algorithm that enables Pandora to match users with songs they are more likely to enjoy based on their inputs. This is a key enabler of the service's ease of use and is not easily replicable (except by Apple's Genius).
To date, Pandora's first mover advantage, ease of use, greater mindshare among listeners, and premium recommendation platform have enabled the company to capture a lion's share of Internet radio listenership. However, that is about to change for the worse.
Win or Lose, iRadio will Seriously Complicate Things for Pandora
On June 10th at its World Wide Developers Conference (WWDC), Apple unveiled its rumored iRadio, scheduled to launch with iOS7. Apple is looking to stem competition from services that cannibalize its iTunes business. Pandora poses a threat to Apple's listener mindshare, but Spotify directly cannibalizes Apple's iTunes business by offering users an 18 million song, on-demand library that they can access ad-free on their PC/NB for $4.99/month and on any device both on and offline for $9.99/month. This is most attractive to iTunes's heaviest users, who purchase music frequently enough that Spotify saves them money.
Apple's management have repeatedly said that generating more service revenues (i.e., iTunes, iCloud, etc.) is an integral part of its long-term strategy; thus, it is very serious about competing in Internet radio not only to attract more users to its ecosystem but also to protect its iTunes business. Additionally, an Internet radio service fits in well with Apple's push for in-car integration with the new iOS7 and auto-friendly Siri. Unlike its Apple Maps debacle, iRadio leverages Apple's existing core competencies and isn't nearly as R&D intensive, meaning there is little reason to believe that Apple will release a low-quality radio service. Ultimately, Apple's goal is to grow its ecosystem (its greatest asset) through its hardware and services. That is even more important now that its most profitable hardware, the iPhone, is maturing.
iRadio will resemble Pandora's service very closely. Apple deliberately chose to launch an Internet radio service since it avoids cannibalizing its iTunes business and can steal market share from Internet radio services like Pandora. It will offer ad-supported free radio streaming, alongside a $25/year ad-free service that includes its cloud service, iMatch (versus $36/year for Pandora One). Both plans will offer in-song purchases.
Interestingly, nearly 50% of Pandora's total listener hours (and an even greater share of its mobile hours) take place on iOS mobile devices despite Apple's comparatively lower share of US hardware sales (see below), according to a July 1st Morgan Stanley Research report. This may seem like a disproportionately high share, but according to a Piper Jaffray Research report, iOS mobile users (smartphone + tablet) accounted for 63% of total US mobile web traffic in July 2013 (and has consistently accounted for >60% of mobile web traffic this year). Ultimately, Pandora's market share would collapse and earnings estimates would have to be cut sharply if even a small fraction of these iOS users switch to iRadio.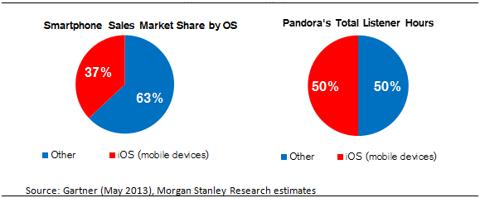 Apple Could Indirectly Cripple High Expectations for Pandora's Operating Leverage
The Wall Street Journal reported that Apple's contracts with the three largest music labels-Universal Music Group, Warner Music Group, and Sony Music Entertainment-give these labels better terms than Pandora's terms over the next two years. During its first and second year, Apple will pay labels 0.13 cents and 0.14 cents per stream, respectively, in addition to 15% and 19% of net advertising revenues, and the cut from song purchases, which it conveniently offers in-app. Furthermore, Apple is undercutting Pandora's premium ad CPMs by offering its iAds at an 80% discount according to June 6th Bank of America Research report. Ultimately, Apple and Pandora's services are similar enough that it is fair to conclude that Apple's terms will force Pandora's hand and give the music industry the benchmark and bargaining power it previously didn't have against Pandora.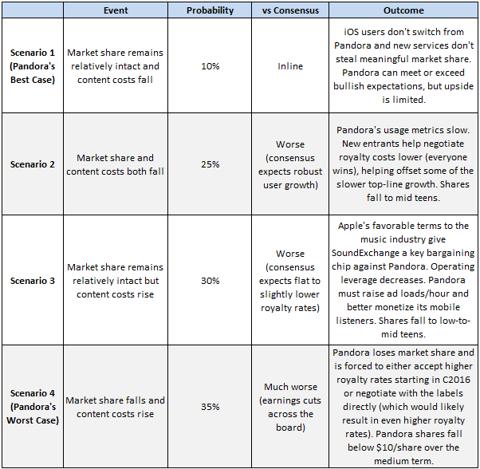 Pandora is Not a Sustainable Winner
As some Internet companies have evidenced, there are key characteristics shared by almost every proven winner in the rapidly changing Internet sector regardless of their fundamentally different businesses and sizes. These characteristics enable Internet companies to grow their user bases despite operating in low barrier to entry environments, while growing revenue streams and managing costs in a way that lead to sustainable operating leverage. The analysis below compares nine fundamentally different Internet companies at different stages of maturity that share surprisingly similar keys to long-term success with a few exceptions. Based on these qualitative analyses, Pandora's business model is not nearly as sustainable as consensus estimates imply.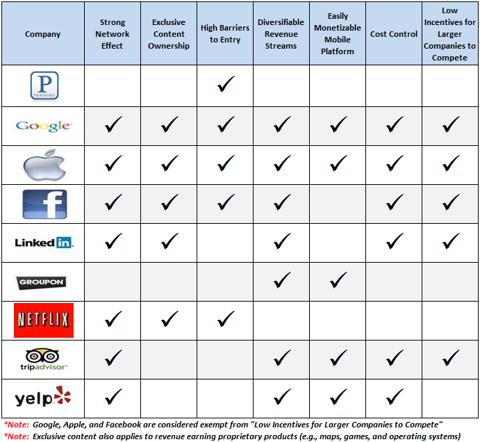 What Makes for a Sustainable Internet Winner? - Detailed Analysis
What is distinct about Pandora versus most companies in the analysis above is that its momentum may slow much sooner than expected. Pandora doesn't have the kind of sticky user base and content ownership that enabled Netflix (NASDAQ:NFLX) to survive when Amazon (NASDAQ:AMZN) moved into online video streaming. It can't easily diversify its revenue streams beyond simple ads and subscriptions similarly to how Yelp (NYSE:YELP) and LinkedIn (NYSE:LNKD) have. To make matters worse, its increasingly mobile user base may continue to prove difficult to monetize, unlike in Groupon (NASDAQ:GRPN) and Amazon's cases. The arrival of a deep-pocketed, determined competitor in Apple and the SoundExchange negotiations starting in early 2014 should expose these structural issues in the coming quarters.
Strong Network Effect: A strong network effect is possibly the most effective way to keep a user base intact when new competition emerges. Unlike MySpace, Facebook has largely survived despite others' attempts at creating competing services and Twitter's rise (which has proven more complementary than disruptive to Facebook), since it has cultivated a very strong network effect. The costs of switching from Facebook are extremely high given the switch cannot be made at an individual level; it has to be done at a very large group level or else there is no "social network" to interact with on the new service.
Pandora's service is primarily experienced at an individual level with little social interaction. Its uninterrupted user growth to date is largely due to the lack of a meaningful, direct competitor. Spotify and iHeartRadio don't offer the same virtually unlimited, one-click service, with free playlists and a premium recommendation platform. Apple's iRadio, however, will offer all that and more.
One could argue that Pandora may be the least social online music streaming service. It was the last major online music streaming service integrated into Facebook. Spotify was among the first integrated in late 2011, and has seen its platform grow stickier since millions of Facebook users now follow their friends' Spotify playlists through their news feeds.
Exclusive Content Ownership: Content ownership isn't as practical for online music streaming services as it is for online video streaming services such as Netflix. Nevertheless, the lack of exclusive content makes for less differentiation between Pandora and its competitors. Larger players can offer similar services and undercut Pandora on price, leaving little to prevent users from switching to those competing services. This is a problem for Pandora's competitors as well, but it makes for a much less sticky platform in comparison to Netflix's now that Netflix offers exclusive content.
High Barriers to Entry: Internet radio is a low barrier to entry business in theory, but a high barrier to entry business in practice. As Pandora has evidenced, it is difficult to make a profit in Internet radio while embracing an ad-supported business model. Subscription models offer steady income and greater scale benefits, but attract fewer users. Meanwhile, ad-supported, free models are only profitable by increasing premium ad sell-through, ads per hour (which hurts user experience), and by monetizing the mobile market where users' streams are largely unprofitable. In that respect, Pandora is relatively immune from meaningful Internet radio services, unless one is launched by a large company, like Apple, who is more intent on building out an ecosystem and scale than making immediate profits.
This type of profit-eroding competition is oddly similar to what has happened in tablets, where products have become increasingly commoditized. Large Internet companies more concerned with growing their ecosystems than making profits on hardware have undercut competition with high-quality, low-priced offerings that have disrupted the industry.
Diversifiable Revenue Streams: A hallmark of a successful internet company is its ability to diversify and expand its revenue streams. Large companies like Amazon and Apple have built multi-platform, inter-connected businesses ranging from e-commerce to content consumption, hardware, and cloud services. Niche players like LinkedIn and Yelp have found ways to upcharge customers with value-add services beyond ads and subscriptions. Others like Yahoo (NASDAQ:YHOO), Google (NASDAQ:GOOG), and to a lesser extent Groupon, have grown (albeit with differing levels of success) through acquisitions and partnerships that have leveraged their existing platforms to move into new but related businesses.
Pandora is constrained by a lack of meaningful revenue opportunities beyond ads and subscriptions. This is exacerbated by the company's lack of cost control with respect to royalty rates and the structural obstacles it faces in monetizing its predominantly ad-free mobile user base.
Easily Monetizable Mobile Platform: The shift from time spent on PCs and NBs to mobile devices is an opportunity for some Internet companies, but a headache for others. As of 1Q13, 77.5% of Pandora's total listener hours were on mobile devices, but the company faces serious obstacles in better monetizing its free mobile users.
Even if Pandora remains the dominant Internet radio service, advertisers will need to be convinced that their ad budgets are better spent on a mobile platform with a highly questionable ROI. This will prove a challenge for ad-based apps over the medium-and maybe even long-term since mobile ad ROIs are still difficult to measure. Profitability on an ad-based mobile platform is also structurally challenged by mobile users' lower tolerance for ads. Even heavyweights like Facebook and Google face this issue, but their unparalleled insight into their users' personal life, stronger network effect, and non-ad revenues better insulate them from these issues.
On the other hand, e-commerce companies like Amazon, Groupon, and eBay (NASDAQ:EBAY) are benefitting massively from their increasingly mobile-driven user bases since they can expand their reach and offer more location-based services.
Cost Control: Most Internet companies don't have to deal with content licensing/royalty negotiations in the same vein as music and video streaming services. These content acquisition costs make up the majority of these companies' costs and are subject to renewal (historically at higher rates) every few years. With Pandora's aforementioned limited scope to expand revenue streams beyond ads and subscriptions, lack of pricing power, and its challenge in monetizing its mobile user base, any royalty cost hike would deal a considerable blow to future profits.
Low Incentives for Larger Companies to Compete: Every niche company's worst nightmare is the threat of a deep-pocketed competitor who is more concerned with market share gains than immediate profits. Google, Apple, Amazon and Facebook are the four companies in today's Internet that can change a competitive landscape simply by announcing intent to compete in it. Google and Apple have built unparalleled, multi-platform ecosystems, Amazon has dominated many corners of the e-commerce market, and Facebook is a perpetual threat given its global user base that spends hours per day on its social network.
Apple is a different beast than Pandora has ever encountered. Apple, unlike Google with its Spotify-like Google Play Music All Access, views iRadio as an essential piece of its iOS offering. It is strategically entering the market with the intent of growing its ecosystem, protecting its iTunes business, and increasing in-car iOS integration. That is why Apple is willing to pay higher royalties than Pandora despite qualifying for similar terms, provide a 33% cheaper ad-free service, and offer advertisers cheaper rates. This is the type of competition that will hurt Pandora and others' profits even if iRadio isn't a dominant share gainer.
Key Forecasts versus Consensus and Rationale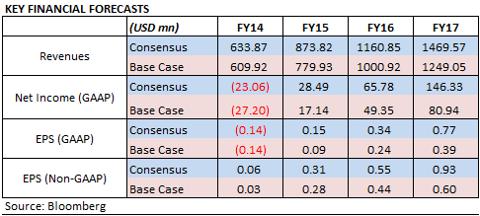 Usage Growth
Active Users: Pandora will reach 126mn active users by 2020 in my base case scenario, growing from 70mn in 1Q13. Consensus expects Pandora's active user base to more than double and reach ~160mn by 2020; the most bullish forecasts require the number to nearly double by 2016.
These forecasts are too bullish: user growth is already decelerating faster than expected, and iRadio has yet to launch. Even if Pandora remains a market share leader in Internet radio, consensus estimate of 160mn active users for 2020 is too optimistic, as it demands an unreasonably high penetration rate. The company does not provide a breakdown of its user profile; assuming the vast majority of Pandora's current and potential users are 14-64 year olds, 160mn implies that Pandora will penetrate ~68% of its addressable market (2020 population forecasts from the US Census Bureau, ABS, and Statistics New Zealand for 14-64 year olds in the US, Australia, and New Zealand).
Compare this to Facebook's penetration in the US and Canada as of December 2012, reasons being 1) consensus only models the US, Australia, and New Zealand for Pandora (further expansion is unlikely in the foreseeable future) and 2) Facebook's user growth in the US and Canada has fallen below 10%, while Pandora's isn't expected to fall below 10% until 2020 at the earliest. Assuming similar age profile of users, i.e. 14-64 year olds, Facebook's 199mn active users in the US and Canada (combined) as of December 2012 implies an 84% penetration rate. The actual rate is likely near 75-80%, given millions of Facebook's users (and probably more than Pandora's) are younger than 15 years old.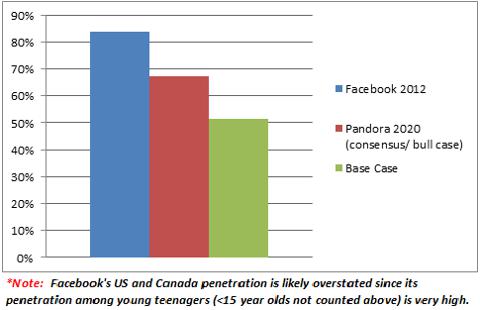 Pandora's user penetration should track well below Facebook's in the long term since 1) it faces greater competition in market share and lacks a sticky user base like Facebook's, and 2) there are many viable alternatives and less social pull to Internet radio, compared to social network. That isn't to say that Pandora's penetration won't increase dramatically: at 26% in 2012, its active user penetration would double under my assumption of 126mn active users in 2020.
Average Monthly Listening Hours: Monthly listener hours will reach 26.0 hours/month by 2020, compared to 20.2 hours/month in 1Q13. Pandora's average monthly listener hours have hovered near 20-21 hours over the past 1.5 years and are falling due to the new 40-hour mobile cap, but many analysts are forecasting ~50% growth, to 28-29 hours by 2020. Given rising in-car penetration and growing internet radio adoption, there is scope for Pandora to see average monthly listener hours grow. There is significant risk though, if its subscribers (who tend to be some of its heaviest users) switch to competing services.
Monetization and Profitability
Ad Sell-through and Ad Loads/Hour: Pandora must sell more of its premium ad inventory in order to increase its margins. However, premium PC display and audio ad sell-through have already reached steady run-rates of 65% and 80%, respectively; implying limited future growth unless ad loads are increased.
Premium mobile display ad sell-through reached 27.5% in 1Q13, up from 22% a year and 26.2% a quarter earlier. Pandora's integration into radio buying platforms and its local sales initiatives should drive increased premium sell-through (albeit with higher operating expenses) to 44% by 2015 and 55% in 2020. Parity with PC sell-through is highly unlikely given limitations in mobile advertising.
Pandora has limited scope to increase its ad loads/hour from its self-imposed limits. It must first sell more of its existing premium ad inventory and even if it does, increasing ad loads could hurt its user experience. There is nothing more annoying to a mobile app user than being interrupted by too many ads, so having a few more ads per hour than a competitor's service could be the difference between retaining or losing users. Therefore, management has said that it will keep its ad load targets intact. Ad loads could increase modestly though, from 7.9 display ads/hour in 2012 to 8.4 display ads/hour in 2020 in the base case scenario, while audio ads/hour should more than double from 4.0 ads/hour in 2012 to 9.4 ads/hour in 2020, roughly in line with current expectations.
Content Acquisition Costs: Even though there is a likely greater than 60% chance of a royalty rate hike, Pandora's base case valuation implies flat rates beginning in 2016. Disappointing usage metrics alone would lead to considerable downside to consensus estimates and are much easier to forecast than closed-door royalty rate negotiations.
Consensus is modeling flat to slightly lower royalty rates beginning in 2016. However, Pandora has damaged whatever goodwill it had left with the music industry when it attempted to cut royalty rates last year and can no longer argue that it is in consumers' best interest for it to succeed since now there are viable alternatives. Apple, meanwhile, reportedly agreed to much higher rates directly with the music labels. Apple's service is similar enough to Pandora's that its terms will likely be used as a benchmark by content owners when negotiating with Pandora. Pandora will likely either face increasing royalty rates (the bear case assumes in line with the current deal; see DCF below), or have to negotiate directly with the music labels at higher rates like Apple.
Key Risks
User growth and monetization remain resilient: If user growth continues uninterrupted, or accelerates as the most bullish forecasts predict, revenues could surprise to the upside. Increased listener hours don't necessarily translate to higher profitability, however, so the key risk to any bearish thesis is if Pandora better monetizes its mobile user base. Mobile premium display ad sell-through will more than double to ~55% (versus 70% on PC) by 2020 in the base case scenario though, meaning further upside would require serious improvements in mobile ad ROI measurability, or better-than-expected broadcast radio ad budget share gains.
Royalty Rates Fall in 2016: Legislating its way to lower royalty rates and appealing to artists directly have only made things worse for Pandora to date. Some high-profile artists and labels have even pulled their content from online music services and demanded exclusive terms at higher rates. Pandora is the leading Internet radio service, so the music industry is gearing up to make its stand when the SoundExchange negotiations start in early 2014. Ultimately, there is little chance that royalty rates fall in 2016. If they do fall, however, Pandora's operating leverage would increase significantly.
New CEO Announcement: Pandora CEO, Joe Kennedy, announced in May that he will step down as soon as a replacement is found. The company still hasn't named a new CEO but Pandora has never been a management-driven story, so the impact of Kennedy's successor should not be overestimated.
International Expansion: Most analysts cited international expansion as a key long-term driver when Pandora went public in 2011. However, Pandora's management has repeatedly said that expansion beyond the US, Australia and New Zealand is unlikely unless royalty rates fall significantly. If Pandora does expand into potentially profitable markets like Europe, its listener hours will benefit but it would face stiffer competition and decreased operating leverage.
Short Squeeze and/or Limited Borrow: Pandora's short-to-float has averaged 34% since the company went public, according to Bloomberg. Since shares bottomed in November, short-to-float has nearly halved from 45%. A 20%+ short-to-float is usually a cause for concern in most non-Internet sectors, however, most of Pandora's Internet peers (<$20bn market cap), average similar short-to-float ratios of 20-35% over the past two years.
DCF Scenario Analysis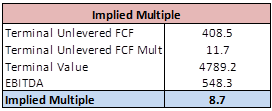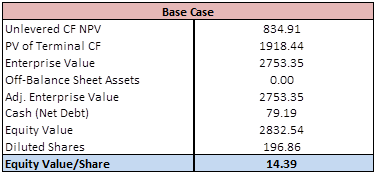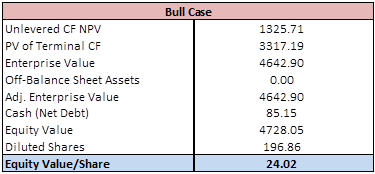 Key Assumptions:
1) Mobile premium display ad sell-through reaches parity with PC sell-through (70%)
2) 160mn active users by 2020
3) Non-sub SoundExchange royalty rates fall back to 2014 levels ($0.14 cents/stream) in 2016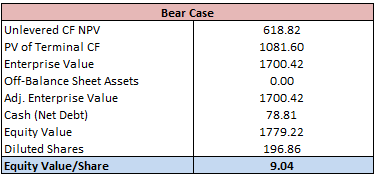 Key Assumptions:
1) Non-sub and sub royalty rates rise nearly in line with the current deal ($0.01 cents/stream hike each year)
2) 113mn active users by 2020 (due to share losses in 2013/14)
Disclosure: I have no positions in any stocks mentioned, and no plans to initiate any positions within the next 72 hours. I wrote this article myself, and it expresses my own opinions. I am not receiving compensation for it. I have no business relationship with any company whose stock is mentioned in this article.