Low interest rates helped surge assets into MLPs. But now, as traditional MLP yields compress, we examine an emerging class of MLPs in our on-going search for diversified sources of stable income and capital gains.
With bond yields at historic lows, MLPs have, in the past five years, become one of the "go-to" bond surrogates and an increasingly popular asset class.
High, tax-advantaged distribution yields supported by reliable cash flows and growth opportunities have given MLPs the income-producing benefits of bonds with the capital appreciation advantages of stocks.
MLP 1.0: Traditional Mid-Stream MLPs
The traditional MLP industry or MLP 1.0 was initially built on oil and gas companies "drop downs". While these companies focused on upstream (exploration and production) and downstream (refining and marketing) activities, they transferred or "dropped down" their midstream assets (pipelines and storage) into an MLP structure. Midstream assets have relatively low capital reinvestment requirements, are supported by stable, long-term contracts, and have very limited commodity price exposure. So, while the prices of oil & natural gas have swung wildly over the past decade, the volume throughput has not, resulting in stable and predictable cash flows and payouts to their unit-holders.
Midstream MLPs have grown cash distributions organically, and through acquisitions- using their well-valued shares to acquire complementary assets on an accretive basis, creating a "virtuous" growth cycle. In the past three years, MLPs that grew payouts up to 3% annually generated an annualized total return of 8.5%. Those that grew distributions by more than 10% every year generated a 27.7% annualized return. Clearly investors reward growth.
However, all cycles reach their limits, and while the recent domestic oil & gas boom creates many organic growth opportunities, accretive acquisitions may have run its course as the industry has broadly matured. More importantly for investors, yields have fallen from a typical level of 7%-8% down to 4% for the bellwether names in the group.
MLP 2.0: New Non-Traditional MLPs
Investor appetite for higher yields and MLP benefits has recently led energy companies and capital markets to reach beyond traditional mid-stream MLPs to innovative new upstream and downstream MLPs.
MLP 2.0's are, upon creation, offering yields of 7%-10%, but these increased yields come with increased risks. Most notably, the energy-related assets being dropped-down are more subject to commodity price and other forms of volatility. And, although they are backed by medium term contracts that ensure cash flows for a specified period, investors have not yet had the opportunity to observe their performance through inevitable market cycles.
If MLP 2.0's are able to develop a proven track record of relatively stable and growing income streams, their yields will compress as their share prices rise, thereby enabling accretive acquisitions (a virtuous cycle), and be rewarding for their shareholders.
MLP 2.0s only comprise about 5% of the MLP sector's market value, but their yield differentials and potential capital appreciation makes them worth analyzing and following. Notable asset types include refineries, drilling rigs, gas stations, fuel distributors, frac sand manufacturers, and others. We expect owners of all types of energy related assets to continue to take advantage of the MLP structure wherever possible.
Some that we have looked at more closely are described further below:
Seadrill Partners (NYSE:SDLP)
Seadrill Partners owns, operates and acquires offshore drilling rigs. It is a majority-owned subsidiary of the Norwegian offshore oil & gas drilling services company Seadrill Limited. SDLP was created in October 2012 by dropping down four offshore drilling rigs into the newly created MLP structure.
Stable Cash Flow via Contracts With Majors
These rigs are under long-term contracts with major oil companies such as Chevron, Total, BP and ExxonMobil with an average remaining term of about 3.5 years for some $3 billion in secured revenue.
Seadrill Rigs Command Higher Prices & Utilization
Seadrill has the youngest and most productive fleet of ultra-deepwater rigs. Its rigs command the highest 'dayrates' or prices, with nearly 100% utilization.
Parent's Huge Fleet Ensures Growth in Cash Payouts
Seadrill has a global fleet of 67 rigs and it is expected that 3-4 rigs per year will be dropped down over the next 5 years, likely leading to growing cash payouts.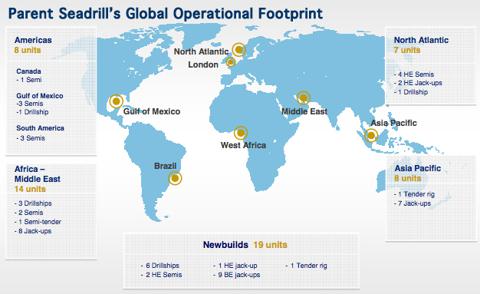 Cyclical Risks Driven by Demand vs. Supply Tension
Sophisticated, deep-water offshore drilling rigs are in demand today, and day-rates have risen. High oil prices, industry optimism, and increased shipyard capacity in Asia have combined to encourage new-builds, both with long-term contracts attached and on a speculative basis. The supply of rigs will continue to increase, with few barriers at this time.
Day-rates have historically been quite cyclical, dropping by 36% following the 2008 financial crisis, before rising back to pre-crisis levels today.
Historically, the drilling industry has over invested in building new rigs vs. rewarding shareholders. The MLP structure, which requires a substantial payout to shareholders, imposes a capital discipline that may temper this, but this remains to be seen.
40% Total Return in 9 Months Since IPO
SDLP units have risen over 35% - from $22 to $30 in the nine months since the IPO. Adding in the dividends paid brings the total return to just over 40%. The share price appreciation has brought the dividend yield down from 7.3% at the time of the IPO to its current 5.2%.
As SDLP has been successful in gaining market traction, we expect more drillers to follow suit, and are watching the market and the industry to identify and consider similar opportunities.
Lehigh Gas Partners (LGP)
Lehigh Gas Partners is a master limited partnership that distributes branded petroleum fuel for motor vehicles in nine states primarily to gas stations and truck stops.
Additionally, LGP owns real estate leased by gas station operators, and as of June 30, 2013 had 713 sites mostly in the Northeast. It has close ties to Lehigh Gas-Ohio, LLC from which the assets were dropped down. Headquartered in Allentown, Pennsylvania, LGP went public in October 2012.
LGP recently acquired 19 sites in the Cleveland market, which it leased to 7-Eleven, which will rebrand the locations and manage the convenience store operations. LGP collects the leasing fee and also has a separate 10-year contract to continue to supply fuel to the sites.
Just-in-Time Delivery Reduces Gas Price Risk
By purchasing and delivering motor fuels on the same day, the company has historically been able to minimize commodity price risk. The company does have exposure to overall gasoline demand, which is fairly stable and correlated with gas prices and economic factors, particularly employment levels.
Improved Financials, Increased Cash Payouts
In April 2013, LGP reported its first full quarter earnings as publicly traded MLP and boosted its cash distribution by 3.4% to $1.81 per unit, translating into a healthy 7.9% annualized yield. For the second quarter LGP reported improved financials and again upped its cash payout by 5.5%. As the company's shares traded to $27.91 on August 9, 2013, the total return (including dividends) since the IPO (@ $20/share) has exceeded 44%.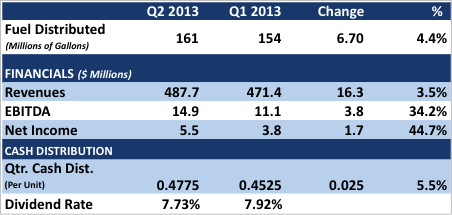 LGP recently increased the size of its credit facility by $75 million to $324 million, and amended certain terms of the agreement to allow for greater leverage and flexibility in regards to acquisitions. The company's additional access to public equity capital should provide opportunities for it to increase the density of its properties, which would improve fuel distribution margins; and expand its footprint, which can provide operating cost efficiencies and diversification of scale.
Huge 'Last-Mile' Roll-Up Opportunity
More importantly, should the market reward LGP with a higher share price and compress its dividend yield, the company will have an unmatched opportunity to roll up the ownership of gas stations through accretive acquisitions into a much larger, publicly traded entity - in the most fragmented part of the energy value chain.
Hi-Crush Partners (NYSE:HCLP)
HCLP is pure play, low-cost, domestic producer of premium monocrystalline sand, a specialized mineral that is used as a propping agent ("frac sand") by drillers to enhance the recovery rates of hydrocarbons in fracking operations of oil and natural gas wells.
Low Cost Producer of 'Frac Sand'
HCLP has a key competitive advantage: Being the low cost producer of frac sand. Its sand reserves are shallow and therefore can be surfaced mined without the blasting and heavy equipment needed for underground mines. Also, unlike some competitors, it's processing and rail loading facilities are located on-site, which eliminates the need for on-road transportation, lowering product movement costs.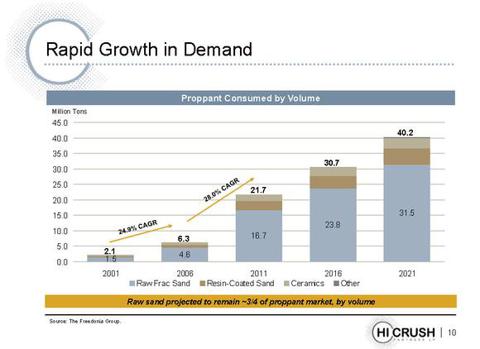 The company went public as an MLP in August 2012, having contacts for the vast majority of production for an average of four years with the major oilfield service providers. The IPO came at $17 a share and quickly traded up to a high of $23 one month later.
But it ran into trouble in November when Baker Hughes (NYSE:BHI) suddenly cancelled its contract (due to a supposed disclosure issue). That sent shares down to as low as $13.30. While it has not fully replaced that business, its most recent earnings reports have been strong enough to give investors the confidence to bid shares back to its current $21 level.
Concentration & Margin Challenges
Still that event highlighted the risk of having such a concentrated portfolio. Additionally, the extremely high margins HCLP is currently earning will attract competition in the form of new sand capacity. Permitting issues may delay competitors and affect their profitability. However, we believe HCLP's current margins are unsustainable.
Recently, management acquired privately held D&I Silica for $125 million. D&I is a distributor and adds a needed sales channel. While the acquired assets don't come with any sand reserves, it more than triples the potential addressable market. It also moves HCLP up the value chain in a step toward a more vertically integrated model.
High Yield Tied to US Energy Boom
While HCLP comes with a higher degree of uncertainty than most MLPs, investors are rewarded with a yield of 9%, in an industry tied directly to the burgeoning US onshore oil & gas production boom.
Disclosure: I am long LGP. I wrote this article myself, and it expresses my own opinions. I am not receiving compensation for it (other than from Seeking Alpha). I have no business relationship with any company whose stock is mentioned in this article.