Another Monday… another U.S. dollar decline.
Granted, the ISM report showed that the U.S. service sector is "growing." And yes, Goldman Sachs gave bank stocks a lift. Yet it was further U.S. dollar devaluation that bolstered the extent of the market's gains of 10/5/2009.
Simply put, the U.S. dollar's weakness demonstrates the enormous impact of the carry trade on market direction. By the same token, there is one country's markets which aren't benefiting from the dollar's woes… and that's Japan.
The Japanese yen is getting stronger… much stronger. On the surface, this helps Japan ETFs on U.S. exchanges, as investors here are picking up currency gains from the foreign stock exposure. However, Japan is entirely dependent on exports; a strong yen all but ensures trouble in selling products to other nations.
Indeed, the world's 2nd largest economy exibited far greater contraction in 2009 than any other developed country. Moreover, early projections for Japan GDP in 2010 are less robust than the U.S., Canada, France, Germany or Australia.
Off the March lows, the yen has gained 10% on the greenback. If funds like CurrencyShares Yen Trust (NYSEARCA:FXY) continue to chart this path, Japan may find itself in a world of hurt.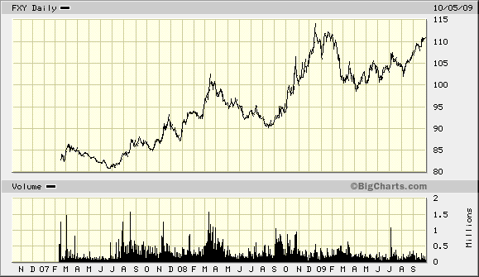 One may wonder, is this really hurting Japan ETFs? Aren't international investments doing well, clear across the board?
Most of the Japan ETFs are struggling with marginal gains or negative year-to-date returns. You might not find more disheartening results than the negative numbers on iShares MSCI Japan (NYSEARCA:EWJ) (-0.21%), iShares Japan TOPIX 150 (ITF) (-0.75%), or PowerShares FTSE RAFI Japan (PJO) (-2.14%).
And the concerns don't end there. While the price on most ETFs are handily above short-term trendlines (i.e., 50-day moving average), the Japan ETFs mentioned above are all 4% below the line. it follows that if the newly elected government in Japan doesn't find a way to stimulate export growth and/or lower the value of the yen, Japanese investment market woes may spread like a new strain of flu.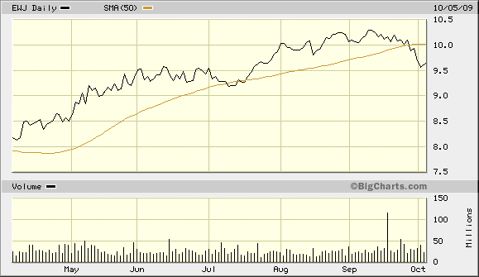 Full Disclosure: Gary Gordon, MS, CFP is the president of Pacific Park Financial, Inc., a Registered Investment Adviser with the SEC. The company may hold positions in the ETFs, mutual funds and/or index funds mentioned above.