Three months ago I wrote an article in which I argue that J.C. Penney (NYSE:JCP) would almost certainly fail. In that article I make the following points.
The company is deteriorating financially, and this deterioration is accelerating while management does not appear to be at all alarmed. Therefore the company has a limited amount of time to turn its business around.
The company failed to create enthusiasm for the

J.C. Penney brand. Instead it tried to win back its old customer base despite the fact that it needed to reinvent its image. It came out with its desperate sounding "We're Sorry" campaign, which I equated to the company "begging" for business. From this I argued that the company was living in the past, and that it had no clear cut idea of who its consumer was, or to whom to direct its marketing.

The company would have an especially difficult time engineering a turnaround given the tepid retail environment in the United States.
Investors should consider a short position in

J.C. Penney stock, although they should perhaps wait for more optimism to enter the market given the high short interest in the company's shares.
Since then several events have transpired that have materially impacted the company's fortunes, or at least investor perception of the company's fortunes.
The stock price is down over 25% despite the 6% rise in the company's shares in today's trading (August 20th, 2013).
The company has taken on $2.2 billion in debt.
The company suffered a second quarter loss of $586 million.
The retail environment has improved minimally.
There have been changes at the executive level (Debra Berman was appointed senior V. P. of marketing), and to the board of directors (Bill Ackman left the board of directors).
Ultimately none of this is bullish except for the slightly better retail environment. But even here there is definitely a bifurcation that benefits some retailers, but not all. I will discuss this later on. Also, while a lower stock price is often bullish, in this case it is not given that the company may need to raise capital soon. The one thing that the company has going for it is that there are willing lenders, as evidenced by the large debt issuance in the second quarter. But this will only buy it time.
With these points in mind I am convinced that J.C. Penney will either go into bankruptcy, or it will postpone this event through perpetual secondary offerings until one of its marketing strategies works. But this can take years and hundreds of millions of shares being issued. This is the case because of the following:
J.C. Penney is in terrible financial shape. While it has been fortunate enough to find willing lenders, they will eventually balk.

J.C. Penney has failed to define its target market. While it brought in Debra Berman to lead marketing, this recent change speaks to the utter failure up until now in the company's efforts to determine its customer base and to successfully get these people into the stores. Even the most brilliant marketing minds will unlikely be able to rectify this situation before the company needs more capital.

While the retail environment has improved somewhat, a lot of this has been reflected in the high-end or very low-end consumer. This is evidenced in large revenue increases from companies like Michael Kors (NYSE:KORS) and Dollar General (NYSE:DG). Year over year retail sales among J.C. Penney's competitors (Macy's (NYSE:M) and Kohl's (NYSE:KSS)) have basically been flat.
With these points in mind investors should consider selling J.C. Penney stock if they own it, or they should consider selling it short if they are more aggressive. Given the recent fall in the share price and renewed pessimism in the name, I would recommend that a short position be placed at around $15.50 - $16.00.
J.C. Penney's Financial Situation
J.C. Penney saw its sales for the second quarter drop 11% year on year from $3.02 billion to $2.67 billion. This drop is a slight improvement over the 16% drop the company saw year over year in the first quarter ($3.15 billion to $2.64 billion). The improvement can be due to a couple factors: a stronger U. S. retail environment, or the fact that fewer customers are becoming disenfranchised since so many of those who decided to leave have already done so.
The company's net loss grew substantially from $147 million to $586 million, which is the worst figure that the company has seen during its downward spiral over the past few years. This is worrisome, and given that the company has only $2.32 billion in shareholder equity, losses such as these are unsustainable.
As I have mentioned, J.C. Penney was fortunate in that it was able to secure $2.18 billion in loans during the second quarter. This masked what would have been a catastrophic drop in working capital from $284 million to ($700 million), or a $1 billion drop quarter over quarter. With the loans the company's working capital rose to $1.48 billion, which gives the company time, but not much. I should also note that much of the company's working capital is in its inventory, which amounted to $3.16 billion. The notion that inventory should be counted as a current asset alongside cash and equivalents is a dubious one.
To give investors an idea of how much time the company has before it is in danger of a liquidity crisis, recall that the company's working capital fell by over $800 million from Q4 2012 to Q1 2013, and then by another $1 billion in the most recent quarter without the loans. This means that unless lenders are willing to support the company, or unless there is some sort of magical turnaround in the company's business, it will only be liquid for 5 or 6 months at best (and this assumes that sales and profits do not deteriorate further).
Management refuses to acknowledge what is so apparent to myself as well as several bond and preferred stock holders--viz., the company is in serious financial trouble. CFO Ken Hannah opens his part of the conference call by saying:
Our results reflect the progress we are making on our journey to fix the problems we face and stabilize the business.
Whether Hannah is trying to keep up appearances or whether he is unable to draw conclusions from basic data, the company is in serious financial trouble, and management refuses to acknowledge it.
J.C. Penney's Image, Brand, and Definition of its Customer
J.C. Penney has made little to no progress in refiguring its image, its brand, and its conceptualization of its customer base since my previous article. In the conference call Mike Ullman makes the same mistake that I accuse him of making in May: he wants to bring back the old customer, and move backwards, instead of moving forward and reinventing the J.C. Penney brand and experience. To quote him from the conference call:
Our top priority in the second quarter has been to improve traffic and purchase conversion by reconnecting with our customer who frankly had lost faith in us.
As I argued in May, this is simply the wrong approach.
By attempting to get its old customers back, the company's actions are akin to somebody trying to get a job back after being fired for negligence. Given the highly competitive nature of the retail landscape, I doubt this strategy will work.
While it has only been one quarter, the horrendous financial results provide strong evidence that I was right in May.
It seems that Ullman has very little understanding of the customers he wants to attract and the void in the marketplace that J.C. Penney needs to fill in order to attract these customers. If we look at successful retail stories such as Wal-Mart, Costco, Dollar General, or Apple, there is a market niche that a large number of Americans can point out even if they don't shop at these establishments. It is no secret that Wal-Mart appeals to customers looking to buy virtually anything at a low price, or that Costco appeals to customers who want to buy every-day items such as toothpaste or cereal in bulk so that they can get a lower price. Mike Ullman needs to tell investors why customers are going to J.C. Penney instead of discussing how customers are drawn to brands such as St. John's Bay or Arizona. Until he does this sales will continue to be weak and the company will continue to lose money.
The Retail Environment in the United States
Other than being able to attract bondholders, the one thing that J.C. Penney appears to have going for it is a relatively strong retail environment. Three indications of this are the rise in year over year retail sales, the rise in consumer savings, and the rise in consumer confidence. These are charted below. All charts are courtesy of Trading Economics.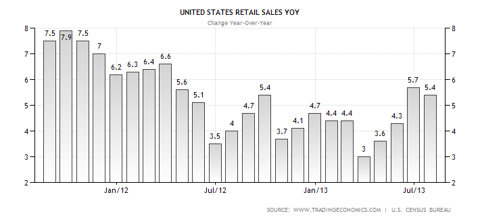 Click to enlarge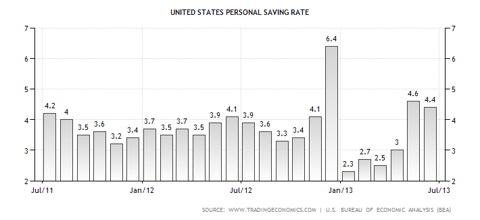 Click to enlarge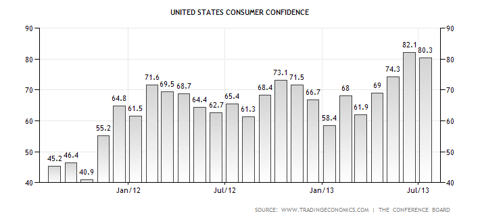 Click to enlarge
Does this translate into an improved situation for J.C. Penney? I don't think that it does. The performance of other retailers suggests that lower-middle income consumers are not doing so well. The increase in consumer spending can be seen in higher end retailers such as Michael Kors (+54% last quarter y/y) or Tiffany (NYSE:TIF) (+9%), and it can be seen in lower end retailers such as the dollar stores (e.g. Dollar General saw revenues rise 8.5%). The former fact does not help J.C. Penney, as people who are spending a lot of money to drive up revenues at Michael Kors or Tiffany are probably not shopping at J.C. Penney. The latter fact suggests that lower-middle income consumers are "trading down." We can see this in the relatively flat revenues of J.C. Penney's competitors Macy's (down 2%) and Kohl's (+2%).
It is evident that we have a rising tide. But even if you believe that it will keep rising it is not lifting all boats. In all likelihood, J.C. Penney is not or will not be one of them.
Conclusion
J.C. Penney is in a lot of trouble.
It is bleeding cash and working capital.
It doesn't have a clear idea of its target consumer or of its role in the marketplace.
The retail environment in the United States is not especially favorable for companies like

J.C. Penney.
Ultimately I believe that the company is heading towards a liquidity crisis, and eventually bankruptcy. While it is difficult to estimate when this will be, if bondholders refuse to bail the company out, or if the company does not make a secondary offering, I wouldn't be surprised to see at least the first event in early 2014. But given that bondholders have been there to provide capital, and given that the company can sell additional shares, a bankruptcy may be postponed by several months, or perhaps years. But unless the company turns its strategy around capital raises can only postpone the inevitable.
For these reasons I think investors should consider shorting J.C. Penney shares. However there is a lot of pessimism in the market. Currently there are 45 million shares sold short out of a total of 220 million shares outstanding. Thus investors may want to wait for a short squeeze or some sort of event that positively impacts the shares but not the company. When George Soros' stake was announced in April the stock soared 12% to $17/share, which is much higher than the current share price of $14/share. A short position added shortly after that event would have seen some small initial losses, but eventual gains. Given the controversy surrounding the stock I wouldn't be surprised to see another famous hedge fund manager take a stake. Shorting the stock a few days after the inevitable price spike may be an excellent idea, even if you do not pick the absolute top.
Disclosure: I have no positions in any stocks mentioned, but may initiate a short position in JCP over the next 72 hours. I wrote this article myself, and it expresses my own opinions. I am not receiving compensation for it (other than from Seeking Alpha). I have no business relationship with any company whose stock is mentioned in this article.