Aegean Marine Petroleum (NYSE:ANW) reported Q2 earnings of $.13, excluding the loss from the sale of a vessel. This compares to Wall Street analyst's expectations of $.18. The main driver of the earnings miss was a 12% decline in gross spread from $26.10 a ton in Q2 '12 to $23.10 in Q2 '13. After normalizing the results for meager tax rate of .2%, earnings per share would be $.03 lower making the quarter an outright disaster. EBITDA was down 20% year over year to $20.2m even after extensive cost cutting . ANW's stock is now trading for 15.3x trailing EPS.
Long-term investors should be much more worried about Aegean's management than this quarter's earnings miss. Aegean's stock has a lot of expectations built into it and management has usually let investors down. Let the buyer beware.
Financial guidance is far from attainable
In the middle of 2011 management announced a goal of 20-25% EBITDA growth over the next 3 years.
"Based on our anticipated sales volume growth, combined with our current EBITDA margin, we intend to grow annual EBITDA by an average of 20% to 25% per year over approximately the next three years."
At the time, Earnings before Interest, Taxes, Depreciation and Amortization (EBITDA) run rate was $17-18m per quarter. Compounding at 20%, the low end of the range, the quarterly EBITDA run rate should be averaging $25m this year and $31m next year. The past two quarters' EBITDA run rate was only $20m, implying the company must grow EBITDA 54% by the end of 2013 to reach $31m. This seems highly unlikely which is why I think management dropped it from the conference call script.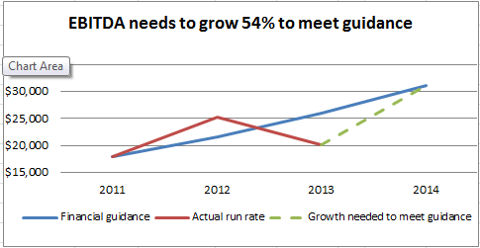 Where Is All The Free Cash Flow?
For over four quarters, Analysts have been asking management what it will do with the significant amount of free cash flow. To my calculations, free cash flow before growth cap ex has been roughly $10-13m per quarter (without considering increasing working capital requirements from high bunker fuel prices), far from "significant". In the table below, it is very clear where the free cash flow is going; management is investing in on-land storage. Long-term investors remember the ill-timed vessel acquisition strategy of 2011. We will see if management makes the same mistake investing hundreds of millions of dollars in on-land storage.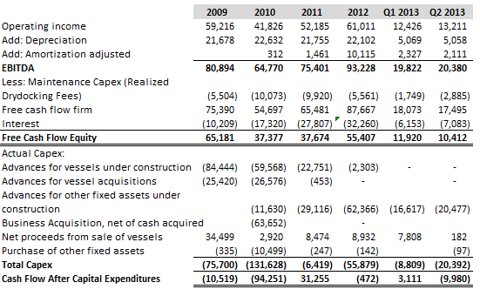 Fujairah construction costs increased substantially and delayed AGAIN
Back Q1 '11, management stated the Fujairah on-land storage facility would cost between $100-105m and would be completed by the end of 2012. At the end of 2012, management pushed out the completion date to mid-2013 and increased the cost to $110m. Now, the company increased the cost to $151m and stated Fujairah will commence operation in Q1 2014, almost 15 months later than the original plan. In the quarter, the company spent $20m and $34m year to date , leaving a remaining $16.5m to complete the project. Further, the company can't access funds from ABN Amro Senior Secured Debt facility until the project is completed. I found it surprising this was not brought up by a single analyst on the conference call.
In the past, management has guided investors that the storage facility will contribute $15m of EBITDA per year, implying a return on investment of 7% (15/155) or a levered return of ~10% (assuming 4.5% interest and a loan-to-value of 50%), which seems average given the risk. One can argue the returns are even less given the lengthy construction period.
Global Trade Finance Facility
Where is it? The company first said it was going to "simplify" its balance and consolidate the various credit and trade facilities into one large "global trade finance facility". Back in Q3 '12, Syros Gianniotis, ANW's CFO, mentioned the company was continuing progress regarding the new debt.
"The discussions with our lending group to replace our various existing facilities with one new credit facility in the amount of approximately $1 billion continue to progress. The new facility, which would include the participation of nearly all of our current banks, is expected to be finalized by the end of January 2013."
Then in May, the company made a press release announcing the launch of the syndication on a "BEST EFFORTS BASIS" of its Secured Multicurrency Revolving Credit Facilities with US$800m being subscribed by 8 banks. Now it is the middle of August, 3 months later, and the facility still is not closed. On the Q2' 13 conference, management stated the expected closing will be in September; why should we believe them? I'm thinking the very low Times Interest Earned ratio (1.9x) in the F-3 registration statement has scared investors away just as interest rates have begun to rise. Further, management has the opportunity to also sell preferred stock as well as common stock in addition to debt. Given where the stock is these days, an equity raise would be very prudent.

Amateur Risk Management Practices
During Q2 '13, STX Corp, one of the largest global shipping companies, filed for protection under Chapter 15 of the U.S. Bankruptcy Code. ANW shareholders we would have never known unless they read the fine print of the SEC filing. According to the Q2 '12 6-K, Aegean had exposure to 2 STX ships. One ship was arrested in Panama and there other has yet to be arrested. This brings Aegean's risk management policies into question. High quality companies like World Fuel Services (NYSE:INT) were arresting vessels the very day payments were perceived to be delinquent. The shipping sector still in dismal financial health therefore investors can expect increased costs and efforts just trying to conduct normal course of business. Although the company expects to retrieve full payment, any large delay in customer payments acts as a monkey wrench in Aegean's very fragile cash conversion cycle.
Debt Covenants
Although the violation of debt covenants is not new, it counters the company's claim of a "strong balance sheet", a term often used in the earnings announcement. The current ratio has worsened as current assets have decreased and the company continues to borrow to facilitate the extremely working capital intensive business model. We'll see how long the banks turn their head to poor financial performance.
Conclusion
As the risk profile of the company has been increasing, so has the earnings multiple. Management has continually over-promised and under-delivered for the past few years. At the same time, the earnings multiple has increased from 8.5x in 2012 to 15.3x, due to a 65% increase in ANW's stock price and a 10% decrease in 12 month earnings per share. When investors begin to question Aegean's management, the earnings multiple will quickly come back down.
Disclosure: I am short ANW. I wrote this article myself, and it expresses my own opinions. I am not receiving compensation for it. I have no business relationship with any company whose stock is mentioned in this article.