Introduction
Microsoft (NASDAQ:MSFT) has over the last couple of years been heavily criticized. The share price has stagnated and new "innovations" such as Windows Phone and Surface tablets have had relatively poor sales figures. At this point, it seems that Microsoft can't do anything right, and it is tempting to believe that the stock will decline in the future.
But as I will argue in this article, the bearish thesis on Microsoft is un-nuanced, and if one instead looks at the bigger picture, Microsoft actually seems like quite an attractive investment.
Valuing a company
I see two different methods one can use to identify whether a company is undervalued or overvalued;
An absolute valuation, where one estimates the present value of the future cash flow of the company. A DCF valuation is the most common valuation technique for absolute valuations.
A relative valuation where one uses metrics and compares it to similar companies. The P/E-ratio is the most common technique for relative valuation.
In this article, I will use the latter method. To be more specific, I will estimate Microsoft's earnings over the next twelve months and compare it to the S&P average.
How much will Microsoft earn?
Microsoft has five business segments; 1) The Windows segment. 2) Microsoft Business, 3) Servers & Tools, 4) Online Services and 5) Entertainment and Devices.
Analyzing all of the segments in this article will result in an article that is too long, thus I will only discuss the most interesting areas.
The Windows Division
In the below graph, you can see revenue and earnings for the Windows Division over the past 8 quarters combined with my estimates for the next 4 quarters.
Along with the bears, I believe earnings and revenue will decline over the next twelve months for two reasons: 1) A decline in the X86 PC market and 2) lower revenue recognition of Windows 8 upgrade offers.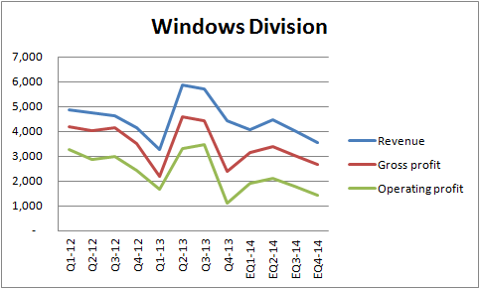 Click to enlarge
Source: Microsoft 10-K and my own estimations
But just because one division is having a tough time, doesn't imply that Microsoft can't grow its earnings in other ways. For instance, I believe that the Servers and Tools division and the Entertainment division (with the launch of the Xbox One) will grow more than enough to offset the decline of the Windows Division.
Servers and Tools
Over the last couple of quarters, Microsoft has obtained an impressive y/y growth rate of 8-9%. If Microsoft can continue to capitalize on the cloud, the growth rate can continue.
In the earnings call, management stated that it expected the growth rate to continue, and assuming margins are maintained, the increase in operating income of this segment over the next 12 months will be enough to compensate for the expected decline in the Windows Division (below graph).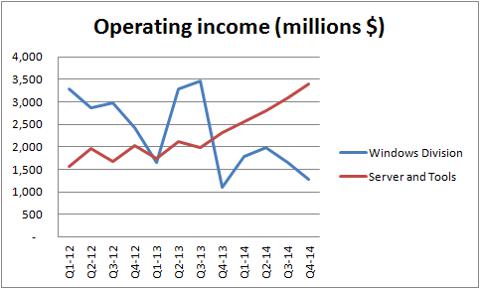 Click to enlarge
How the Xbox One will impact earnings
As can be seen in the below diagram, sales of Xbox consoles are very seasonal as they are a lot higher in the Christmas-quarter (fiscal Q2). With the launch of the Xbox One, I believe we will see much higher sales over the next year.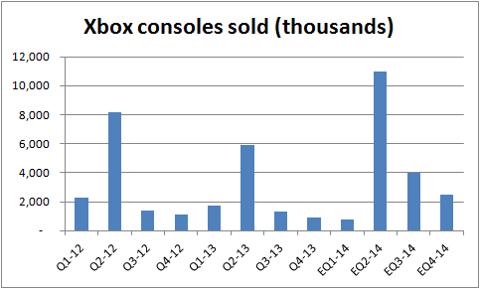 Click to enlarge
Source: Microsoft 10-K and my own estimations
The Xbox One is expected to be sold at a price of $500 with bills of material of $325, which gives it a gross margin of 19%. Just on console sales alone, I expect that Microsoft will earn $3B over the next year.
Further, I also expect accessories and other type of Xbox-related revenue to increase with the launch of the Xbox. Adding up all of my estimates, we can see that the gross profit of the Xbox segment is likely to increase quite significantly over the next year.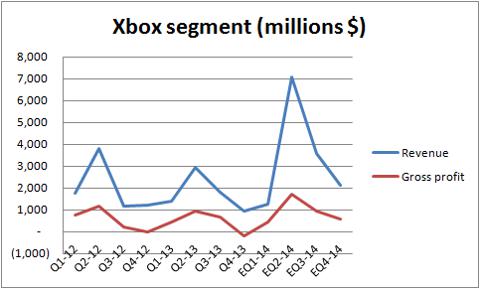 Click to enlarge
Source: Microsoft 10-K and my own estimations
Adding everything together: Microsoft seems undervalued
Below, are my estimates for Microsoft as a group. Basically, I believe that the topline will do very well, while the gross margin will decline from 74% to 72% due to negative growth in the high-margin segments (Microsoft Business and Windows). Overall, I believe EPS will increase from 2.6 to 2.8, which will result in a forward P/E-ratio of 11.41.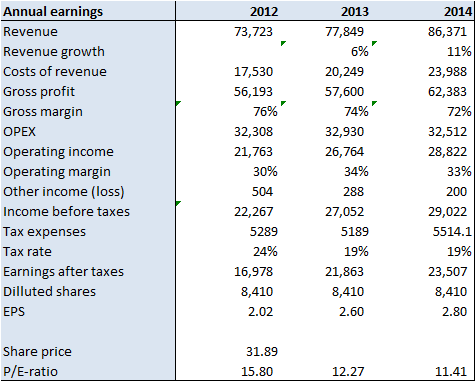 The average forward P/E ratio of S&P is 15.4, so in that regard Microsoft looks cheap. But obviously there are a few factors; the P/E-ratio doesn't take into account, such as;
The risk of the investment
Expected earnings after 2014
Net cash/debt holdings
Let's take a closer look at the above 3 factors. First of all, Microsoft has a below average risk (which is good for risk-averse investors) as its beta is 0.9.
In terms of long-term earnings potential, Microsoft, admittedly, doesn't have the highest growth prospects. On the other hand, the entrance barriers to most of its business segments are quite high, which means that it is difficult for new competitors to enter the market. Thus, I believe that earnings will be relatively stable over a longer period.
At last, Microsoft has no debt and $77B of cash, which means its "Business P/E-ratio" is just 8.75 with a forward ratio of 8.13. This is very cheap, and if Microsoft is capable of just maintaining its expected 2014 earnings over a longer time period (as I believe it will) it will give buy and hold investors a nice return on their investments

Final remarks
I don't expect Microsoft's share price to increase significantly any time soon. Rather, I believe Microsoft is a company where long-term investors are likely to get a stable return of 8-10% per year, which is pretty good given the low risk. So if you're interested in an undervalued low risk tech company, Microsoft definitely seems like an attractive option.
Disclosure: I have no positions in any stocks mentioned, and no plans to initiate any positions within the next 72 hours. I wrote this article myself, and it expresses my own opinions. I am not receiving compensation for it (other than from Seeking Alpha). I have no business relationship with any company whose stock is mentioned in this article.