Nokia (NYSE:NOK) has fought against huge adversity in the last couple of years to successfully turnaround its sinking mobile phone fortunes. The company, under new top management, has made difficult strategic changes to become a more nimble and lean company. The most controversial decision that the company made was to go exclusively with Microsoft's (NASDAQ:MSFT) untried and untested Windows mobile OS. The first Lumia phones (the x10 range) running on Windows 7 were not good phones and failed to really take off when they were launched in 2011. However, despite massive criticism, Nokia has persisted with its Windows Lumia strategy and has seen sharp sales growth in 2013. NOK has managed shipment increase, despite Windows not being still as good as Android and iOS. Nokia's mobile devices expertise made the best use of Windows 8 limitations and the company's Lumias (the x20 range) have managed to impress users despite the hardware limitations. Now Microsoft is all set to release an improved version of its WP 8 OS which should hopefully remove most of those limitations. Nokia is all prepped up to release new products and I think that Nokia will increase its marketshare even more with the new OS. The stock is quite cheap from an asset based perspective and I think that Nokia's stock should go much higher as Lumias keep increasing marketshare.
Nokia's Smartphone Success has come despite Windows 8 Limitations
Nokia has grown its Lumia shipments by high double digits in the last few quarters. The company shipped an impressive 7.4 million Lumias in the last quarter, despite the lack of awareness amongst the consumers. Nokia introduced five Lumia smartphones targeting every major price segment and won a lot of plaudits despite the limitations of the Windows ecosystem. There is low knowledge about WP 8 OS even amongst the tech savvy customers. Windows also has a low number of apps compared to Android and iOS, which have been around much longer. Windows also limits the hardware that can be installed on the smartphone which has further pushed back Nokia. Despite these issues, Nokia shipped more than 7 million smartphones in this quarter and I think this figure will easily cross the 10 million mark in the 4th quarter. Nokia has also kept its product range fresh by launching new smartphones such as the Lumia 1020 and Lumia 625.
With Windows 8 Improving, Nokia will get Additional Tailwinds
There are rumors that Nokia will release its first quad core smartphone in September which will support 1080p resolution. Note all Nokia phones even the top end Lumia 1020 and Nokia Lumia 925 have only dual core processors. Nokia and Microsoft have managed to optimize the software so that the phones run great even with lower hardware specifications. Also most of the Lumia smartphones such as the 620 and 720 have only 512 MB of RAM. The best Lumias have 1 GB RAM though it has become common for the flagship smartphones to have 2 GB of RAM. Though Nokia has managed to get its applications to run smoothly with lower hardware specifications, the new Windows OS will remove these limitations. The new rumored Nokia 825 will be competitive with some of the best Androids in hardware, with a quad core processor from Qualcomm (NASDAQ:QCOM). The phone will also have a higher resolution which is not supported by the current Windows OS. Nokia has managed to fight despite display and hardware handicaps through great technology and software optimization. Now the company will get an edge as it uses those innovative techniques with the best hardware.
Nokia recently unveiled its biggest-ever smartphone, Lumia 625 with a 4.7-inch display. However, it seems that the Finnish manufacturer is taking the screen size game even higher with the upcoming Lumia 825 smartphone.
A Chinese news website has leaked details of this upcoming device, which will not only be the biggest Nokia handset but also likely to be its first with a quad-core processor. All current Nokia smartphones (including top-end models like Lumia 1020 and Lumia 925) come with dual-core processors. The report also says that the phone will support display resolution of 1280x720p…Windows Phone 8 operating system currently does not offer quad-core support, which will come with the GDR3 update that is scheduled to be released this fall. This update will also bring support for 1920x1080p resolution for screen displays to phones running on Microsoft's mobile OS.

Source - Times of India
Nokia is the only Game in town for Microsoft
People have heavily criticized Nokia for sticking to Microsoft given the immaturity of the Windows mobile OS. They have not understood why Nokia is sticking to its exclusive strategy even as other top smartphone makers such as HTC, Samsung (OTC:SSNLF) etc. are producing smartphones using both Windows and Android OS. Even after Nokia has captured almost 80% of the Windows OS smartphone marketshare, these critics can't see the obvious. Not only has Nokia got fees from MSFT for using Windows, but its single minded focus has made it the best Windows smartphone maker. Other phone makers are not even close to Nokia's quality and range of Windows smartphones. Nokia has made MSFT heavily dependent on its success rather than the other way around. MSFT has failed with its Surface tablets and Nokia's Lumia is the only bright sign in its mobile strategy. Every technology company needs to have a big presence in the mobile devices industry. Old technology giants like MSFT and Intel (NASDAQ:INTC) are trying hard to get a slice of the market. While Intel is somewhat succeeding, MSFT has fallen flat on its face with the Surface failure.
Nokia Risks
I think that Nokia and Microsoft have not been aggressive enough in their sales compared to Samsung and Apple (NASDAQ:AAPL). While it is early for the new Lumia smartphones, the advertising has not been good enough. Microsoft has huge resources and should use some of that to push Nokia's Windows smartphones. Competition is also very strong in the smartphone market with competitors like Samsung , LG and Sony (NYSE:SNE) launching new products almost every month. Samsung will launch its Note 3 and a smart wristwatch, while Sony is also looking good. I think that the Sony Experia Ultra is an excellent product. Apple will be coming out with a successor to the iPhone 5 in September along with a new cheap iPhone Lite to target the low-mid end of the smartphone market.
Stock Price and Valuation
Nokia has started to trade at a higher ~$4 level after showing good traction with Lumias and after buying NSN at a cheap price. Nokia's valuation is quite cheap, with a P/S of 0.4x and P/B of 1.6x. The company has sharply reduced expenses over the last year as it restructures to face heightened competition in its core mobile device market. I think that Nokia's valuation is very attractive at the current stock price, considering that the company is net cash positive and has great assets. The company is earning more than 600 million dollars by licensing its patents alone. The stock should go higher with the launch of the new Lumia 825 and the possible launch of a new tablet.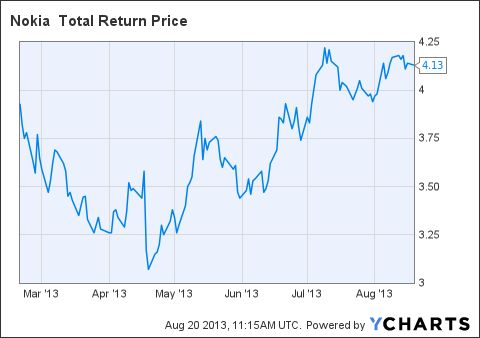 NOK Total Return Price data by YCharts
Summary
Smartphone shipments will reach ~950 million units in 2013 making it the most important computing category. Nokia is fighting against a range of strong competitors in the burgeoning mobile devices market. The smartphone market has seen extremely high competition and only two players have made significant profits. Nokia had been slow to react to the sharply increased competition in the mobile phone market. However, the company has made decent progress in its restructuring strategy. The company still needs to do a lot more by introducing a tablet and becoming more aggressive in sales and marketing. The new Microsoft update should help Nokia fight on a more level playing field, by allowing Nokia to plug in the latest and greatest processors and displays into the phone. The last few Lumias have shown that Nokia is becoming a much better organization attuned to customer needs and trends. I think that Nokia's current stock price and valuation is quite depressed and offers a good risk reward profile.
Disclosure: I have no positions in any stocks mentioned, and no plans to initiate any positions within the next 72 hours. I wrote this article myself, and it expresses my own opinions. I am not receiving compensation for it (other than from Seeking Alpha). I have no business relationship with any company whose stock is mentioned in this article.