A growing number of active customers, a healthy take rate and a great business model make me bullish on Groupon (NASDAQ:GRPN). Also, the company has delivered healthy financial results in recent quarters, and has been expanding its active deal offerings to tap available growth opportunities and to grow its active customer base. Furthermore, analysts have projected an attractive growth rate of 24% per annum for the next five years.
Financial Performance
The company's revenue has increased in recent quarters. Groupon reported total revenues of $609 million for 2Q2013, up 7% YoY, beating analysts' consensus by $7 million. North America and international markets contributed 62% and 38%, respectively, towards the company's total revenues. Revenues from the North American segment increased by 45% YoY to $377 million in 2Q2013. On the other hand, the company reported revenues from its international segment of $232 million for the recent second quarter, representing a decrease of 25% YoY. Total revenues for the quarter increased mainly due to higher gross billings and an increase in active customers. GRPN was also successful in expanding its gross billing by 10% YoY for the quarter. The chart below shows the total revenues and gross billing trend for GRPN.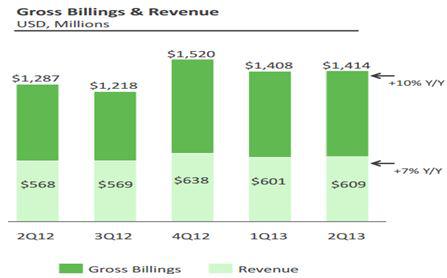 Source: Investors Presentation
GRPN is one of the few companies benefiting from the increased usage of smartphones in recent years. In 2Q2013, mobile device transactions in North America increased by 30% YoY. Also, approximately 7.5 million Groupon mobile apps were downloaded in the recent second quarter, which led to revenue growth.
The company reported an adjusted EPS of $0.02, in line with analyst expectations. GRPN has been successful in increasing its gross margin over recent quarters; it currently has a healthy gross margin of almost 64%. Also, the company has been able to consistently increase its active customers. In the recent second quarter, the company added 0.9 million active customers; it now has a total active customers base of 42.6 million, up from 38 million in 2Q2013. The following two figures show the gross margin and total active customers for GRPN.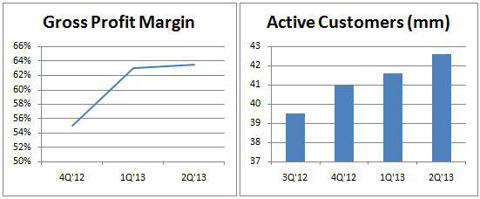 Source: Quarterly Reports
GRPN has been doing well in terms of increasing its take rate over recent quarters. In 2Q2013, the company enjoyed a take rate of 43.1%, in comparison to 42.7% in 1Q2013. As the company continues to increase and/or maintain its take rate, it will be able to post healthy financial results and the move will positively affect GRPN's stock price.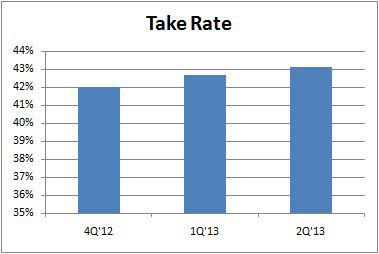 Source: Quarterly Reports
Outlook
The company's management provided a revenue guidance range of $585 million-$635 million for 3Q2013. Also, it expects its full year adjusted operating income will exceed $100 million. In contrast to the company's expectations, analysts have estimated an EPS of $(0.01) for 3Q2013 and have a high next five years earnings estimate of 24% per annum. Following are the analysts' EPS estimates for GRPN from 2014 through 2016.
| | | | |
| --- | --- | --- | --- |
| | 2014 | 2015 | 2016 |
| EPS estimate | $-0.01 | $0.09 | $0.18 |
Source: Nasdaq.com
Recent News
Earlier this month, GRPN named Eric Lefkofsky as the company's new permanent CEO. Eric Lefkofsky was named the interim CEO in February 2013. The news of the appointment was absorbed positively by the market, as the stock rose 19% in after hours trading following the announcement.
Last week GRPN launched the Groupon Partner Network (GPN) to help better monetize its online presence via promotion of Groupon deals. As part of its initial promotional efforts until September 30 2013, GRPN has also increased potential commission levels for its affiliate partners.
Conclusion
I believe GRPN has a great business model and the company has a large addressable market. The conversion rate, converting subscribers into actual buyers, remains a key stock price catalyst for GRPN. The company can increase its active customers and revenues by focusing on 'deal relevance'; targeting customers according to their demands and needs. Moreover, as the company increased its deals offerings, it will positively impact top and bottom lines results in the future. By the end of 2Q2013, the number of deals offered by GRPN in North America surged to more than 54,000, in comparison to almost 40,000 in 1Q2013.
Disclosure: I have no positions in any stocks mentioned, and no plans to initiate any positions within the next 72 hours. I wrote this article myself, and it expresses my own opinions. I am not receiving compensation for it (other than from Seeking Alpha). I have no business relationship with any company whose stock is mentioned in this article.