By David Urani
The housing market has been at somewhat of a crossroads over the past couple of months. Sales and price performance by all accounts continue to show quite healthy growth, but the market will give it no mercy as it turned homebuilder stocks into a downtrend, as 30-year mortgage rates rose from below 3.5% in May to just below 4.5% currently.
That brings us to today's existing-home sales report for July from the National Association of Realtors, which showed sales up 6.5% month to month (annual rate) to 5.39 million. This is the highest rate of sales since March 2007, and above the consensus calling for 5.15 million. In the meantime, sales are up 17.2% year over year. Sales were up broadly across all major regions. Inventory also continues to rise, but is not outpacing sales as months' supply remained flat at 5.1. The total supply grew 5.6% month to month to 2.28 million.
So it was another good piece of housing news that shows continued recovery in the housing market, contrary to how the Street seems to see it. That said, the bear case isn't necessarily dead here, as this existing-home sales report does have a lag effect. The better part of these sales were likely agreed upon in June, to be closed in July. Nevertheless, we find it unlikely mortgage rates will have totally derailed home sales, and rates had indeed risen past 4% by the end of June -- and as high as 4.5% in July.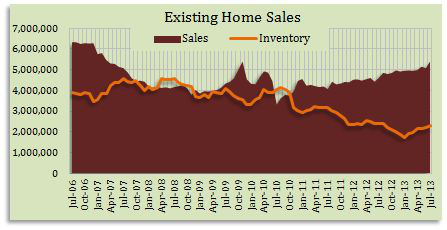 Toll Brothers Reports
We also got earnings results from luxury homebuilder Toll Brothers (NYSE:TOL). Toll beat by $0.01 on the bottom line for its fiscal Q3 with earnings of $0.26 per share, and revenues were up 24% year over year to $689 million -- which was just shy of the $694 million consensus. The average price per home sold was up to $651K from $577K.
The company also reported new orders up 47% in dollars and up 26% in units, while backlog was up 75% in dollars and 56% in units. In the meantime, management also updated its guidance to call for FY 2013 revenues to be $2.46 billion to $2.62 billion, which is in line with the current consensus. So the remainder of the year between backlog and guidance also looks good, and shows no sign of slowdown yet from mortgage rates. (Note: The consensus in the last three months for FY 2013 has only risen, to $0.81 from $0.79.)
CEO Doug Yearly said: "We believe the recovery is real and we are in the early stages of the rebound."