A bank's book value per share ("BV-PS") can increase or decrease for a number of reasons. It can issue shares to the public, or it can buy shares back. It can issue shares to a target in an acquisition. But what typically makes BV-PS increase is the excess of earnings per share ("EPS") over dividends per share ("DPS"). The greater the excess, the more BV-PS should grow.
Right?
The chart below compares the excess of EPS over DPS (blue bars) for the first half of 2013 to the increase in BV-PS (red bars) over the same period. I show data for the twenty largest US banks/thrifts by market cap, excluding the trust/processing banks (data is provided by SNL Financial LC):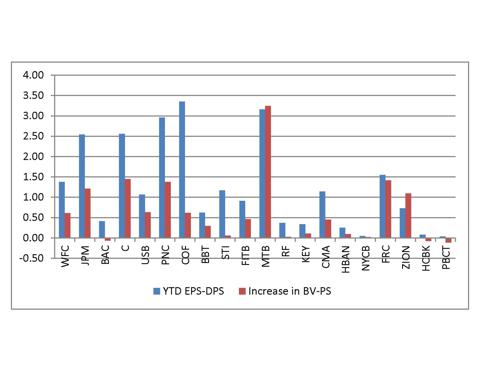 As you can see, with the exception of M&T Bank (NYSE:MTB) and First Republic Bank (NYSE:FRC), there is a huge difference between the two bars for each institution. What causes it? None of the banks closed large acquisitions during this period.
Several of the largest banks undertook major share repurchases. JPMorgan Chase (NYSE:JPM) is the standout in dollar terms. It repurchased $3.75 billion worth of shares through June 30 of this year, spending 31% of its net income to common to do so. It repurchased these shares at an average price of $48.72, so even with JPM's recent price decline, these buybacks look smart. Wells Fargo (NYSE:WFC) spent $1.8 billion, or 18% of its net income to common. Bank of America (NYSE:BAC) and US Bancorp (NYSE:USB) spent $1.0 billion and $1.1 billion respectively, or 21% and 40% respectively of net income to common. Fifth Third Bancorp (NASDAQ:FITB) spent 67%.
But buybacks aren't generally the culprit. The change in "Other comprehensive income" ("OCI") is. OCI is a balance sheet account that captures a variety of things, including unrealized securities gains. Many of these institutions have experienced a large decline in OCI from Q4 2012 to Q2 2013 that swamps the decline in BV-PS from buybacks. (For the most part, OCI is negative for these institutions, although WFC's and JPM's OCI balances at Q2 2013 were $1.8 billion and $136 million, respectively.) WFC's OCI decline was 210% of the amount it spent on buybacks. BAC's was 490%.
And while one thing that makes OCI fall is to realize securities gains or losses, that didn't happen on a large scale.
What is the cause? One is interest rate increases. On August 19th, the closing 30-year Treasury yield was 3.89%. On May 2nd, it was 2.82%. That 107 basis point rate increase would cause a 30-year Treasury bond bought on May 2nd to decline in value by about 19% by August 19th. So rate increases can do a lot of damage to BV-PS, if an institution has a large securities portfolio which must be marked to market (in general, banks are not obligated to mark their loan portfolio to market).
There's other stuff in OCI too, stuff that would be difficult if not impossible for an analyst to predict for the purposes of forecasting EPS and BV-PS. But my main point is this. If $1 of EPS doesn't become either $1 of DPS or $1 of BV-PS because of leakage from OCI, that's a problem, whether you think about valuation explicitly in BV-PS terms (I do, although I think about it relative to tangible BV-PS, rather than stated BV-PS) or if you just think about how the leakage slows asset growth at any institution that endeavors to keep its leverage (equity/assets) constant.
I haven't met anyone who doesn't think interest rates will eventually increase even more. Some people just think rates will increase soon, others think they won't for awhile and so they don't worry about it. If rates keep increasing, the OCI hole will likely grow, and that has to be a drag on bank asset growth, a negative even if that growth turns out to be more profitable because of higher interest rates.
One final observation on the above chart: look how tiny EPS-DPS is for New York Community Bancorp (NYCB) and People's United Financial (PBCT). Do their shareholders think these institutions will be able to grow if they pay out virtually 100% of their earnings as dividends?
Disclosure: I have no positions in any stocks mentioned, and no plans to initiate any positions within the next 72 hours. I wrote this article myself, and it expresses my own opinions. I am not receiving compensation for it (other than from Seeking Alpha). I have no business relationship with any company whose stock is mentioned in this article.