Mining giant BHP Billiton has announced revised figures that significantly upgrade the reclaimable reserves for its flagship Olympic Dam operation in southern Australia.
Click to enlarge: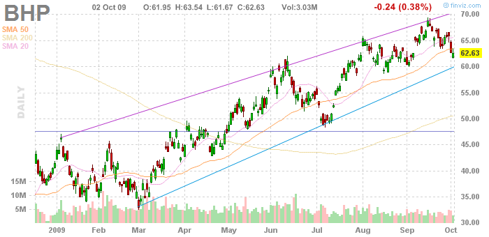 Click to enlarge
The new figures released by BHP (NYSE: BHP) point to a 22% increase from 284 thousand tonnes to 347.5 thousand tonnes of of U3O8, due to mineral re-classification as operational drilling taps into larger sources. BHP has correspondingly upgraded the operational lifetime of Olympic Dam from 43 to 54 years.
Olympic Dam is arguably BHP's most valuable asset, as it is a multi-mineral source combining the world's 4th largest copper deposit, 5th largest gold deposit & significant amounts of silver. It is also currently the world's largest single uranium ore deposit.
With a production level of 3344tU last year, Olympic Dam is placed 4th in extraction levels for uranium, BHP is now looking to expand the size of its operations on this site. At present, all mining activities are conducted underground, however, BHP has submitted an expansion plan to local government that would see open pit mining being introduced to the site. With government expected to make a preliminary decision on the expansion project next year, this is a critical time for BHP, as the following chart illustrates.
Click to enlarge:

Click to enlarge
In an earlier post, we discussed the impact of Sino energy requirements on Australian miners, as the Chinese are heavily committed to reducing pollution & are searching for cleaner energy sources to power their expanding economic requirements. In April this year, Chinese officials announced they would start building five extra power plants this year on top of the 24 already under construction & 11 already in operation.
Professor Liu Deshun, of China's Institute of Nuclear and New Energy Technology says:
There are not enough uranium resources in China to support the aggressive nuclear power development plan for the next 20-30 years. Australia has the uranium resources that could be exported and in China we have the demand.
Earlier this year, BHP managed to successfully expand into the Yeelirrie deposit in Western Australia, which is estimated to have a 10 to 12-year lifespan and a resource of 35,000 tonnes of uranium, as a result of the Western Australian government lifting a six year old ban on uranium extraction in the state. With this precedent and also the ability to secure long term supply contracts to China, Australian Minister for Resources, Martin Ferguson, indicated the Federal Government was unlikely to stand in the way (subject to environmental and investment tests).
In the short term, this could also have a large knock-on effect on the share price of some of its key competitors, namely Freeport McMoRan (NYSE:FCX) & Rio Tinto (RTP). Rio is also a top producer of uranium ore, with it's Ranger Mine in Kakadu, which currently supplies 10% of global requirements, any uplift in BHP's production capacity is sure to impact that figure.
More interestingly for our thinking, there has been much speculation that BHP could be looking to acquire Freeport McMoRan in order to bolster its gold & copper production, however, referring to the anticipated production uplift in both of these commodities if the expansion plan is successful, why would BHP Billiton look at dishing out more than $27 billion, when they could integrate on an existing site?
The Australian government is, in our opinion, more likely to sponsor the expansion project, as it will keep the majority of that cash pile invested in the country & help to secure more than 15,000 jobs directly & indirectly for the lifetime of Olympic Dam.

Perhaps readers of the WSJ should think a little more on geo-political terms when voting on nonsensical polls.
Disclosure: No current positions in any stock mentioned