Note: This article covers a micro-cap stock. Please be aware of the risks associated with these stocks.
Anyone interested in a stock that's lost 99.97% of its value since its inception? Pull up the stock performance for Arca Biopharma (NASDAQ:ABIO) and that's what you will see. After failing its Phase III trial, it was as good as dead. The cause of the near fatality; atrial fibrillation, or AF for short.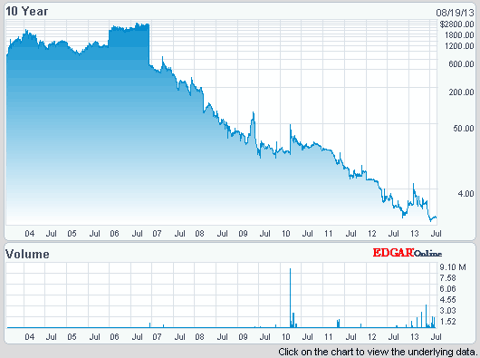 Click to enlarge
What you do not see in the chart above, but I would argue is the basis for a strong investment thesis in favor of Arca, is the beginnings of a new trial based on intensive feedback from the FDA since their Phase III failure designed for a very focused patient population based on DNA and a very specific medical condition that showed good results from the original trial.
Arca is a biopharma focused on developing genetically targeted therapies for cardiovascular diseases. Their lead product is Gencaro, a beta-blocker for the treatment of AF in patients with heart failure and left ventricular dysfunction, or HFREF. From their recent 10-Q filing a brief description of the condition is as follows: "AF is a disorder in which the normally regular and coordinated contraction pattern of the heart's two small upper chambers (the atria) becomes irregular and uncoordinated. The irregular contraction pattern associated with AF causes blood to pool in the atria, predisposing the formation of clots potentially resulting in stroke. AF is considered an epidemic cardiovascular disease with an estimated prevalence of at least 2.7 million Americans in 2010." Current therapies for AF in patients with HFREF have toxic side effects. Enough for the technical aspects of the indication. It is obvious from the information above, the unmet medical need is quite large.
Now for a little history. Arca experienced its first near death in June 2009 when the FDA rejected Gencaro's Phase III trial (the BEST clinical study) due to the integrity of its late-stage data as well as its ability to demonstrate efficacy. The Complete Response letter highlighted three actions that were needed to obtain approval:
Conduct an additional clinical efficacy trial.
Conduct additional clinical pharmacology studies to address drug-drug interaction and pharmacokinetic issues; and,
Conduct additional non-clinical studies to further characterize Gencaro metabolites.
However, when mining the data, Arca appeared to have struck gold. In November 2011, a DNA sub-study in the BEST trial in 2708 heart failure patients showed results from 41% improvement in AF to 74% based on a genotype, which is represented in approximately 50% of the population. The genotype was represented in 47% of the patients treated with Gencaro, which resulted in the failed results. In other words, if they can isolate the genotype and develop trials only for those patients, results should be exceptional.
Fast forward to 2013. A 1:6 reverse split in March and a highly dilutive capital raise of $18 million has decimated the stock price. They are currently planning a Phase IIb trial to include 200 patients over a two and a half year period and if they can replicate the prior results, moving into a Phase III trial should be a given.
As with all developmental stage biotech companies, the road to commercialization is long and there will be many peaks and valleys along the way. As indicated above, the Phase II trial will take over two years before they evaluate results and decide on moving forward with a much larger Phase III trial. Fortunately, there will be value creating catalysts along the way. One of those catalysts will be the submission of an IND application for Gencaro later this year. If all goes as planned, there should be a nice run up in the stock price in anticipation of approval.
Arca is projected to have enough cash to get them through 2014 but at some point will probably need to dilute again before the Phase II trial has concluded. However, with a market cap of about $14 million and cash on hand of $20 million, there is plenty of room to absorb the additional dilution.
Lastly, and importantly, Arca Biopharma has strong management and a CEO and founder with demonstrated success in the industry who hasn't been timid about injecting his own funds into the business. Of course, it is not unusual for a founding CEO to continue to provide capital to his company by participating in Rights Offerings. However, usually those Rights Agreements include anti-dilution protections. In other words, if the company dilutes further down the road, which is highly likely, the CEO's existing warrants are reset to the new, lower purchase price. Since the CEO controls the financing arrangement, he is essentially setting his own price! It's a rigged game from the beginning. However, and this is very important, Arca does NOT have anti-dilution protections in the most recent offering. This is a huge vote of confidence by management and the investors who participated in the offering!
Before I paint too rosy a picture, it's worth reminding the reader that Arca is a research stage biotech that makes no money and won't for the foreseeable future. There is no guarantee that any treatment they test has any chance of getting marketing approval, let alone sell as a product. The company depends on selling shares and diluting the shareholder in order to run its very expensive research trial that could last anywhere from 5-10 years before even being considered by the FDA for marketing approval. As such, a long-term investment thesis is difficult at best. However, when comparing current valuation to future potential, the near-term prospects for stock appreciation is compelling.
In summary, Arca's first life was full of difficulty and pain and suffering for its shareholders. I am betting this second chance at success will not be wasted, and current shareholders will reap the rewards for embracing Arca on death's bed.
Disclosure: I am long ABIO. I wrote this article myself, and it expresses my own opinions. I am not receiving compensation for it (other than from Seeking Alpha). I have no business relationship with any company whose stock is mentioned in this article.