Tobacco stocks have die-hard fans, even amongst people who've never let a cigarette touch their lips, and that's because tobacco companies have rewarded shareholders extremely well by delivering consistently growing and inflation-beating dividends through good and bad market cycles, by enhancing shareholder value through buybacks and by soundly managing domestic and international growth in the face of stiff regulatory backlash such as advertising restrictions and warnings on packaging.
Studies show that rising dividend payments also drive share price appreciation. As a result, tobacco companies have consistently delivered double-digit real total returns to shareholders who put their money in these stocks years ago, sat back and saw dividend income and price appreciation delivered to them - easily beating the Dow and the S&P 500, well ahead of average annual home price gains and soundly ahead of inflation.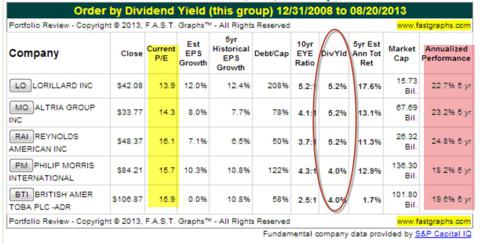 While looking in the rear view mirror has limited predictive value, tobacco companies still offer compelling value to investors seeking strong dividend income and capital appreciation.
Consider the world's top five global tobacco names - Altria (NYSE:MO), Philip Morris International (NYSE:PM), Lorillard (NYSE:LO), British American Tobacco (NYSEMKT:BTI) and Reynolds American (NYSE:RAI) - the Fab Five for this article. Each of these companies has strong, consistent and growing revenues, generates a large amount of cash, uses a substantial part of its cash for dividends and buybacks, has low and manageable debt and continues to innovate as cigarette sales face regulatory pressure.
Tobacco Stocks Handily Beat the S&P 500 over the Past Five Years
For starters, over the past five years of the much touted bull market, each of our Fab Five stocks handily outperformed the S&P 500's 28% gain - on share price appreciation alone without counting dividends. Philip Morris International and British American Tobacco, the "laggards" of the lot, delivered almost twice the gain of the S&P 500 while Lorillard and Reynolds American delivered almost thrice the gain of the S&P 500 - again, on share price appreciation alone.
Robust Dividend Income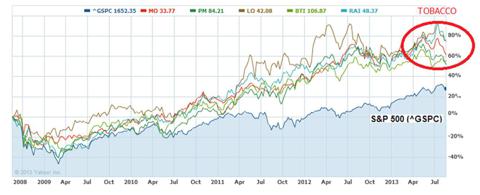 Studies show that the best dividend income comes from a combination of a reasonable and sustainable current yield and strong dividend growth, and that's exactly what these tobacco stocks have delivered. All five have consistently paid dividends with sustainable current yields that range from 3.9% to 5.2% (well above inflation of 2.5% to 3.5%), delivered 2012 year-over-year dividend growth that ranges from 2% to 10% and raised dividends significantly since inception with average annual dividend growth of 15% to 29% - right by the dividend best-practices playbook.
For these five stocks, current yield plus average annual growth over time - a key metric to gauge dividend stocks - ranges from 20% at the low end to 33% at the high end, which is well above most dividend paying companies including many on the S&P 500 Dividend Aristocrats list (which these five stocks did not make because they have not paid dividends for 25 years).
Dividend Payout Ratio (dividends paid / diluted earnings per share), another key factor in assessing dividend stocks, for our Fab Five stocks ranges from 65.4% to 75% - which also points to fundamental financial strength and a mature, cash generating business model because paying out close to 70% of earnings is no easy feat and clearly shows strong commitment to shareholders and confidence in future business prospects.

Strong Buybacks
In addition to paying close to 70% of their earnings as dividends, these companies consistently spend substantial amounts on share repurchases every quarter which reduces outstanding shares, increases earnings per share and enables higher distributions per share. The table below shows Fab Five buybacks for the second quarter of 2013 range from 0.2% to 1.1% of the company's float, which translates to annualized buybacks of 0.8% to 4.4% of all outstanding shares… that's pretty significant and quickly adds up year-after-year to boost per share value.
Moreover, by returning a substantial portion of their earnings to shareholders through quarterly dividends and buybacks, tobacco companies are protecting shareholders from potentially devastating litigation or other losses should the tide turn strongly against tobacco through governmental regulations - so this earn-and-return structure is far safer for shareholders than earn-and-retain.

Excellent Real Total Return
When you add share price appreciation (relative to the initial purchase price of shares), dividend yield and dividend growth - collectively, Real Total Return - the Fab Five have performed exceedingly well over the past five years. Moreover, their business models are such that this performance will likely be repeated over the next five years and beyond.
Solid Business Model, High Cash Flow, Solid Earnings Growth
The table below presents operating metrics for the Fab Five with revenues that range from $6.6 billion to $77.4 billion. But what's key here is that operating cash flows are strong (ranging from $1.2 billion to $9.4 billion) and are a healthy double-digit percentage of revenue. For example, on the low end, Philip Morris International has an operating cash flow margin of 12.2% of revenue.
Each of these companies has also steadily grown operating income over the years with average annual 5-y growth of 6.5% to 12.4%. As a result, their total annual rates of return range from 19.2% to 25.6% - well above what investors can ever hope to earn from CDs, Treasury bonds, Index Funds or most stocks.

High Credit Worthiness
In addition to solid revenues and cash flow margins, these companies have strong balance sheets with manageable debt and interest expenses that are a small fraction of operating income and cash flow, with Morningstar credit ratings that are investment grade (BBB) and above. For example, Lorillard has a relatively high debt/assets ratio of 107%, as does Philip Morris at 58%, but interest expenses are low relative to operating income (8%) and cash flow (13%) and will not get in the way of cash for business investment or dividend distributions.
And, much like the rest of corporate America, these companies see debt with ultra-low interest rates as an excellent source of inexpensive capital for growth and investments at this time.

Attractive Valuations, Strong Projected Returns
Even though Fab Five shares have delivered excellent, index-beating returns, shares still have considerable upside at current levels. For example, barring British American (which is only expected to gain 1.8% annually through 2018), all companies are expected to deliver average annual returns of 11.3% to 17.7% over the next five years - which will handily beat major indexes and inflation. Shares currently sell at valuation ratios - Price/Earnings, Price/Operating Cash Flow - that are a tad high by historical standards but reasonable given the long-term growth prospects for these businesses. Price/Earnings ratios for the Fab Five range from 13.1 to 17.6, well below the 18.76 average for all S&P 500 stocks suggesting that they possibly trade at a discount to the broader market.

Business Innovation Continues in Tough Regulatory Environment
Tobacco companies are, of course, always under the gun to rein in advertising, contribute increasingly higher percentages (of gross sales) in taxes and face possible class-action lawsuits. But heavy litigation over the past few decades has shown their ability to weather these storms and come out stronger. With rising healthcare awareness globally, these companies have also focused on innovations such as electronic cigarettes to minimize health risks and diversified their revenue streams through investments in chewable tobacco, wine and other consumables that leverage their extensive global distribution networks.
Summary
Tobacco companies have solidly outperformed most other investment classes and continue to have all the right fundamentals for continued dividend income and share price appreciation. Shares currently trade at valuations that are still very attractive and projections based on earnings and dividend growth call for strong real total returns through 2018 and beyond.
Disclosure: I have no positions in any stocks mentioned, and no plans to initiate any positions within the next 72 hours. I wrote this article myself, and it expresses my own opinions. I am not receiving compensation for it (other than from Seeking Alpha). I have no business relationship with any company whose stock is mentioned in this article.