Tesla Motors (NASDAQ:TSLA) is slowly moving towards reaching the $160/share price, as predicted on July 30 by the analysts at Deutsche Bank, who admittedly joined the "electric party late" and were too "overly focused on the risks" in their previous valuation. The report provided the following five arguments for the upgrade:
Analysts Dan Galves and colleagues believe the stock will double in the next three to four years, making Tesla Motors an excellent long opportunity for investors.
In the sea of analysts, Deutsche Bank seems to have hit the nail on the head, especially with their Q2 predication. Of note, the firm also recently raised its price target for Groupon (NASDAQ:GRPN), from $6 to $10, then $17, which is currently trading at $9.50/share from $7/share two months ago.
By following the firms ratings on Tesla and Groupon alone, investors saw a 39% increase in profits in two months (e.g. GRPN rose from $7 to 9.50 and TSLA from $129 to $149). Tesla is currently valued at $17.25 billion and investors are paying 8.5X its current valuation (based on 20,000 car sales by the end of next year). Even with 200,000 potential units sold (e.g. valuation of $13 billion), which is expected by 2017, at the current stock price investors are being extremely generous. Yet, Deutsche Bank believes the stock could reach $260/share in 4-5 years, placing Tesla Motors at a valuation of $31 billion. Currently, the stock price has steadily returned to gains over the past few days even during a bruising week of losses on NASDQ, and is well on its way of reaching $154/share (see chart below).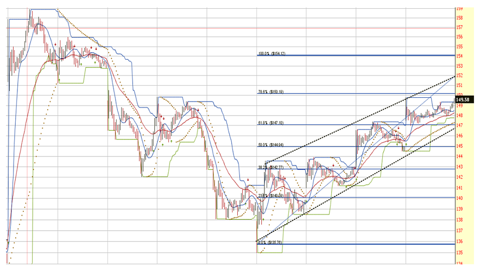 Shorts have an approximate 1.6 days to cover (short interest is at 19.8M, with percent float of 24.40%), which may send the stock into the $160+ range in a day or two, thus reaching Deutsche Bank's target. It would be an understatement to say that the stock is grossly overvalued. However, investors are betting not only on an increase in car sales, but alternative sources of revenue.
Potential future revenues and the needed car sales
Moving forward to 2015, Tesla anticipates to cover 98% of the U.S. and parts of Canada with its free to use (e.g. for Model S Tesla Customers) supercharging stations. See images below from Tesla.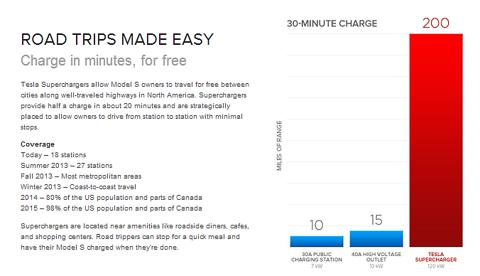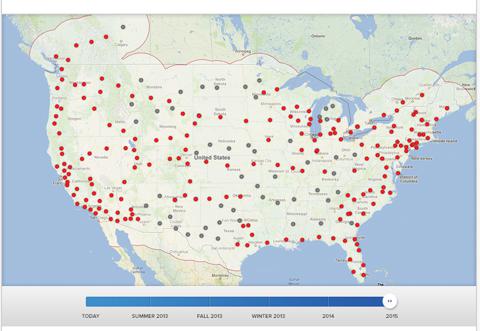 That is an impressive goal in terms of expanding the supercharging stations. While it may be free to Tesla customers, somehow revenue must be generated to build these charging stations. Not even taking into account the potential profits from charging other car manufacturer EVs to use their stations such as the 2014 Toyota and Mercedes models, which are in a partnership with Tesla, substantial profits must be reached to justify even the current valuation of $17.25 billion.
The idea behind so many supercharging stations is that they will not only help charge EVs, but serve as potential revenue sources. These stations will have the capability to store energy generated by the sun in batteries and other systems, and then feed that electricity into the grid. In the U.S. solar produces less than 0.5% of electricity, and has a lot of potential to grow over the next decade. To better understand the process, one needs to look at SolarCity's (NASDAQ:SCTY) partnership with Tesla, which allows the integration of solar arrays and off-the shelf Tesla lithium-ion battery backs into the power grid. Homeowner can benefit by tapping the energy from batteries when electricity rates are high or use them to provide backup power to the grid. Below is an image that shows solar production and battery discharges on a December day at house of SolarCity's co-founder, Peter Rive.

The same process is directly applicable to the supercharging stations, which can feed stored energy into the grid. Assuming Tesla builds close to 250 charging stations across the U.S by 2015, and can sell 9,600kW of energy back into the grid at $0.16, this will provide an estimated daily revenue of $384,000. If we consider only half of the estimated profits, $190,000/day, to account for rainy days and other expense (e.g. site construction, etc), Tesla could see an additional annual revenue stream of $69 million for the U.S. alone. Furthermore, some customers will likely take advantage of the 90-second battery swap tech at the stations, which will cost around $60-80 by current standards (may likely be less in 2015). However, this may not be a key source of revenue. Additionally, other fees will be in place for exchanging used batteries, which should provide additional sources of revenue. Once these factors are calculated with the expected sale of 200,000 units by 2017, the current valuation of $17.25 billion seems fair. However, the valuation of Tesla is expected to be at $31 billion by 2018. This means sales need to reach roughly 400,000+ units by 2018. The chart below shows the number of cars sales Tesla needs to reach in order to maintain its anticipated valuation.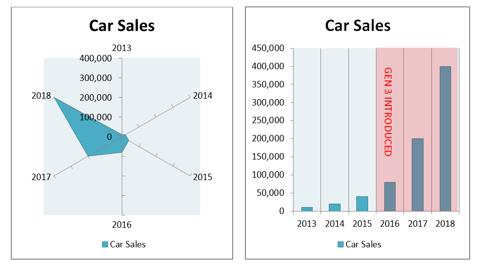 What it comes down to essentially, is that investors are betting that sales will dramatically increase in 2016 with the introduction of the Gen 3. Things to watch for in the coming quarters will be signs of increased production and the ability to maintain demand. While I think Tesla will successfully reach the sale of 50,000 units by 2015, it will be more difficult to predict sales in the following 3 years. A critical indicator will be the initial sales and popularity of the Gen 3. However, focusing on car sales alone should not be the sole category investors should consider, especially since Tesla Motors has numerous other potential sources of revenue, such as solar partnerships and the sale of their proprietary technologies. Key risks to watch for during the next few quarters will be Tesla's ability to maintain demand and popularity among consumers.
Disclosure: I have no positions in any stocks mentioned, and no plans to initiate any positions within the next 72 hours. I wrote this article myself, and it expresses my own opinions. I am not receiving compensation for it (other than from Seeking Alpha). I have no business relationship with any company whose stock is mentioned in this article.