Warren Buffett admits to eating Haagen-Dazs strawberry ice cream for breakfast. He drinks Coke like it's going out of style and his daughter, Susie Buffett, said she's never seen him eat fruits, vegetables, or drink a glass of water. I don't think he's too concerned though. He laughs about it like a little kid and then it's right back to business, I think it's hilarious (watch clip). He's doing great and in two weeks he will be 83. However, I'm convinced if Buffett had even the slightest desire to eat healthy he would become interested in Whole Foods Market (NASDAQ:WFM) and own at least half of the company. I think it's even more likely he would just buy the entire company.
One of Buffett's classic lines is "predictable products, predictable profits." We all know the drill. He buys companies that have a durable competitive advantage with great management and then he acquires them at a steep discount to the intrinsic value. He may not be a buyer at the current price of $53.82 (8/15/13 close) per share but I think there's a good chance he would buy this company during a bear market. I can't see how the company does not fit his criteria. This is a food store; it doesn't get much more predictable than that assuming management can offer what the customer wants. Since the doors opened in 1980, the company hasn't had any problems in that department. Whole Foods consistently increases sales, EPS, opens new stores, delivers double digit ROE, controls expenses, and it operates with low debt (14.66% Long-Term Debt/Equity as of 3Q13 to be exact). Management prides itself on ethics and transparency and that's probably why Whole Foods has such strong employee relations. FORTUNE magazine includes the company on its inaugural "100 Best Companies to Work For" list, a recognition the company has received every time the list has been published.
In spite of the competition, the company continues to build market share and remains the leader in its space. Competition is healthy and if anything, it confirms the consumer is becoming more health conscious, not less. When asked about competition on the 3Q13 investor conference call, here's what Walter Robb - Co-CEO had to say:
"I would just say - this is Walter. I would just say we love competition. It makes us better. We get to respond and innovate and grow and it's bring it on and I think the ultimate answer here is that we are in the marketplace we are now seeing, we are seeing, we put the chips down and investing more dollars to grow the company faster than we ever have. If you look at the 12 new stores in this quarter, Jim's team [Jim Sud, Executive Vice President of Growth & Development] has done a fabulous job, giving us close to another 100 leases in our pipeline. We are saying, we are betting that we can continue to grow in this marketplace that you are describing. So, it's robust. It's dynamic. That's always been so, but I think we feel good about our chances going forward."
Another way to think about competition is to look at Starbucks Corporation (NASDAQ:SBUX). How hard is it to sell coffee? It's not, but somehow Howard Schultz managed to build up a company that now operates in 60 countries and has a market cap of over 54 billion dollars. Starbucks opened its first store in Seattle (1971) and since then there's been competition from Dunkin' Brands Group Inc. (NASDAQ:DNKN), McDonald's Corporation (NYSE:MCD), Green Mountain Coffee Roasters Inc. (NASDAQ:GMCR), Caribou Coffee Company, Inc.(NASDAQ:CBOU), Peet's Coffee & Tea, Inc. (NASDAQ:PEET) and the list goes on. To be pessimistic about the company's prospects over the years would be a huge mistake. I feel the same way about Whole Foods.
In case you missed the 3Q13 conference call here are some highlights:
Walter Robb - Co-CEO: "We continue to gain market share and see demand for a 1,000 Whole Foods Market stores in the U.S. alone."

"For the quarter, our 25 comparable stores less than two years old produced an after-tax ROIC of 19%, another Q3 record."

John Mackey - Co-CEO: "I mean we don't think we have any new competitors. …we just keep rolling along. We are - as you can see our results, we had record EBITDA, record returns on invested capital, our growth has never been as rapid before, in terms of the absolute units, we are opening and signing. In fact, arguably, this is the best Whole Foods has ever done in our 34 year history. So, success breeds competition and so, I expect that we'll see more competition, but again we have first mover advantages. We are also innovating in a very rapid rate. So, it's the nature of capitalism and I feel - I like where Whole Foods is positioned right now."
This quarter was a home run but I am equally excited about its future growth. If you really want to see where this stock is headed, take a look at Detroit, Michigan. The company just opened a 21,000 square foot store in Midtown on June 5, 2013. You may be thinking, that's nice, new stores are opened all the time, what's the big deal? Well, this is a significant millstone because it's the first time Whole Foods is serving this demographic. Detroit is surrounded by urban blight that has plagued the city for decades but there is a growing population of college educated residents with higher incomes. Historically, the company has done very well in affluent communities and that is not Detroit by any stretch of the imagination.
I was skeptical about the company's plans to enter this market but I had faith in management. Whole Foods did not get to a 20 billion dollar market cap by making poor decisions. After reading some articles about the store I was curious to see how things were going now that it was open for a few weeks. Is business doing ok or are things kind of slow? I thought to myself, if the company can succeed there, it can succeed anywhere.
In early July, I decided to call a local supplier to get a general consensus for how the store was performing. As it turns out, the person I spoke with left me with the impression the store was doing great. He was right and this article confirms it: Whole Foods CEO tells Bloomberg new Detroit store 'exceeding our wildest expectations'
In an interview on opening day, Walter Robb said "You see our team; you see the quality of our folks. Ya know I don't want to break down and cry on your show but for what this means to our company…it's really beyond words" (watch clip). Robb made a commitment to the city that food would be affordable and accessible and that is exactly what they got. The fact that the company is doing so well in Detroit proves it can adapt and thrive in any marketplace. Currently, Whole Foods operates 355 stores as of 3Q13. If the company believes there is enough demand to support 1,000 stores, I have no reason to doubt management can make it happen. Given U.S. organic food sales represent less than 5% of total U.S. food sales, I think it's safe to say there is plenty of room for growth.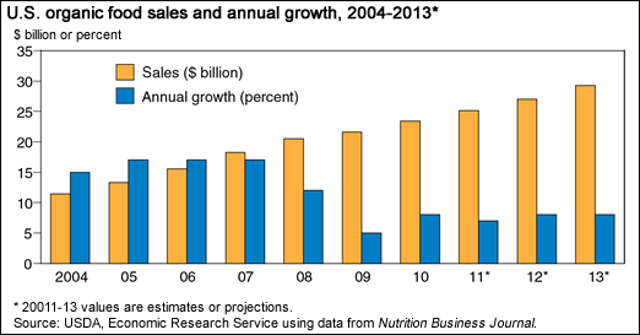 "Organic food sales in the United States have increased from approximately $11 billion in 2004 to an estimated $27 billion in 2012, according to the Nutrition Business Journal. Organic food products are still gaining ground in conventional supermarkets as well as natural foods markets, and organic sales accounted for more than 3.5 percent of total U.S. food sales in 2012. Markets for organic vegetables, fruits, and herbs have been developing for decades in the United States, and fresh produce is still the top-selling organic category in retail sales. Although the annual growth rate for organic food sales fell from the double-digit range in 2008 as the U.S. economy slowed, its 7.4-percent growth rate in 2012 was more than double the annual growth rate forecast for all food sales in 2012." - USDA
Valuation
On 8/15/13, the stock closed at $53.82. According to Morningstar Investment Research from 2003 to 2012 the average P/E ratio is 36.52. The company's guidance for 2014 is $1.67 - $1.72 EPS. Assuming management delivers at the midpoint of these two estimates ($1.705 EPS), that implies a forward P/E ratio of 31.57 (53.82/1.705). Based on earnings of $1.45 TTM, the stock is trading at a multiple of 37.12 (53.82/1.45). Therefore, Whole Foods is trading at a slight premium compared to the historical average P/E multiple (37.12 vs. 36.52) but based on future earnings, the stock is trading at a discount to the average (31.57 vs. 36.52). It's not unusual for the stock to temporarily trade at a multiple of 40 or above, so buying the stock at this level is probably a fair price.
"It's far better to buy a wonderful company at a fair price than a fair company at a wonderful price." - Warren Buffett
Macro View
I think the time to be greedy is over, it's now time to play defense for two main reasons. There is a 100% chance interest rates will rise and this bull market is getting pretty old. Ben Bernanke made it clear he will continue to support the market with bond purchases but he's also looking for any opportunity to begin tapering. Up to this point, the Fed has kept the wind at our backs but that is about to change.
"Interest rates are to asset prices sort of like gravity to the apple. When there are low interest rates, there is a very low gravitational pull on asset prices." -Warren Buffett (source)
The transcript for the following quotes can be found here.
"But in the end, there are an awful lot of people who want to get out of - out of a lot of assets if they think the Fed is going to tighten a lot. And we've never quite had, in my - at least to my knowledge, we've never had the degree of disgorgement that might be called for down the line. And - and who knows how it will play out. But it'll be noticeable. It'll be very noticeable." -Warren Buffett

"I think Bernanke has sort of carried the load himself during this period, and there's no question that stocks are higher, because interest rates are essentially zero, than they would be otherwise." -Warren Buffett
The Federal Reserve has not changed its Target Rate of 0.00% - 0.25% since January, 2009, so the chart below is still up to date. Higher rates will put pressure on our economy which is still fragile even with all of the help from the Fed. Depending on the source, I think you will find the long-term average P/E ratio for the S&P 500 is right around 15. The current P/E ratio is 18.17 as of 8/16/13 (link). So the market is trading at a multiple that is slightly above average, but then you have to remember we are only trading at this multiple due to the extraordinary amount of support from the Fed. Considering higher interest rates are on the way that makes me wonder if current prices for equities are justified. I think Jim Rogers said it best...
"If you give me a trillion dollars I'll show you a good time too." (interview)
(click to enlarge)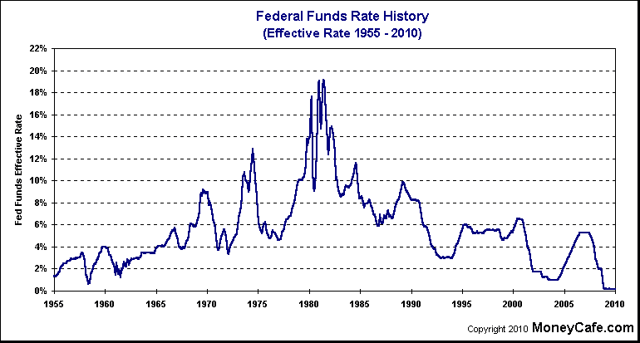 Here is my second concern. The chart below is slightly outdated. The very first line in blue should now extend to 4.46 years. From the low on the S&P 500 (March 6, 2009) to August 19, 2013 that represents 232 weeks (232/52 weeks per yr = 4.46 yrs). As you can see, this is one of the longest bull markets on record. We are past the average duration of a bull market. Every month that goes by, we push our luck a little more.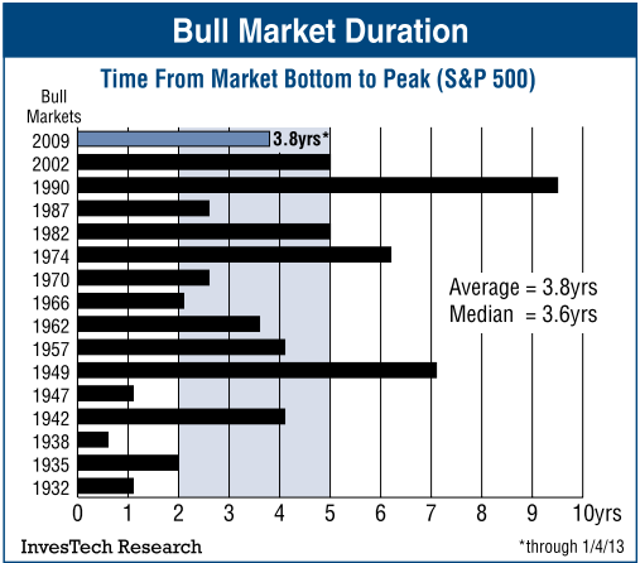 Multiple sources confirm the same thing. This chart helps put the length of the current bull market in perspective. If the chart was updated the very last bar in green (3/6/09) would extend to up to the black line (estimate).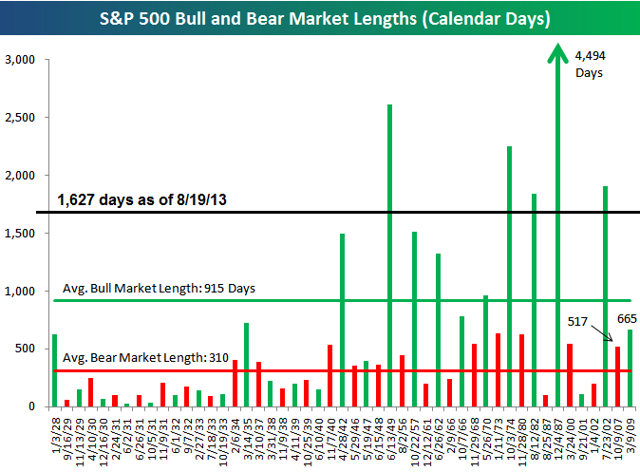 Strategy
Although I feel Whole Foods is trading at a fair price today, when I look ahead, I get skeptical about stock prices in general because of my macro view. I think selling is an overreaction because it's hard to tell when the market will pull back and by how much. However, when it comes to buying, I think it's easier to recognize value when you see it. Whole Foods is an 800 pound gorilla that can weather any economic cycle. When the economy does well, this company does really well, so I'm always looking to buy more shares if an opportunity presents itself. Here's the problem. With a company like this delivering great numbers every quarter, you could be sitting in cash for a long time. A better strategy, in my opinion, is to sell puts and receive a premium while you wait for a good entry point. By doing this, you say no thank you to today's price but yes to a predetermined price (the strike) in the future. Like anything else, make sure you understand the risk. If you agree to buy Whole Foods at $45 per share in 2015 and the stock trades below $45 for any reason between now and then, you are still on the hook to buy the stock at $45. Assuming I had new money to invest, I would probably sell the 2014 or 2015 puts at a strike that is at-the-money or slightly out-of-the-money.
Conclusion
If you feel there is reason to be concerned about current valuations, you may want to look into selling option contracts on great companies you would like to own. The consumer is becoming increasingly health conscious and Whole Foods will continue to have a bright future. For a company that has already established itself as America's healthiest grocery store, it's great to hear "A lot of these stores are producing 100% return on invested capital every year, it's pretty phenomenal. So a lot of things are -- hey, we're getting better running our business, that's the bottom line." -John Mackey Co-CEO (2Q13)
Thoughts on the competition:
I prefer to shop at Whole Foods because of its commitment to animal welfare. This is one of the ways the company stands out from the crowd. Whole Foods has a 5 Step Animal Welfare Standards rating system and it is the only company offering this to my knowledge (watch clip). I like the rating system because it insures the animals are raised humanely. There are a lot of bad practices that go on behind the scenes and I don't think it's fair to save money at the animal's expense. To learn more, Food Inc. is a great documentary that explores factory farming & the state of the food industry.
Wal-Mart Stores, Inc (NYSE:WMT). Great store but not my first choice to shop for groceries. The "Wal-Mart Neighborhood Market" I visited in Connecticut was virtually 100% conventional perishables and non-perishables. A typical Whole Foods customer would feel like a duck out of water shopping at Wal-Mart. I do not believe this company is a threat to Whole Foods Market.
Amazon.com, Inc (NASDAQ:AMZN), Fresh Direct, LLC (private company) and other companies that deliver groceries to your door. I like Amazon as well but not as a food store. Amazon has a smart group of people running the company and I am sure they will have some success delivering groceries but I doubt they will penetrate the market in a meaningful way. I think the vast majority of people want to walk the aisles and see the meat and produce they are buying.
Natural Grocers by Vitamin Cottage Inc. (NYSE:NGVC). This is another great company growing sales at a rapid clip catering to the same customers as Whole Foods. The company expects 2013 FY diluted earnings per share of $0.46 to $0.49. The average of this range is 0.475, so based on a recent price of $33.28 (8/15/13 close) that implies a P/E multiple of 70.06. I would be perfectly happy owning NGVC but only if there is an opportunity to buy at a lower multiple. I wouldn't be surprised if Whole Foods makes a bid for the company some day.
Sprouts Farmers Market Inc. (NASDAQ:SFM) is a food store offering healthy, all-natural and organic products from fresh produce to ready-to-eat meals. By the end of 2012, the company operated roughly 150 stores and had nearly 11,000 employees serving customers in eight states. Their IPO was August 6, 2013 and the stock closed up 121% on the first day of trading.
The Fresh Market Inc. (NASDAQ:TFM) sells natural and organic products. I visited a store in Connecticut with an open mind to see how it compared to Whole Foods. I noticed the prices were in line with Whole Foods so no concerns there. The layout seemed kind of crowded though. The Fresh Market was started in 1982; two years after Whole Foods opened its first store. Today, Whole Foods has a market cap of over 20 billion while The Fresh Market has a market cap of about 3 billion.
Trader Joe's is a private grocery store offering natural and organic products. As of May 2013, Trader Joe's had a total of 471 stores in the United States with estimated sales of 8.5 billion in 2011. -Wiki
The article has been prepared solely for informational purposes, and is not an offer to buy or sell or a solicitation of an offer to buy or sell any security, product, service or investment. The opinions expressed in this article do not constitute investment advice and independent advice should be sought where appropriate. The author does not guarantee information expressed in this article is accurate or complete. Opinions expressed in this article may change significantly after the date of publication.
Disclosure: The author is long WFM. The author wrote this article themselves, and it expresses their own opinions. The author is not receiving compensation for it (other than from Seeking Alpha). The author has no business relationship with any company whose stock is mentioned in this article.
Additional disclosure: Whole Foods Market puts sold: January, 2014 strike $21.50, January, 2015 strike $24.00
Disclosure: I am/we are long WFM.
I wrote this article myself, and it expresses my own opinions. I am not receiving compensation for it (other than from Seeking Alpha). I have no business relationship with any company whose stock is mentioned in this article.