On Wednesday August 21st, Saratoga Resources (NYSEMKT:SARA) announced its first set of drilling results regarding the company's horizontal well that is located within the Breton sound 32 field. In this article I not only wanted to examine the results of both the SL 1227-25 Rocky well and the SL 1227-26 Zeke well, but also highlight a number of catalysts investors should consider before jumping head first into this semi-speculative oil & gas play.
Company Profile
Based in Houston, Texas, Saratoga Resources, Inc., is an independent oil and natural gas company, engaged in the acquisition, exploitation, production, and development of crude oil and natural gas properties in the United States. The company's 12 properties cover approximately 32,027 gross/net acres in shallow waters on parish and state leases in south Louisiana.
Performance and Trend Status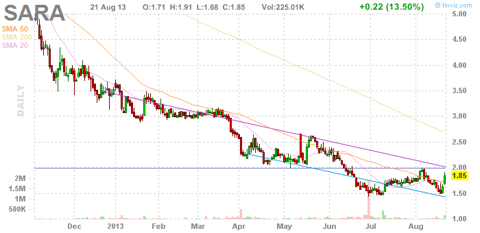 On Wednesday shares of SARA, which currently possess a market cap of $57.21 million, a forward P/E ratio of 20.56 and a beta of 2.23 settled at a price of $1.85/share. Based on their closing price of $1.85, shares of SARA are trading 6.17% above their 20-day simple moving average, 7.63% above their 50-day simple moving average, and 31.86% below their 200-day simple moving average. These numbers indicate a short-term and mid-term uptrend and a sustainable long-term downtrend for the stock, which generally translates into an aggressive selling mode for most traders. From a cash and debt perspective, Saratoga currently has a total of $30.17 million in cash and $152 million in debt on its books as of June 30, 2013.
Recent Drilling Results With Regard To Rocky and Zeke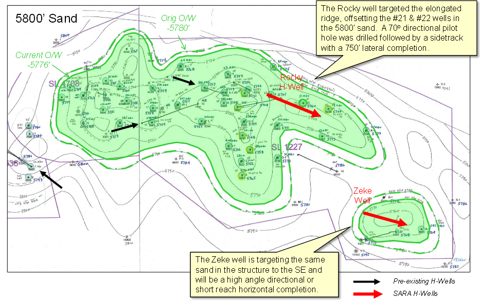 SL-1227-25 Rocky - Latest Results
The SL 1227-25 Rocky well, which is currently located in 13 feet of water, was spud with the Parker 77B inland barge rig on July 4. A directional pilot well was then drilled to a total depth of 6254 measured depth /5858 true vertical depth, as originally planned, before plugging back and drilling a 750 foot sidetrack horizontal section to a total depth of 7178 measured depth/5790 total vertical depth, subsequently reached on July 24.
The Rocky well was then tested on August 20, 2013 at a gross rate of approximately 600 BOPD and 120 MCFPD on a 16/64 choke with FTP of 650 psi, or net 508 BOEPD, and has been tied back to Saratoga's Breton Sound 32 platform. The rate continues to improve as the well stabilizes. Final costs on the Rocky well are expected to come in below the pre-drill AFE.
Primary Targeted Area: In the above referenced image, the Rocky well is currently targeting the elongated ridge, which offsets the #21 and #22 wells located in the 5800' sand. A 70-degree directional pilot hole was then drilled and subsequently followed by a 750-foot lateral completion.
Opinion: When it comes to Saratoga's Rocky well I strongly believe that production exceeding both 600 BOPD and 120 MCFPD does exist. That being said, I'm not exactly set in terms of a time table for that to happen, and from an investment perspective, there is the chance that a-whole-lot of waiting may occur in between now and then, and waiting is not something you want to do if you happen to be full-steam ahead on a stock like this. The numbers speak for themselves and present a fairly solid case to investors, however the well has yet to be stabilized and until that happens I can't accurately gauge how good or how bad Saratoga's sustainable production will be over the next 12-24 months.
SL-1227-26 Zeke - Latest Update (Results Pending)
The SL 1227-26 Zeke well was spud on August 5th and drilled as a directional hole to a TD of 6,430 MD/5836.7 TVD. The well is a high angle directional well, with a short reach horizontal section, in the same 5800' sand as Rocky but in the eastern portion of Breton Sound 32 field. There is also an up-hole 5,750' sand recompletion opportunity in the Zeke well, which can be accessed in the future. The Zeke well is currently awaiting completion and testing, and if successful, it will also be tied back to Saratoga's Breton Sound 32 platform.
Primary Targeted Area: In the above referenced image, the Zeke well is currently targeting the same sand in the structure to the Southeast, and will end up being either a high angle directional or short reach horizontal upon its completion.
Opinion: Although it is believed that the Zeke well will possess the near-similar potential of its counterpart, the Rocky well, I am unable to establish opinion at this time consider the fact that only minimal information has be provided by the company.
Gulf of Mexico Leases and Prospect Summaries
As a key part of Saratoga Resources ever-growing portfolio of energy producing properties, the Gulf of Mexico is expected to play a vital role in the company's performance over the next several years. Within the Gulf of Mexico drilling is expected to take place in water depths between 13 and 77 feet and is estimated to carry a 43.3 MMBOE resource potential with estimation that proved reserves possess nearly 5 MMBOE. It should be noted that Saratoga Resources will begin seeking partners during the first half of 2014 with regard to its sites that are located within in the Gulf of Mexico.
When it comes to those who may be looking to establish a position in Saratoga Resources, I'd continue to keep a watchful eye on both the SL-1227-25 (Rocky) and SL-1227-26 (Zeke) sites over the next 1-2 years, especially if either site can prove and maintain sustainable production with regard to the previously mentioned estimates of 600 BOPD and 120 MCFPD. If these estimates are found to be sustainable, I strongly believe that with a stabilized well they could easily surpass 630 BOPD and 135 MCFPD.
Aside from the company's prospects with regard to Rocky and Zeke, I think a solid amount of growth potential also exists within the Gulf of Mexico, and the leases Saratoga currently holds. If the company can successfully seek out and obtain a number of key partnerships that will help exploit the resource potential within the area, there is no doubt in my mind that investors will see a very healthy return on their investment over the next 12-24 months.
Disclosure: I have no positions in any stocks mentioned, but may initiate a long position in SARA over the next 72 hours. I wrote this article myself, and it expresses my own opinions. I am not receiving compensation for it (other than from Seeking Alpha). I have no business relationship with any company whose stock is mentioned in this article.