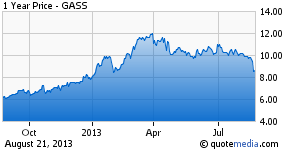 StealthGas Inc. (NASDAQ:GASS) is a small-cap company headquartered in Greece that provides international seaborne transportation services to liquid petroleum gas (NYSE:LPG) producers and users. Its 34 pressurized vessels carry a variety of LPG products which are byproducts of oil and natural gas production. These products are transported in liquefied form to reduce volume and facilitate handling by ocean going vessels like those owned by GASS. I first wrote about GASS last April here.
On Tuesday, August 20th, GASS reported a major Q2 earnings disappointment of 0.18 per share, 35% below analyst expectations and the stock was hammered; at one point trading down 43% to $5.34 from the $9.35 Monday close. From the markets initial reaction, one would think that its entire fleet of tankers had just been torpedoed and sent to the bottom of the ocean! With all the guts I could muster to click the "buy tab", I counter intuitively doubled-down on my position at $7.45. The stock eventually recovered to a high of $8.98 and closed at $8.70.
The crux of this story is that GASS is not sinking but has merely sprang a leak, but an equally important message is the value in resisting herd mentality on the release of good or bad news and being able to act counter-intuitively to make money. While GASS traded as low as $5.34, which I never saw, I bought at $7.45. The point is Monday, I had a loss, Tuesday the stock gets killed on bad news increasing my losses, but at the close, I had a nice net gain in my position that would not have occurred without acting contrary to what most others were doing. Okay, lesson learned.
GASS is not sinking because the LPG industry growth story is still intact, the LPG pressurized ocean-going ship shortage still exists, and GASS has no publicly traded peers. It is essentially the only pure-play in the LPG ocean transportation service sector! About $0.05 of the $0.09 miss was attributable to the unscheduled dry-docking of a tanker that will be returned to service in better condition.
Revenues were up 4% year over year, the company announced long-term charters for three other tankers that should produce about $30 million in revenue over the next three years, and five new tankers are being built that will be folded into its fleet over the next two years. The CEO said in the conference call that while he is disappointed with Q2 performance, things will get better over the next year, or so.
Even with the earnings disappointment, GASS is still trading well below average industry and market P/E ratios as well as its own 5-year average P/E ratio. Its PEG and P/CF ratios are still attractive indicating that it is relatively undervalued.
Conclusion
In a nutshell, GASS was on sale last week for 40% off as an "early bird special", and is still on sale at 15% off, so fill up! I believe GASS will provide 50-60% returns if you can muster a two-year time horizon. That being said, as with any stock, there is the risk of capital loss, so conduct your own research and speak with your investment advisor about GASS.
Disclosure: I am long GASS. I wrote this article myself, and it expresses my own opinions. I am not receiving compensation for it (other than from Seeking Alpha). I have no business relationship with any company whose stock is mentioned in this article.