Avoiding "Artificial Bubbles"
In an example of impeccable timing, president Obama recently talked about the need to "avoid artificial bubbles" (as a friend remarked to us, this raises the question whether real bubbles would be OK with him). The sentiment is certainly laudable, as the recurring boom-bust cycles of recent decades have evidently brought the economy to a lamentable juncture. So the question is now, does the president plan to dismantle the centrally planned banking cartel and curtail the ability of banks to create money from thin air? He didn't specify unfortunately.
"Obama this month spoke four times in five days of the need to avoid what he called "artificial bubbles," even in an economy that's growing at just a 1.7 percent rate and where employment and factory usage remain below pre-recession highs.

"We have to turn the page on the bubble-and-bust mentality that created this mess," he said in his Aug. 10 weekly radio address."
(emphasis added)
It is certainly interesting, even a pleasant surprise, to hear a president acknowledging the existence of the boom-bust cycle described by Austrian business cycle theory. However, can someone please tell him that it isn't a mysterious "mentality" that is at the root of the boom-bust cycle, but a thing called "credit expansion"?
The timing question can of course not be avoided in this context. Which bubbles might he be talking about? This one?
---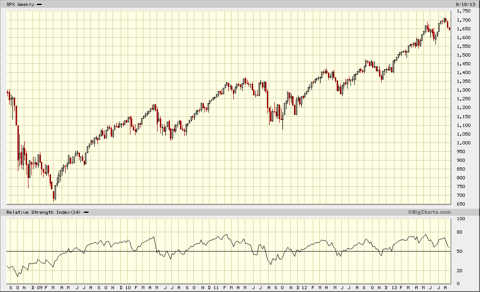 Click to enlarge
(Click to enlarge)
This can't be a bubble. All of Wall Street insists that the stock market is "cheap" - even though earnings growth has stalled out for about a year, while mean-reverting profit margins are at a rare extreme. Even the Fed thinks this market suffers from an "elevated risk premium" (we actually think the elevated risk premium is in hiding about 31 years to the left).
---
Or is it this one?
---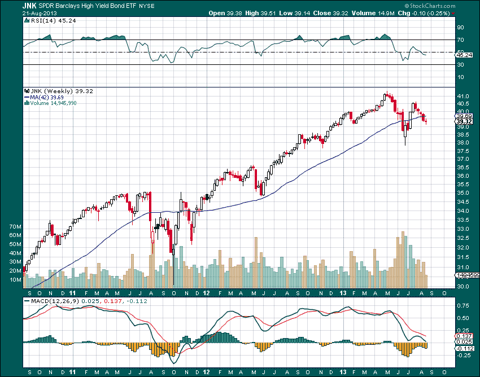 Click to enlarge
(Click to enlarge)
"Double, double, toil and trouble. Fire burn and cauldron bubble." At the recent top of the rally in high yield debt, yields on junk had declined to a record low, with the yield on the Merrill Lynch U.S. High Yield Master Index declining to a mere 5%. But that cannot be a bubble either, because junk debt is perfectly safe and therefore shouldn't reflect much of a risk premium either. After all, the future is so bright that we will all become blind if we don't put on shades.
---
No Worries, "Bubble Experts" Are on Their Way
Apparently there's nothing to worry about though. As various interlocutors assure us, the president's misgivings do not concern the present anyway. Man of unparalleled foresight that he is, he is looking toward the potential bubbles that may form at some indefinite juncture in the future. Presumably he can therefore afford to work out the details later. Besides, all that is required to head off potential danger is vigilance!
"While economists are more concerned with inadequate growth, there's reason for vigilance. Thanks to low borrowing costs, U.S. companies have issued $241 billion in junk bonds this year, more than twice the amount during the same period in 2007; investors' use of borrowed money to buy stocks is up about one-third in the past year to a near record, and housing prices are surging in areas such as Las Vegas and Phoenix.

[…]

"It's a legitimate concern from an economic perspective," says Roberto Perli, a partner in Cornerstone Macro, a Washington economic-research firm, and a former Fed official. "But I don't think it's motivated by consideration of imminent risk."
(emphasis added)
Well, if there's no imminent risk, we can all go home, plunk ourselves in front of our TV sets for our daily social conditioning session and worry about those pesky bubbles later.
Luckily, we gather that the two most often mentioned choices for replacing the current helicopter pilot at the Fed's helm are held to be perfectly suited for what one might term the "post facto treatment" of bubbles (as opposed to the preemptive version). Mish calls them Tweedle Dee and Tweedle Dum, and apparently, Mr. Perli, the ex-Fed employee quoted above, also thinks it makes no freaking difference which one of them gets the job (on this point we can certainly agree), although he looks at it from a slightly different angle. Aneurism-prone readers should check their vital signs before continuing.
"Obama's words of caution come as he decides who will replace Federal Reserve Chairman Ben S. Bernanke, probably the most consequential economic decision of his second term.

The president has said he is considering potential successors, including Lawrence Summers, a onetime Treasury secretary and White House adviser, and Janet Yellen, the current Fed vice chairman.

Perli says both candidates can claim bubble-battling expertise. Summers earned plaudits for managing the U.S. response to the 1997 Asian financial crisis as well as advising Obama in the aftermath of the housing bubble's collapse. Yellen was among the first to see how bad the recent bust would be, warning Fed colleagues at a December 2007 meeting, "The possibilities of a credit crunch developing and of the economy slipping into a recession seem all too real."
(emphasis added)
Proving that we are hard to kill, we actually failed to die laughing at this point in the narrative. Is that the same Janet Yellen who said at a 2010 FCIC (Financial Crisis Inquiry Commission) hearing that "For my own part, I did not see and did not appreciate what the risks were with securitization, the credit ratings agencies, the shadow banking system, the S.I.V.'s — I didn't see any of that coming until it happened." ?
She rather sounds like an anti-expert on bubbles actually. As to Larry Summers" activities (whom one critic has uncharitably, but trenchantly, described as a "high IQ moron", as Bill Bonner recently pointed out) in the wake of the Asian crisis: They cannot be judged in isolation from the Greenspan Fed's actions and the system re-liquification activities of the GSEs at the time, but they strike us all in all as more of the same: there's a bubble somewhere, and when it bursts, our wise central planners fight it by creating an even bigger one. In this particular case, the truly awesome Nasdaq bubble blow-off rose from the ashes of the Asian crisis. So in a sense, it is true that Summers is a "bubble expert". He shared responsibility for the creation of what was without a doubt one of the biggest stock market bubbles in all of history.
The biggest bubble of them all is actually the bubble in money and credit, and we doubt that anyone has the gumption to actively curb it. The rule of thumb with regard to this underlying super-bubble is that officials are quietly hoping it won't fatally blow up on their watch. In fact, even if it does, there could be an opportunity to achieve hero status simply by printing even more money! We have discussed this baffling phenomenon in some detail here.
Thinking about this aspect some more, we actually wouldn't put it past Larry Summers that he may have a secret hankering for another chance to 'save the world". He would then have saved the world twice, which would certainly be a noteworthy feat. That the world is prone to blowing up again even more spectacularly as a result of these 'saves" may be of secondary importance, especially if it happens on the next guy's watch.
---
Click to enlarge
(Click to enlarge)
U.S. broad money supply TMS-2 by economic categorization, via Michael Pollaro. Now that's a bubble!
---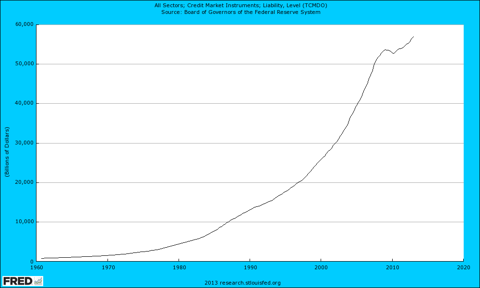 Click to enlarge
(Click to enlarge)
U.S. total credit market debt owed – another most impressive long term bubble. After a brief interruption in 2008/9, the expansion has continued as if nothing much had happened.
---
Accident-Free Zones and Thinking Big
So the president wants to "avoid artificial bubbles" now. Better late than never one might say, but we strongly doubt he has the kind of recipe in mind that we would deem appropriate (namely, the adoption of a free, unhampered market economy). It seems more likely that he is thinking of adding another telephone book-sized tome of regulations to the Dodd-Frank monstrosity, regardless of the strong indications that such regulations make bubbles even more rather than less likely. Just consider in this context that it was one of the most heavily regulated and subsidized sectors, namely mortgage lending, that was at the center of the last bubble. The more regulated a sector is, the less likely people are to perceive it as harboring risk and the riskier their behavior will tend to become.
This can be concluded from various experiments in European cities, where all traffic signs and traffic lights were removed and the entire package of traffic regulations was replaced by just three rules. The result was that the number of accidents plunged dramatically. Because they no longer felt 'safe", drivers began to drive far more cautiously. The Daily Mail calls one of these cities the "accident-free zone". A free banking system would likely have a similarly salutary effect on depositors.
Anyway, just to be safe, it may actually be better if the president's energy and efforts were channeled toward an even more ambitious project. Why only avoid "artificial bubbles" when one could do so much more? Think big! For instance, we would propose that we should endeavor to avoid colliding with large objects hurtling through space.
---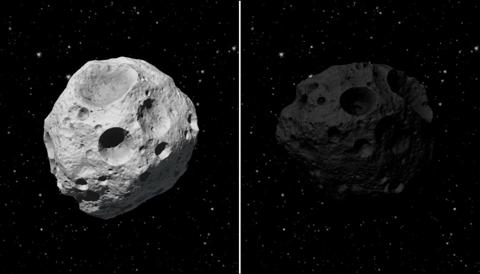 Click to enlarge
(Click to enlarge)
Unwanted visitors from the Oort cloud: let's avoid them!
(Image source: unknown, The Web)
---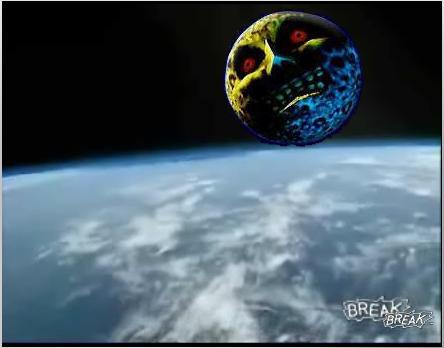 This picture shows that they are clearly up to no good.
(Image source: unknown, The Web)
---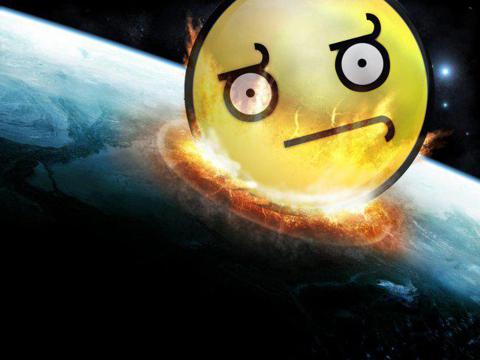 Click to enlarge
(Click to enlarge)
The point at which everybody is sorry, but it will be too late for regrets then.
(Image source: unknown, The Web)
---
This would also save the president some time. Instead of having to read all 480 pages of Ludwig von Mises "Theory of Money and Credit", he could get up to speed on what needs to be done by watching a movie or two.
Charts by: BigCharts, StockCharts, Michael Pollaro, St. Louis Fed