The purpose of this series is to highlight stocks that are undervalued and profitable, as well as have underperformed the market and have a favorable technical outlook. The stock that I will be covering for my undervalued series this week is Advance Auto Parts (NYSE:AAP). AAP stock has fallen 6.27% in the last quarter compared to the S&P 500, which has fallen only 0.43% in the last quarter. I believe AAP is a solid undervalued long-term choice to gain exposure to the trend of consumers owning their car for longer than the historical average.
The chart below from Polk Research shows that the average age of passenger cars and light trucks has been steadily rising. With consumers keeping their vehicles for a longer period of time, that means there is a need for automotive parts to keep the vehicles in good quality to be able to drive. This is where AAP's services come in, as they operate retail stores that sell automotive parts to consumers who need parts for repairing and maintaining their vehicles.
Click to enlarge images.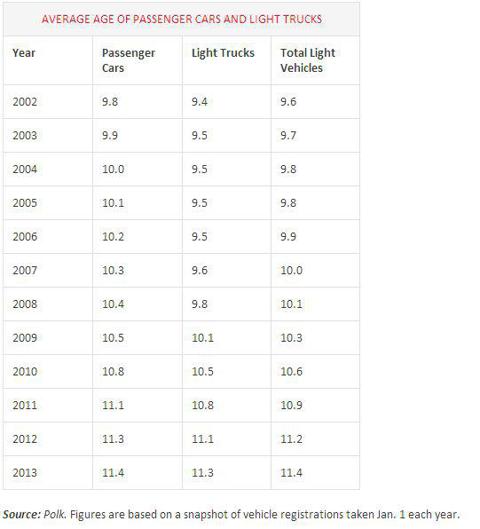 Value
To value AAP I will be using a DCF calculator, with data for earnings and growth coming from Zacks.com, benchmark data from longrundata.com, and CPI data from the BLS. The DCF table below shows shares of AAP is undervalued by 16.82%, which represents a good opportunity for price appreciation for the shares.
EPS (TTM): $5.33
Long-term Growth Rate: 11.28%
Earnings grow for next: Five years
Level off: to 1% after
Benchmark return: 10-year annualized SPY return of 7.57% + 2.0% inflation = 9.57% benchmark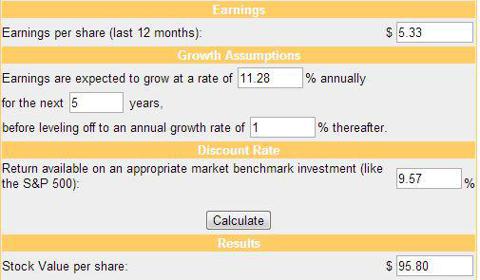 Technical Outlook
The chart below shows that shares of AAP have been steadily rising over the last two years (red line), but have been on a volatile path since the middle of 2012. Shares broke out in early 2012, and moved to make new highs in late spring/early summer of 2012 before falling significantly back to the level where shares originally broke out. This break out level (blue line) acted as support after the breakout, and when shares gapped down significantly below this level in 2012.
Shares have since rebounded higher over the last year. Once again, shares are testing the breakout/ breakdown level. If shares can hold above this level, I believe they can move higher in the long term and continue following the long-term upward trend.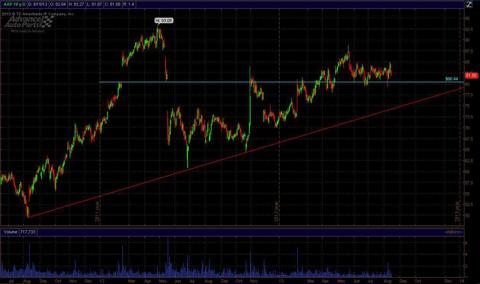 Catalyst
The biggest long-term catalyst for Advance Auto Parts is the continued aging of the average vehicle in the United States. The longer a vehicle stays in use, the more maintenance and parts it will require to continue running at peak performance. When I looked at the chart with the average age of vehicles from Polk Research, I thought I would see a drop in the average age in 2009 because of the "cash for clunkers" program. However, the trend continued even though many old vehicles were taken off the road in exchange for new ones. I believe this trend will continue into the future because job growth is moving slowly, and many of the jobs that are being filled are part-time jobs. Therefore, those consumers most likely will not be able to afford payments for a new car, so they will continue to keep their current vehicle longer.
Another long-term catalyst for Advance Auto Parts is the expansion of its business to a nationwide chain. Currently, Advance Auto Parts operates in 39 states with an overwhelming majority being on the East Coast, as the chart from Advance Auto Parts' investor presentation shows below. With the whole West Coast open to expansion, this represents a huge opportunity to expand the business nationwide.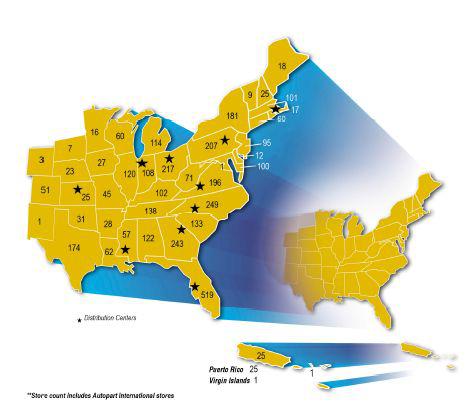 Risks
The biggest risk to AAP is if there is a reversal in the trend of new vehicle purchases. If large amounts of consumers were to buy new cars, I believe that would put a small dent in AAP. Even if this occurs, many of the old vehicles will still be on the road because they will be traded in when someone buys a new car, or sold to another person who will continue driving it and will need parts and maintenance for it.
Closing Thoughts
I believe shares of AAP are poised to move higher from current levels because the stock is undervalued and near a key level of support. Also, AAP is due for a dividend increase. AAP has had a $0.06/share quarterly dividend for the last seven years and maintained it even through the Great Recession. AAP currently pays out $0.24/share dividend each year, and in the last 12 months AAP has earnings of $5.33/share. So AAP has plenty of room to raise its dividend in the future. Instead of increasing the dividend, AAP has been aggressively buying back shares. Since 2006 shares outstanding have gone from 107 million to 74 million, which is a reduction of 30% of the shares outstanding. Based on everything I have found, I believe shares of Advance Auto Parts in the long term will move higher to my fair value estimate of $95.80.
Disclosure: I have no positions in any stocks mentioned, and no plans to initiate any positions within the next 72 hours. I wrote this article myself, and it expresses my own opinions. I am not receiving compensation for it (other than from Seeking Alpha). I have no business relationship with any company whose stock is mentioned in this article.