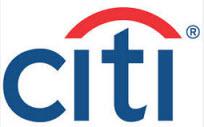 Executive Summary
Citigroup, Inc. (NYSE:C) has been moving up at a steady pace this year. The stock is up 26.28% year-to-date, yet has waned in recent weeks. The stock is down 6% in August and has broken below $50 a share. I say starting a position in Citigroup for less than $50 a share is a great buy.
In my article published in October of 2012, I suggested buying the stock. The stock was trading for $37.02 at the time. Since, the stock is up approximately 40%. In the article, I gave several reasons the stock should continue to rise. The reasons include Citigroup beating earnings estimates and a major shakeup in top management. Michael Corbat took the CEO reins from Pandit. I felt the move would be a good one for Citigroup and Corbat has proved me right. Corbat has provided the extra push to get the company firing on all cylinders, fueling the appreciation in the stock. See chart below provided by Finviz.com.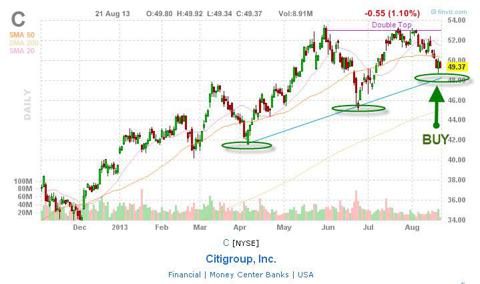 Bullish Valuation and Fundamentals
Citigroup looks fundamentally great and has several bullish trends working in its favor regarding improving its valuation and fundamentals.
Cost Reduction
The most prominent is the progress on cost reductions. Corbat has done a fantastic job of streamlining the organization. Cost savings are responsible for a substantial amount of improvement in EPS.
Peer Valuation Comparison

Citigroup looks great when it comes to valuation both internally and compared to its peers. Citigroup is trading for slightly less than tangible book value while the rest have a tangible book value ratio of 1.4. Citigroup looks solid in all aspects, yet falls short on a price to cash flow basis.
Peer PEG Ratio Is Telling

Citigroup is crushing the competition when it comes to the PEG ratio. A stock with a PEG of one or less is considered to be undervalued. Citigroup stands alone at approximately 1 followed by JPMorgan (NYSE:JPM) at 1.48 Goldman Sachs (NYSE:GS) at 1.75, Bank of America (NYSE:BAC) at 1.78 and Morgan Stanley (NYSE:MS) at 3.55.
Bullish Catalysts
Housing Report Beats Expectations
The National Association of Realtors said on Wednesday that existing home sales jumped 6.5 percent to an annual rate of 5.39 million units. The housing market is heating up far beyond expectations. Citigroup's value is highly levered to the home price recovery due to the amount of mortgage assets on the books as well as new mortgages.
I posit the housing market is about to heat up much more than current expectations. This bodes well for Citigroup on several levels. The company should experience increasing revenues and profits as well as improving the balance sheet.
Profit Margins are Expanding
The current banking environment involves better loan growth, improving net interest margins and a steepening yield curve. All these factors lead to higher profit margins. This is all good news for Citigroup's bottom line.
Downside Risks
The U.S. housing market looks strong now, but it is not a slam dunk. If we go into another stock market downturn, Citigroup may suffer if currently delinquent loans become foreclosures. There are a vast number of loans still on the books where people are several months in arrears. If the economy takes a downturn and some of these people get laid off, they may default completely.
The Eurozone sovereign debt debacle could finally implode causing another credit crunch large enough to disrupt the global economy. Things are quiet now, but the Eurozone is still in recession for the most part.
Citigroup's stock may go even lower as investors take profits during the summer doldrums

. Many pundits are calling for a near-term correction.

U.S. government does not solve its debt issues set for debate in October. This could cause the US to go back into recession.
Conclusion
I see major opportunity ahead for Citigroup shareholders with the new management team's efforts just beginning to gain traction. I do not believe all the future positives have been priced in the stock. With the yield curve steepening and Citigroup cleaning house, I posit the bank will become much more profitable and increase distributions to shareholders. If you choose to start a position in the stock at this time, I suggest layering in a quarter at a time to reduce risk.
Disclosure: I have no positions in any stocks mentioned, and no plans to initiate any positions within the next 72 hours. I wrote this article myself, and it expresses my own opinions. I am not receiving compensation for it (other than from Seeking Alpha). I have no business relationship with any company whose stock is mentioned in this article.
Additional disclosure: This is not an endorsement to buy or sell securities. Investing in securities carries with it very high risks. The information contained within this article is for informational purposes only and is subject to change at any time. Do your own due diligence and consult with a licensed professional before making any investment.