By David Russell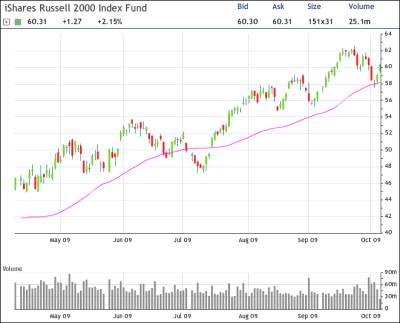 Puts on the Russell 2000 are often used to hedge entire portfolios, and today's option activity suggests that one trader is concerned about the small-cap index dropping as much as 25 percent.

The iShares Trust Russell 2000 Index Fund (NYSEARCA:IWM) is up 2.13 percent on the day, trading at $60.33. The trader bought 40,000 of the ETF's March 60 puts for $5.30 and helped subsidize the cost by selling the same number of the March 45 puts for $1.10.

The net debit on the trade is the $4.20 spread, which is also the strategy's maximum risk. The maximum profit will come with IWM at or below $45 and could produce a return of more than 200 percent if held through expiration.
While this could be a protective position, shares would have to rise above $64.20 to overcome this cost of insurance. On the downside, the price would have to drop to levels last seen in April to get a full payoff.
(Chart courtesy of tradeMONSTER)